Joy and Expectation in Medellín about the XIX International Poetry Festival
Joy and Expectation in Medellín about the
XIX International Poetry Festival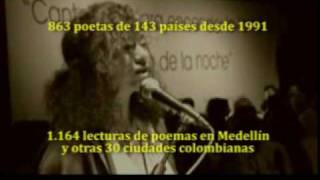 A wave of joy is moving thousands of inhabitants of Medellín, a city that has suffered great violence, as 180,000 hand programs were handed out in universities, schools, libraries, cultural centers and neighborhoods of the city, inviting people to the XIX International Poetry Festival of Medellín, that will open on Saturday, July 4th, at 5:00 p.m., in the Cerro Nutibara amphitheater, with the participation of 65 poets from 43 nations.
This new version of the Festival, which was awarded the Alternative Nobel Prize by the Swedish Parliament in 2006 and that this year was declared a Cultural Heritage of the Nation, means a spiritual and emotional liberation for Colombian citizens, oppressed by decades of war and violence, that have left thousands upon thousands of dead, wounded, disabled, kidnapped and disappeared persons.
Important figures of contemporary world poetry will take parte in this world summit of poetry, summoned and organized by the Prometeo Review, among them a strong group of Asian poets, including the Lebanese Fuad Rifka,  translator of Trakl and Rilke into Arabic and author of 16 books of poetry and four of prose; the Vietnamese Nguyen Quang Thieu, poet, fiction writer and painter, who has been awarded the  National Poetry Prize of his country; the Iraqi Fadil Al-Azzawi, who lives in Sweden and has said that poetry "takes away the masks on the faces of the sellers of illusions, revealing the hidden truth"; the Palestinian Ghassan Zaqtan, president of the House of Poetry of Ramallah, scriptwriter and playwright; and the outstanding Jordanian poet and human rights activist in the Arabic world Fathiet Saudí.
Other central participants in this new International Poetry Festival of Medellín, that has contributed to the transformation of the poetic and sensibility conscience of Colombian youths, are the Moroccan Tahar Bekri, with a work marked by exile and wandering and translated into several languages; the South African Daniel Kunene, engaged in the struggle against Apartheid in his country; the Egyptian poet, playwright, literary critic and translator Fatmah Quandil; the Cuban Roberto Fernández Retamar, director of the Casa de las Américas; the Americans Jack Hirchman, poet laureate of San Francisco, director of the International Poetry Festival of that city, Arthur Sze and Jayne Cortez; the Nicaraguan Francisco de Asis Fernández and Gloria Gabuardi, who are at the head of the organization of the important International Poetry Festival of Granada, in that country; the Colombians Jotamario Arbeláez, Carlos Vásquez, Nicolás Suescún and Álvaro Miranda; the Canadian Nicole Brossard, poet, essayist, novelist and playwright; and the native Latin American poets Rosa Chávez (Maya, Guatemala), Graciela Huinao (Mapuche, Chile) and José Luis Ayala (Aymara, Peru).
Among the group of European poets that stand out are the Spaniard Jorge Richman —ecologist and brilliant translator of René Char; the Icelandic Siggurdur Pälson, bard of the Celtic tree; the Greek Ersi Sotopoulo, a recente victim of censorship in her country; the Dutchman Henk van der Waal, both classic and modern; the Belgian baroque Peter Holvoet-Hanssen; the Swiss Klaus Merz, winner of the traditional Herman Hesse Literature Prize; and the German performer Jan Wagner.
The XIX International Poetry Festival of Medellín has the support of the Office of the Mayor of Medellín, the Office of the Secretary of City Culture, the City Council of Medellín; the Hivos Humanist Institute for Development; the Dutch foundations Doën, Oxfam - Novib, and hte Prince Claus Fund; the Ministry of Culture of Colombia, and the goverments of Switzerland and Germany; the German Ministry of Cooperation BMZ and GTZ; Empresas Públicas de Medellín –EPM-, the Organisation international de Francophonie (OIF); the Heinrich Böll Foundation; the Caipirinha Foundation; the embassies in Colombia of France, Sweden, Spain and Italy; the Caja Cooperativa Confiar, Comfenalco, Secretaría de Educación del Departamento de Antioquia, Servicio Nacional de Aprendizaje SENA, and Telemedellín, among others.
The Festival will hold 136 events, among them 94 collective poetry readings, 79 in Medellín, 13 individual readings with dialogue with the public, 14 readings in 11 other Colombian cities, 18 readings in towns in 16 towns in Antioquia; 15 poetry workshops, 5 courses and 10 lectures in the XIII International Poetry School of Medellín, which is held parallel to the Festival.
The complete list of poets who have confirmed their attendance to this new celebration of world poetry is: Rashidah Ismaili AbuBakr (Benin), Fatma Quandil (Egypt), Ifi Amadiume (Nigeria), Daniel Kunene, (South Africa), Kangni Alem (Togo), Tahar Bekri (Tunisia), Mercedes Roffé, Ignacio Irigoyen (Argentina), Matilde Casazola (Bolivia), Nicole Brossard (Canada), Jotamario Arbeláez, Carlos Vásquez, Eugenia Sánchez Nieto, Miguel Iriarte, Tallulah Fórez, Nicolás Suescún, Álvaro Miranda, Joaquín Mattos Omar, Liana Mejía, Carlos Enrique Sierra, Omar Castillo, Gilma de los Ríos, Víctor Raúl Jaramillo, Luisa Aguilar, Jesús Gómez, Angye Gaona, Luis Galar (Colombia), María Montero, Graciela Huinao (Chile, Mapuche Nation), Rodrigo Verdugo (Chile); Roberto Fernández Retamar, Luis Yuseff (Cuba), Yvon Gordon Vailakis (Ecuador), Mario Noel Rodríguez (El Salvador); Rosa Chávez (Guatemala, Maya Nation), Édouard Glissant (Martinica), Armando Alanis (Mexico), Francisco de Asis Fernández, Gloria Gabuardi (Nicaragua), José Luis Ayala (Peru, Aymara Nation), Yván Silén (Puerto Rico), Arthur Sze, Jayne Cortez, Jack Hirschman  (United States), Luis Bravo (Uruguay); Antonio Trujillo, William Osuna (Bolivarian Republic of Venezuela), Fadhil Al-Azzawi (Iraq), Usha Akella (India), Fathieh Saudi (Jordan), Fuad Rifka (Lebanon), Ghassan Zaqtan (Palestine), Alice Sun-Cua (Philippines), Hussein Habasch (Syria), Nguyen Quang Thieu (Vietnam), Peter Holvoet-Hanssen (Bélgium), Jan Wagner (Germany), Ersi Sotiropoulos (Greece), Sigurður Pálsson (Iceland), Guido Oldani (Italy), Agneta Falk (Sweden), Jorge Riechmann (Spain), Klaus Merz (Switzerland); Henk van der Waal (The Netherlands), Aazam Abidov (Uzbekistan).
You can see -In Spanish- bio-bibliographical information about the poets invited this year can be seen in: http://www.festivaldepoesiademedellin.org/pub.php/es/Festival/XIX_Festival/Biografias/index.htm  
 
The complete program of the XIX International Poetry Festival of Medellín and of the XIII School of Poetry of Medellín can be seen in their links.
Past press release about the XIX International Poetry Festival of Medellin:
Última actualización: 28/06/2018