XIX International Poetry Festival of Medellín July 4 to 11, 2009
XIX International Poetry Festival of Medellín
July 4 to 11, 2009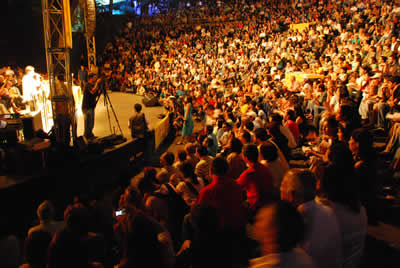 Poetry reading XVIII International Poetry Festival of Medellin
The renowned Tunisian poet Tahar Bekri, the Senegalese Amadou Lamine Sall, president of the African House of International Poetry; and the poet from Gambia Lenrie Peters, are some of the African poets that will take part in the 19th International Poetry Festival of Medellín which will take place between July 4 and 11 in this and other ten Colombian cities,  convened and organized by the Poetry Review Prometeo.
Other outstanding poets that will take part in the Festival are the Sayed Mohammad Zia and Mahbobah Ebrahimi from Afghanistan; Fuad Rifka, from Lebanon;  Nguyen Quang Thieu from Vietnam; Ghassan Zaqtan, director of the Ramallah Poetry House in Palestine; Arthur Sze, Jayne Cortés and Jack Hirshman, poet laureate and director of the International Poetry Festival of San Francisco, from the United States;  John Agard and Grace Nichols from Guyana; Édouard Glissant from Martinique; Roberto Fernández Retamar, director of Casa de las Américas, from Cuba; Jorge Riechman from Spain; Inger Elisabeth Hansen and Torgeir Schjerven, from Norway; Agneta Falk, from Sweden; Klaus Merz, from Switzeland; and Giovanni Quessep, Jotamario Arbeláez, Carlos Vásquez, Nicolás Suescún, Mario Rivero and Alvaro Miranda, from Colombia, among others.
The Festival is sponsored by the Office of the Mayor of Medellín, the City Council of Medellín, the Hivos Humanist Institute for Development Cooperation, the Döen Foundation, Oxfam-Novib, the Caipirinha Foundation, the government of Switzerland and Germany, and the Ministry of Culture of Colombia, among other institutions.
It is expected that this year's Festival, one of the most significant in its history of almost two decades, will contribute to establish an atmosphere of dialogue and reconciliation among Colombians, helping to overcome the hatred and profound differences dividing Colombian society,  in order to at last put an end to the civil conflict that broke out around the middle of the last century.
On the other hand, in a self-critical effort, the Festival aims at overcoming old episodes that implied the generally unfair antagonism of critics who are not aware of the immense contribution of world poetry to  the Medellín Festival poetic design, which has promoted many projects and poetry festivals in our continent, and produced the first audivisual world selection of poetry, that has already included 330 poets from 133 countries in the Web site of the Festival, among many other achievements.
The following poets have confirmed their attendance to the XIX International Poetry Festival of Medellín: Rashidah Ismaili AbuBakr (Benin); Fatma Quandil (Egypt); Lenrie Peters (Gambia); Ama Ata Aidoo (Ghana); Ifi Amadiume (Nigeria); Amodou Lamine Sall (Senegal); Daniel Kunene, Zindzi Mandela (South Africa); Kangni Alem (Togo), Tahar Bekri (Tunisia); Mercedes Roffé (Argentina); Matilde Casazola (Bolivia); Nicole Brossard (Canada); Giovanni Quessep, Jotamario Arbeláez, Carlos Vásquez, Gustavo Tatis Guerra, Eugenia Sánchez Nieto, Miguel Iriarte, Tallulah Fórez, Nicolás Suescún, Álvaro Miranda, Liana Mejía, Carlos Enrique Sierra, Gilma de los Ríos, Víctor Raúl Jaramillo, Luisa Aguilar, Jesús Gómez, Angye Gaona, John Galard, María Teresa Ramírez (Colombia); Graciela Huinao (Chile, Mapuche Nation), Rodrigo Verdugo (Chile); Roberto Fernández Retamar (Cuba), Yvon Gordon Vailakis (Ecuador), Mario Noel Rodríguez (El Salvador); Arthur Sze, Jayne Cortés, Jack Hirschman (United States); John Agard, Grace Nichols (Guyana), Édouard Glissant (Martinique); Francisco de Asis, Gloria Gabuardi (Nicaragua), Moravia Ochoa (Panama); José Luis Ayala (Peru, Aymara Nation); Yván Silén (Puerto Rico); Antonio Trujillo, William Osuna (República Bolivariana de Venezuela); Mahobah Ebrahimi, Sayed Mohammad Zia (Afghanistan); Usha Akella (India); Fadhil Al-Azzawi, Anwar Al-Ghassani (Iraq); Fathie Saudi (Jordan); Fuad Rifka (Lebanon); Ghassan Zaqtan (Palestine); Alice Sun-Cua (Philippines); Hussein Habasch (Syria); Gulrukhsor Safieva (Tadzhikistan); Nguyen Quang Thieu (Vietnam); Peter Holvoet-Hanssen (Belgium), Jan Wagner (Germany), Ersi Sotiropoulos (Greece); Sigurdur Pálson (Iceland); Guido Oldani (Italy); Inger Elisabeth Hansen, Torgeir Schjervertf (Norway); Jorge Riechmann (Spain); Agneta Falk (Sweden); Klaus Merz (Switzerland); Henk van der Waal (The Netherlands), Aazam Abidov (Uzbekistán).
Última actualización: 28/06/2018