Messages to the XIV Festival Internacional de Poesía en Medellín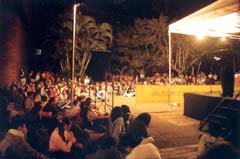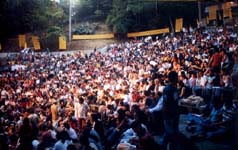 Johannesburg, July 06, 2005
dear fernando and everybody at prometeo
i greeted nobody when i left, because i didn't want anybody to notice that the festival was nearing its end. but now a few days later, here from south africa, i greet everybody: thank you immensely for an unforgettable experience. you have made me fall in love with colombia and medellín especially, with poetry all over and with people who are moved by the magic of the word. thank you for inviting me, thank you for organisign everything so accurately and punctually (i still can't get over the absolute punctuality of everything in medellín), for taking care of me in such a good and friendly way, for programming me with interesting and fascinating poets, for feeding and paying me, for the guide book, for providing me with excellent translation for my poetry and the strong rooted voice of angela that became my spanish throat in your city.
convey my thanks also to the friendly staff at the hotel - i imagine them resting on the steps and on the chairs at the lifts (i also imagine you all sitting with your feet up, smoking and resting - but i am of course wrong, all of you are wrapping up and maybe busier than before!)
kindest regards and many good wishes for many festivals to come
antjie krog
---
Lisboa, julio 06, 2005
Caríssimos Amigos,
Encantou-me o vosso Festival. Vim mais rico e vou levar mensagens vossas a todo o mundo. Que festa maravilhosa, pela paz, pela poesia!
Um abraço de parabéns
e só não escrevo mais porque estou de partida para Itália.
Casimiro de Brito
---
Amman, July 06, 2005
Dear friends
Greetings from Amman , Jordan;
I would like to convey to you my great thanks and appreciation for yourselves and for the wonderful warmth you embraced me with during my visit to your great country, and throughout my participation in the poetry festival in Medellin and the other cities.
I will always consider those days as ones of the wonderful days I ever lived, and you will always remain as one of the best ever friends whom I will always look forwards to meet again.
I would also like to extend my thanks to all members of the festival's work team, who offered unusual tireless efforts to ensure the success of the festival and to make the participants' stay enjoyable, and to give us this everlasting beautiful feeling: that we were staying in our own hometown.
I send you my warmest greetings and sincere love.
Ibrahim Nasrallah


Foto de Fred Viebahn
---
Quito, Julio 6 de 2005
Fernando Rendón
Gabriel
Compañeros y compañeras
Colaboradores y traductores del evento
Estimados compañeros del Festival de Poesía
Un saludo del pueblo indio dice: se alegra mi corazón al verte, hoy les digo, se alegra mi corazón al haberles conocido y compartido el festival de Poesía, esta experiencia nos alienta en seguir adelante con nuestro compromiso de hacer de la palabra, nuestro principal arma para combatir las injusticias que los grupos de poder, las transnacionales y los países poderosos, hacen con nuestros pueblos.
Reitero mi agradecimiento por la solidaridad y la amabilidad de todos y cada uno de ustedes, así como del pueblo de Medellín.
Por días mejores para nuestros pueblos.
Atentamente
Airuma Kowii
Poeta Kichwa
---
Bremen, July 08, 2005
Liebe Freundinnen und Freunde in Medellín!
You are a magician among magicians, a realist utopist, a true revolutionary..... I wish to thank you and all the fabulous friends of PROMETEO who made this festival happen. For Sujata, Jenny and me it was a first but giant step into a new world. Thank you for making this possible, to give us the unique chance to widen our narrow horizon. I would never have thought that our lonely art, that p o e t r y can make such an impact - that it can move so many beautiful people and bring real joy to them. And that bring so much joy to us as writers. I, like all other poets, had always hoped that this might be the case somehow - but after Medellín I know that it can be the truth!
Since we came back last Sunday I have talked talked twice on German radio about my Medellín-experience - and even a radio station from Prague in Czechoslovakia did an interview with me by telephone. I was singing your praise Fernando, dear friends - and will continue to do so!
Con muchos abrazos - mit herzlichster Umarmung:
Euer
Michael Augustin
---
Beirut, July 17, 2005
Mis queridos amigos,
Espero que estés bien. Otra vez te escribo para agradecerte ese milagro que me ofreciste, milagro que se llama Medellin, y el pueblo de Medellin, y el amor tan poético de Medellin a la poesía.
Estoy convencida desde ahora que esa ciudad mágica y bendita de amor y de poesía tiene una "Virgen de los poetas" (al contrario de lo que pretende Vallejo con su Virgen de los sicarios).
Estoy convencida desde ahora que no: todos los caminos NO llevan a Roma, ellos llevan a Medellin.
Un abrazo fuerte a ti, tigre tan tierno, y a todos los banditos de "Fernando Baba" que tuve la suerte de conocer.
Os quiero y os llevo en mi.
Joumana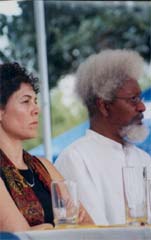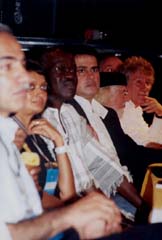 ---
Nueva York, Julio 08, 2005
Amigos:
Ya estoy de regreso aquí en estas tierras nórdicas viviendo las noticias del desastre en Londres y las lógicas reacciones de temor, desconfianza y prevención que despiertan en una ciudad como esta. Sin embargo todavía me queda mucho de la energía que nos dio el festival de poesía para caminar un rato más.
No quiero dejar pasar más tiempo sin expresarte mi más profundo agradecimiento por haberme incluido en la programación de este maravilloso FESTIVAL y lo escribo con mayúsculas porque este es un verdadero festival.
Nunca había visto tanta gente de todos los estratos sociales y culturales congregada por el fervor de la poesía. Realmente es una fiesta y sin lugar a dudas nuestra ciudad MEDELLIN ES LA CAPITAL MUNDIAL DE LA POESIA.
Estoy planeando escribir un pequeño trabajo de mis impresiones personales del festival para publicarlo y en cuanto lo tenga listo te haré llegar una copia.
Fernando querido, me faltan las palabras suficientes para decirte lo mucho que significó este festival para mí, y la inmensa gratitud que siento contigo, y con toda la gente que trabaja en Prometeo para hacer posible este milagro. Encontré siempre palabras amables que verdaderamente me hicieron sentir otra vez en mi casa, a pesar de tantos años de estar lejos.
Te reitero una vez más mis agradecimientos y te deseo mucha salud y fuerza para que puedas seguir realizando la única fiesta que une democráticamente a todos los habitantes de una ciudad tan excepcional como Medellín.
Un fuerte abrazo para todos y siempre unidos por la poesía.
Consuelo Hernández
---
México D.C., July 11, 2005 10:33
Querido Rendón
Estas palabras para decir "Muchas gracias" para su invitación al Festival Internacional de Poesía de Medellin. Fue para mi una maravilla y también una gran ocasión de descubrir su pueblo luchando con el fuego de la palabra "Prometeo" entre sus manos. Fue un gran momento de encuentro con gran poetas del mundo para mesurar nuestro papel de poetas en este mundo lleno de violencia y de injusticia... Fue un momento poético en la vida de cada uno.
La organización fue perfecta, el pueblo de medellin tan caluruso...
Adelante hermano y que el fuego de la resistencia con las palabras siempre se encienda
Hasta pronto,
Koulsy Lamko
---
La Paz, julio 06, 2005
Queridos amigos del equipo Prometeo:
Pocas veces la poesía es tan casa, tan real, tan comida caliente y abrigo y amante como entre Uds. No hallaré nunca la palabra suficientemente fuerte para agradecerles esos inolvidables días allá. Sé que mi silencio asombró a algunos y que no siempre sé comunicar a tiempo el fervor y las emociones, por eso escribo. Y escribo para decirles que llegando leí a mis alumnos los poemas de la Memoria del festival y sé que se les abre el mundo y pueden volver a nuestras tristes calles con una fortaleza en sus almas; releo el poema "Tierra" de Krog y sigo temblando, agradeciendo que alguien más escribiera lo que yo tengo atorado en la garganta. Llego a La Paz y hablando con mis amigos digo: hay unos locos maravillosos que han convertido la poesía en una fiesta real y hecha y vivida, y sueño contagiarme de su locura y sanar con poesía esta mi ciudad tan muerta en los últimos años.
Así que si el silencio les anda rondando la nuca y las cuentas, los informes, la vuelta al mundo cotidiano les agobia...ahí van unas palabras de apoyo y de infinitas gracias por poner en mí un poco de calma y de cariño en medio de un tiempo plagado de tormentas.
Espero haber iniciado una fecunda amistad. Estaremos en contacto y les mando desde ahora un enorme abrazo cariñoso. Gracias de nuevo por aquel milagro en Medellín,
Mónica Velásquez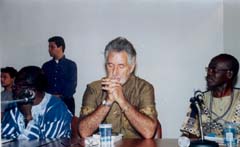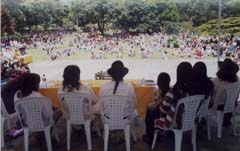 ---
San José, Julio 05, 2005
Queridas amigas y amigos, participantes del XV Festival Internacional de Poesía de Medellín,
A mi regreso a San José, Costa Rica, les envío mis más calurosos saludos.
Los días en nuestro "pequeño paraíso" en Medellín fueron en realidad mágicos, en sustancia y consecuencia.
El Festival fue nada menos que un milagro. Unir un grupo de destacados poetas con la gente maravillosa, amable y amante de la poesía en Medellín y Colombia fue nada menos que un milagro, una obra de amor.
Este milagro fue sobretodo una obra del grupo de organizadores de la Revista Prometeo, decenas de gente maravillosa la que forma parte del equipo de los organizadores del Festival.
Tomaré unos días para ajustarme a lo rutinario. Después enviaré a Fernando Rendón unas sugerencias e ideas para seguir mejorando el Festival. Durante los felices días de Medellín hemos podido hacer valiosos contactos bilaterales y multilaterales. En lo que a mi corresponde, en las próximas semanas estaré en contacto con algunos de ustedes para dar seguimiento a los proyectos que hemos discutido en Medellín. Además, escribiré mis impresiones y reflexiones acerca del Festival.
Publicaré estas en la próxima edición de mi Letter From Afar (LFA, Carta de Lejos). Esta es el boletín personal de mis actividades poéticas y otras que publico 2-3 veces cada año. El boletín es en inglés y se envía a mis amigos. Publicaré también una versión en árabe en los medios árabes.
Por favor déjenme saber si les interese recibir mis impresiones y reflexiones. Con mucho gusto agregaré su dirección a la lista de correo del boletín.
Gracias al generoso pueblo de Medellín y de Colombia, al Festival, a Prometeo, y a Fernando, nuestro santo de la poesía, y sus maravillosos compañeros y compañeras.
Mantengamos el contacto.
Anwar Al-Ghassani
(Irak / Costa Rica)
---
Bogotá, Julio 04, 2005
Amigos todos de Prometeo,
Qué profunda la huella de este Festival, qué bello encontrarlos. Gracias por esa manera callada, discreta pero contundente de hacer las cosas. Gracias por permitirnos compartir este extraño acontecer de la palabra donde se reúnen todos los mundos posibles, los verdaderos.
Un abrazo
Maruja Vieira
---
Ottawa, July 06, 2005
Dear friends,
A warm embrace to you and the other festival organizers. It was the best poetry festival i have ever attended. I was very moved by the great generosity, warmth, intelligence, joy, and poetic intelligence of the Colombian people. I cried on the way home, it was hard to leave! I will be writing you soon about the movie idea we talked about in the bar.
Thank you, so much,
hugs,
Di Brandt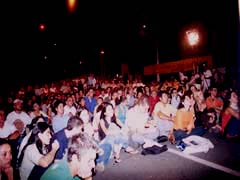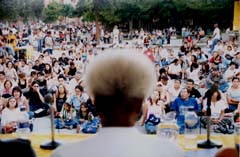 Última actualización: 27/04/2020