Bio-bibliographical information of invited poets
Bio-bibliographical information of invited poets to
XXI International Poetry Festival ofMedellín
July 2nd to 9th, 2011
POETS OF AFRICA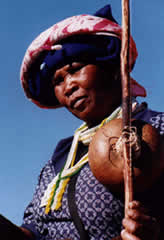 Madosini Latozi Mpahleni is an undisputed Queen of Xhosa music: the great musician, composer, storyteller and the dancer of the time. Her music is extraordinary; unique not just in its scope but in its variety and the range of feelings it evokes. In South Africa, the singer, musician, and storyteller Madosini is revered as the multi-instrumentalist of traditional indigenous Xhosa music. As a young girl, she learned from her mother how to build and play traditional instruments. Madosini plays instruments such as the umrhube (mouth bow), the uhadi (bow with calabash) and the istorotoro (Jew's harp) to accompany her songs. Many young South African musicians consider her an important source of inspiration and often pay pilgrimage to learn and preserve this-fast-becoming endangered Xhosa music.
Madosini has graced stages and mesmerized audiences the world over and is considered a national treasure in South Africa in this rare performance art form. A poet and a griot in her own right, Madosini performances often accompanied by sudden outbursts of ululating, chant and praise poetry as she showers epithets to ancestral Africa.
Madosini became the first person and artist to be recorded and documented in the festival's Musical Elders Archives project at WOMAD in 2008. She has been recently cited by The Weekend Post as 'bringing life to Xhosa music.
Her village has now realized the importance of preserving the dying traditions thus making Madosini the magnet to youth as they flock to her homestead everyday to listen and learn this rare artistic art form.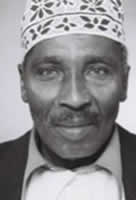 Haji Gora Haji was born in Zanzibar in 1933. He is a poet, a writer and a minstrel whose art remained largely unknown to a wider Swahili public until the publication of his brief anthology Kimbunga (The Hurricane) in 1994. For forty years he has been active in a broad spectrum of Swalili literature. He is a word artist in the true Swahili tradition.
He has worked in every genre of Swahili literature, from songs, stories and lengthy epics to three-line riddles, from folk tales handed down by oral tradition to a full-length novel. He is the third child in a familiy of six. His twin brother and a sister, part of another twin, died in childhood. He has 11 half-brothers and half-sisters. He himself has two legal wives and 14 children from these and former marriages. He moved from Tumbatu, a small island just off the island of Unguja, to the city of Zanzibar when he was five. At seven he went to Koran school, his family being too poor to pay for a public primary school. His uncles trained him to be a fisherman, and he has since earned a living from the sea, as a sailor on small sail-driven cargo boats, as a clove shipper, as a porter on the docks. Haji Gora remembers his first song, which he wrote in 1955 as a member of the song and dance groups competing for honour in Tumbatu. After this came numerous compositions, few of which were ever written down. He composes his work in Ki-Tumbatu, the dialect of his native island, as well as Ki-Unguja, the Swahili of Zanzibar, on which standard Swahili is based. Haji Gora Haji is a frequent contributor to literary programmes on Tanzanian radio, and is a distinguished member of Swahili language committees.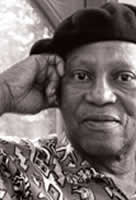 Pitika Ntuli is an internationally known poet, artist and academic. He spent his exile years in the U.K. where he helped establish one of Europe's leading poetry circuits, Apples & Snakes, in London, and where he also lectured in Fine Art and English Literature. While in London he also worked closely with Amnesty International and Index-on-Censorship. Prof. Ntuli returned to South Africa at the end of 1994 and lectured at Wits University before he joined the staff of the University of Durban-Westville in 1995. In 1996-97 he was seconded to the post of Deputy Vice Chancellor with a brief to stabilise the tormented institution. In 1996-97 he was seconded to the post of Deputy Vice Chancellor. Pitika Ntuli has held several portfolios on boards including the BAT Centre Trust, Universal Creative Arts, and Artists for Human Rights. He sits on several ministerial committees and is widely sought after as a public speaker and commentator on arts and culture, indigenous knowledge systems and African scholarship. Pitika Ntuli has performed his poetry with leading musicians like the late Dudu Pukwana, Mervin Africa, Julkian Bahule, Lucky Ranku and Eugene Skeef. He toured Europe several times with his poetry which has been published in numerous magazines and anthologies. He performed at the inauguration of South African President Thabo Mbeki in April 2004. Pitika is also a sculptor with a few public statues to his credit. He has performed as a poet and presenter at numerous Poetry Africa festivals most recently in 2006 at the 10th Poetry Africa festival.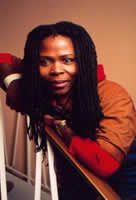 Werewere Liking born in 1950 in Bondé, Cameroon, is a self-taught painter, sculptor, writer and stage director. She took an interest at first in traditional literature and particularly in the rituals of the Bassa region. She then settled in Côte d'Ivoire , taking an enthusiastic interest in Malian, Zairian and Nigerian cultures. Liking is widely thought of as a pioneer in contemporary African creative expression, her works drawing attention to the potential of African literature to renew and regenerate its own forms. Her texts display the crossing of numerous genres and she explores stylistic features that are present in oral traditions, viz., praise-naming, lullaby, allegorical and etiological tales, proverbs, legends and myths. For her 'poetry is the language of the heart and the mind; poetry is form, rhythm, sound and colour … that is why when poetry is written down with words, these words reveal easily the colours, the forms and sounds the musicality and the richness of which, when projected like pictures, cannot escape the person reading or listening to it'..
After six years of academic research and gaining experience from local and international tours, Liking's concern has been to ensure that her research will be of widest benefit to African artists. In 1985, she created Ki-Yi M'bock in Abidjan, a pan-African artistic creation and production group covering every contemporary expression, including performing arts, literature and audio-visual arts. It was later to became Ki-Yi Village, a training centre for artists from all over the region. The Village was officially opened as Pan-African Ki-Yi Training Centre in 2001 where the internationally renowned group Ki-Yi M'bock worked. Loyal to the name of the group, "Ultimate knowledge of the Universe", Ki-Yi artists promote a multidisciplinary aesthetic in conformity with African tradition .
Selected Bibliography: On ne Raisonne pas avec le Venin (You Can't Reason with Venom), Saint-Germain-des-Pres, 1977; La Puissance de Um (Um's Power), CEDA, 1979; Contes d'initiations feminines (Tales of Female Initiation), Classiques Africains, 1983; Une Nouvelle Terre: theatre Rituel (A New Ritual Theatre), Les Nouvelles Editions Africains, 1987; L'Amour –cent-vies (Love across a Hundred Generations), 1988.

Pedro-Espi-Sanchis was born in Spain in 1952. From 1971 he lives in South Africa. He is originally from Spain, but based for many years in South Africa, where he specialises in teaching indigenous african music instruments and stories to children. His workshops are very professional and practical, he gets the kids to make and play their instruments (flutes made from plastic pipes or certain trees such as papaya) he presented performances and workshops for WOMAD festivals for years. Importantly, he also is an exceptional collaborator, coming in to perform with poets for selected poems. In particular he has performed with Madosini Latozi Mpahleni, many times, and has also played with Chiwoniso Maraire.   Apart from playing home-made flutes he also plays accoustic guitar and sings, in Spanish. Of interest is that he speaks English, Spanish, Portuguese and French.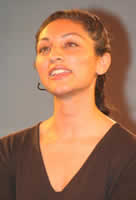 Shailja Patel is an internationally acclaimed Kenyan poet, playwright, theatre artist and activist. Her US publishing debut, MIGRITUDE, was an Amazon poetry bestseller, and a Seattle Times Bestseller. Trained as a political economist, accountant and yoga teacher, she honed her poetic skills in performances that have received standing ovations on three continents.  She has appeared on the BBC World Service, Al Jazeera, and NPR, and her work has been translated into 13 languages. CNN calls her "the face of globalization as a phenomenon of migration and exchange."  
Honors include the African Guest Writer Fellowship at the Nordic Africa Institute, a Sundance Theatre Fellowship, a Creation Fund Award from the National Performance Network, the Fanny-Ann Eddy Poetry Award from IRN-Africa, the Voices of Our Nations Poetry Award, a Lambda Slam Championship, and the Outwrite Poetry Prize. A founding member of Kenyans for Peace, Truth and Justice, Patel's groundbreaking project to empower grassroots Kenyan activists with advocacy skills was recognized with a LEAP grant from New Tactics In Human Rights, one of only seven awarded globally.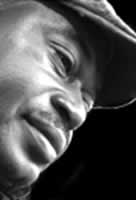 Antonio Gonçalves was born in Luanda, Angola, in 1960. He was the Secretary General of the Angolan Writers Union. He is currently the Cultural Counsellor of the Republic of Angola in Cuba since 2001. He has published the poetry books: Gemido de la piedra, 1994; Versos Libertinos, 1995; Adobe rojo de la tierra, 1996; Buscando al Hombre, 2000; El África que observo con los dedos, 2002; Transparencias, 2004; El lenguaje de los pájaros y de los sueños, love poems, 2005; Las voces del camino, 2005; El Séptimo Camino, 2006; Buscando el Hombre, poetry selection in Spanish, 2007; La quinta estación del tiempo, New Poetry Anthology, 2007. He also published the novel Escenas que el Museke Conoce, 2003. Along with other world poets, he was included in the anthology "Palabra del mundo". He is a member of the organization Poets of the World.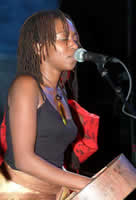 Chiwoniso Maraire was born in the US in 1976 and musical instruments were an integral part of her early nurturing as a child. In 1990, Chiwoniso's family relocated to Zimbabwe and she joined her fi rst musical group, Peace of Ebony, whose members came from Zimbabwean, German, American, Russian and Malawian ethnic backgrounds. Peace of Ebony redefi ned the essence of international African rap. Composing their lyrics in English, Shona and French, they used the sounds of the mbira and marimba as the core of most of their revolutionary recordings.
Chiwoniso's first solo album, Ancient Voices, won critical acclaim globally. 1999 saw Chiwoniso and The Storm perform at the MASA festival in Abidjan, Côte d'Ivoire, where she won the UNESCO Prize for Arts. In the same year, she was one of the nominees for the KORA Best Female Vocals of Africa Awards. In the last two years Chiwoniso's solo career has continued to grow in leaps and bounds. She is  now fronting her own band, Vibe Culture, which has quickly become one of the most popular in the Zimbabwean music community. She is also a singer and performer in the multi-national allwomen's band Women's Voice, whose members hail from Norway, Zimbabwe, Tanzania, America, Israel and Algeria. In the last year Chiwoniso has recorded the sound-track for the Kenyan-born writer N'gugi wa Mirii's fi rst short fi lm, worked with the voices of Marie Boine, Kris Kristoffersen and Sinead O'Connor on a CD for world peace in honor of the Nobel Peace Prize Award's 100th commemoration, represented Zimbabwe as in the UNDP Africa 2015 project, and just released her new album Timeless.
Lebogang Mashile the daughter of exiled South Africans, was born in the USA in 1979.  At the age of 16, the family returned to their home country.  In her work as a life skills facilitator for adolescents, poetry has been her preferred medium.  Mashile began to achieve recognition as one of South Africa's most popular young artists in 2002 when she performed her hip-hop inspired poetry at the Urban Voices Spoken Word and Music Festival.  In 2003 she co-founded the "Feel a Sistah!" Spoken Word Collective alongside Myesha Jenkins, Ntsiki Mazwai and Napo Masheane, which rapidly gained wide-spread popularity.  Her acting début came in the Oscar nominated film "Hotel Rwanda". Lebo was voted one of South Africa's Awesome Women of 2005 by Cosmopolitan Magazine.  In 2006 and 2007, she was named one of the Top 100 youth in South Africa by the Mail & Guardian and in 2006 she was awarded the prestigious Noma literary award. She is the recipient of the City Press/Rapport Woman of Prestige Award.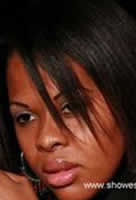 Tania Tomé was born in Mozambique in 1981. She is a singer, composer, poet , presenter, actress, producer and published author. An early passion for the arts, music and singing culminated in her winning the first prize, at the age of seven, for best voice in an international competition organised by the World Health Organization in Mozambique. With the conclusion of her degree in economics, Tomé won the Mario Soares Foundation of Portugal award for academic commitment in combination with social-humanitarian-artistic activities. Tome won as well the 2 position in "Festival da Cancao", music competition, porto, portugal. And is as well sound music award winner for Africa 2010.

Tome has participated in lots of festivals around the world as a singer, and as well as poet. Festival Cup of cultures, Germain, International Festival Africa, South Africa, SADC Festival Botwana and Festival of music Mozambique, and many others. As a musician she is managing to have her first cd of music, and have been singing in many places, some of them in Germain, Portugal and Mozambique, meeting celebrities of music as Lokua Kanza, Tito Paris, Bonga, Otis, Sergio Afonso and many others. Tome works as well as Head of department of Credit and Risk mitigation in a financial institution in Mozambique, and as well as a financial and management consultant.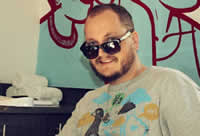 Iain Ewok Robinson is a 29yr old Spoken Word flavoured Hip Hop activist from Durban "Poison City" South Africa.  He is a freestyle battle and poetry SLAM champion, as well as a professional Aerosol artist.  As an actor he has worked extensively performing Shakespeare, and received a "Best Supporting Actor Award" for his role as Iago in Othello.  His work and career so far has seen him travel across borders as far North as Sweden and as close to home as Zimbabwe.  He is the director of the LIFE CHECK YOUTH DEVELOPMENT INITIATIVE, a home-grown non-profit Hip Hop organisation based in eThekwini (Durban).   He has produced four award winning Spoken Word Hip Hop theatre shows ("One Mind, One Mouth, One Mic" 2006; "Spitfire" 2007; "Bombstyle" 2008 and "iainEWOKrobinson is LIVE!" 2010), two anthologies of lyrics and rhymes ("Word: Customized Hype" 2007 and "Pimp My Poetry" 2010, Echoing Green Press), and by the end of 2011 will have released four recording projects ("Higher Flyer for Hire" independent release 2007; "Psycles" RBMA 2009; "SPITMUNKY" independent release; "Cats From Underdog Country" due for release 2011).
He lives with his wife, documentary film maker actress and director Karen Melissa Logan, in their house in Glenwood, a creative community near to the Durban city centre.
POETS OF AMERICA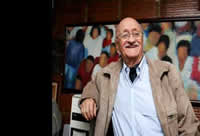 Oscar Hernández Monsalve He was born in Medellin, in 1925. He is poet, journalist, narrator, musician, actor and essayist. Along with León De Greiff, Fernando González, Manuel Mejía Vallejo and Alberto Aguirre, among others, he belonged to the group of intellectuals most important during its moment. He received The ESSO novel prize 1965, shared with Manuel Mejia Vallejo and Alfonso Bonilla with his novel Al Final de la Calle.
He was an actor in nine Colombian movies, among them: "Rodrigo D. No Futuro" and "Sumas y restas". He obtained the prize for best actor in 1987 for his performing in "Los Músicos" by Víctor Gaviria. Boxer at thirteen years old, soccer player, teacher in the Liceo Antioqueño and also in the Faculty of Social Communication at the University of Antioquia. He was worker of Coltejer and also at the first plastic factory of Medellin. He organized some book fair in Venezuela and Cuba, selling more than one million books. With his song "El Premio" he awarded the Mono Núñez Prize. He has published the poetry books: Poemas del hombre, 1950; Las contadas palabras, 1958; Habitantes del aire, 1964; Versos para una viajera, 1966; Poemas de la casa, 1966; Del amor y otros desastres, 1978; Las contadas palabras y otros poemas, 1987; Después del viento, 2001; Hoy besarás y habrá buen tiempo, 2009.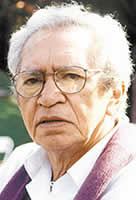 Amadeu Thiago de Mello born in 1926 in the state of Amazonas, Brazil, is the most representative and celebrated poet of Amazonia. Presently, he is Minister of Culture of the State of Amazonas and has served, on many occasions, in important diplomatic posts in several countries, including Chile and Bolivia.
His literary career began in 1951 with the publication of his book Silencio e Palavra (Silence and Word). Since then, his whirlwind and wondrous creativity has continued unabated. The collection Vento Geral gathers a dozen books published before 1981.
His poetic voice has been translated into many languages including English, Spanish, French, and German. In 1970, in the United States, Geo Pflaum Publisher published a selection of his poems entitled What Counts is Life. His work was translated into Spanish by Thiago de Mello's close friend, Pablo Neruda, and by Mario Benedetti.
Thiago de Mello--in his essays, poems, and in his social and political activism--has always been a passionate defender of his native region, and has exalted it as a key ecological reserve for all humanity.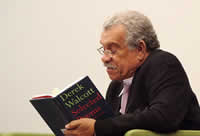 Derek Walcott was born in 1930 in the town of Castries in Saint Lucia, one of the Windward Islands in the Lesser Antilles. In 1992, he received the Nobel Prize in Literature. The experience of growing up on the isolated volcanic island, an ex-British colony, has had a strong influence on Walcott's life and work. Both his grandmothers were said to have been the descendants of slaves. His father, a Bohemian watercolourist, died when Derek and his twin brother, Roderick, were only a few years old. His mother ran the town's Methodist school. After studying at St. Mary's College in his native island and at the University of the West Indies in Jamaica, Walcott moved in 1953 to Trinidad, where he has worked as theatre and art critic. At the age of 18, he made his debut with 25 Poems, but his breakthrough came with the collection of poems, In a Green Night (1962). In 1959, he founded the Trinidad Theatre Workshop which produced many of his early plays.
Walcott has been an assiduous traveller to other countries but has always, not least in his efforts to create an indigenous drama, felt himself deeply-rooted in Caribbean society with its cultural fusion of African, Asiatic and European elements. For many years, he has divided his time between Trinidad, where he has his home as a writer, and Boston University, where he teaches literature and creative writing.
Selected works in poetry: Epitaph for the young (1949); Poems (1951); In a green night: poems 1948-60 (1962); Selected Poems (1964); The Castaway and Other Poems (1965); The Gulf and Other Poems (1969); Another Life (1973); Sea Grapes (1976); The Star-Apple Kingdom (1980); Selected Poetry (1981); The Fortunate Traveller (1982); Midsummer (1984); Collected Poems 1948-84 (1986); The Arkansas Testament (1987); Omeros (1990); Poems 1965-1980 (1993), Bounty (1997); Tiepolo's Hound (2000); The Prodigal (2004); Selected Poems (2007); White Egrets (2010).
Jack Hirschman was born in The Bronx, NY, in 1933. He is the author of numerous books of poetry, plus some 45 translations from a half-dozen languages, as well as the editor of anthologies and journals. In 2006, he was announced as the fourth Poet Laureate of San Francisco. That same year, his massive collection called The Arcanes was published in the English language in Italy. After his official term as Poet Laureate finished in late 2007, he became Poet in Residence with Friends of the San Francisco Public Library, in part to continue organizing this Festival with Friends. His laureate-series book is All That's Left, published in 2008. He's a member of the League of Revolutionaries for a New America (LRNA). He is currently the director of the San Francisco International Poetry Festival.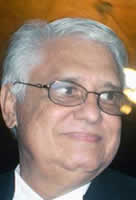 Vicente Rodriguez Nietzsche was born in Santurce, Puerto Rico on April the 5th of 1942.  He has been director of the poetry magazine Guajana, from 1962 when he founded it, and where he has published some part of his poetry work. He has participated in international literary events in Dominican Republic, Cuba, New York, Peru, Nicaragua, Mexico, Argentine, Panama, Colombia and Puerto Rico. In 1995 he was awarded with the medal José Maria Heredia in Santiago de Cuba. In 1999, he was appointed vice-president of the PEN CLUB of Puerto Rico.
Some of his books available: Sunday, Monday, Tuesday in 1965; These poems ( with Andrés Castro Ríos) in 1967; Mural in 1973; Choleric Lyric ( collective with Etna Iris Rivera, Andrés Castro Ríos and Angelamaría Dávila Malavé) in 1977; Love like a flute in 1978; Poems and bibliography: guajana- graphic and poetry (collective with Edwin Reyes, Vanessa Droz and Juan Sáez Burgos) in 1979; For playing the music of your love in 1988; Stanza in 1988; I turn to thread the musical couture  in 1989; Tiny Sonnets 1991; Till the end of the fire Anthology, selection-introduction by Marcos Reyes Dávila) in 1992; I didn't know to fall in love with Madonna Lilies in 1994; The best is double our dream 1995, UNEA-Guajana, Habana, Cuba. Voices of silence 1997, Editions Inspiration-Guajana, Santiago de Cuba. Let them actually sing how I love you 1999, At the rhythm of love, 2010. Poetry from Puerto Rico 1950-2000.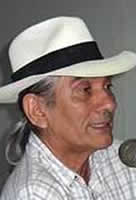 Waldo Leyva was born in Las Villas, Cuba, on May 16th, 1943. Before the Triumph of the Revolution (January 1st, 1959) he was an agricultural worker. After 1959 he was theatre instructor and history adviser. He was in charge of the Direction of Literature of the Provincial Council of Culture of Oriente. He studied Licentiate in Spanish Language and Literature in the University of Oriente. He took part in the Cultural Congress of Havana (1968). He was director of Columna magazine (Santiago de Cuba) and member of the editorial staff of El Caimán Barbudo. Besides the previous publishings, he has collaborated in La Gaceta de Cuba, Santiago, and in the Chilean magzine Hacia. He won the poetry award in the 1974 Uvero Contest with his book De la ciudad y sus héroes. He works as President of the Institute of Decima (Ten-verse Stanza).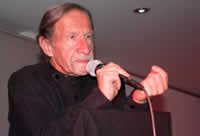 Jaime Garcia Maffla is a Colombian poet and essayist, born in Cali in 1944. He studied Philosophy and Letters in Los Andes University and is a Literature Master of the Javeriana University. In his work is possible to perceive some existentialist influences. He was cofounder, with Mario Rivero, Giovanni Quessep and Fernando Charry Lara, of the poetry magazine Dices Blow, appeared in 1972. With many other Colombian poets, he has been catalogued within the Nameless Generation. He was the author of the notes and prologue of the first Colombian edition of the Quixote. In 1997 he was awarded with the National Prize of Poetry University of Antioquia. He has worked in the House of Poetry Silva as the Workshops of Poetry's coordinator and nowadays he is Literature Professor to the Javeriana University and the Caro and Cuervo Institute, in Bogota.  
Poetic work: To die has an ordinary name (1969), Wreath between remains (1976), In the graces' lot (1978), The hunting (1984), Watchman' voices (1986),  Poems written with a pencil on an old notebook (1997), Live if you are able to (1997), Dictate manner (1999), Chevalier of the Order of Despair (2001), Minimal Anthology of the Donzel (2001). Essay work: During autumn all leaves of books might fall (1987), On the trail of Miguel de Unamuno (1985), Don Quixote (1987), Fernando Charry Lara (1989), Storaxs of Eduardo Cote Lamus (1994), ¿What is poetry like? (2001), Toward the sacred manner of language: Stephan Mallarmé (2001).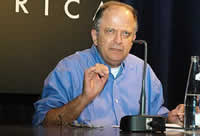 Marco Antonio Campos was born in México, D. F., in 1949. He is a poet, narrator, essayist and translator. He mixes prose and poetry, in a writing exercise where the emaciated feelings are always before that the fine metaphor. He has published, among other, the poetry books: Muertos y disfraces, 1974; Una seña en la sepultura, 1978; Monólogos, 1985; La ceniza en la frente, 1979; Los adioses del forastero, 1996; Viernes en Jerusalén, 2005; Árboles, 2006. In his country, he obtained the prizes: Xavier Villaurrutia (1992) and Nezahualcóyotl (2005), and won the Casa de América Prize, 2005, in Spain.
He has translated some books of Charles Baudelaire, Arthur Rimbaud, André Gide, Antonin Artaud, Roger Munier, Emile Nelligan, Gaston Miron, Gatien Lapointe, Umberto Saba, Vincenzo Cardarelli, Giuseppe Ungaretti, Salvatore Quasimodo, Georg Trakl, Reiner Kunze and Carlos Drummond de Andrade.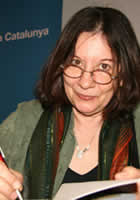 Carmen Ollé was born in Lima, Perú, in 1947. She is a poet, narrator and literary critic. She studied pedagogy and Literature at the Universidad Nacional Mayor de San Marcos and obtained a degree in Education specializing in language and literature. She has published, among others, the poetry books: Noches de adrenalina, 1981; Todo orgullo humea la noche, 1988; Nights of adrenaline, 1997. She also published (in narrative): ¿Por qué hacen tanto ruido?, 1992 and El Santo Oficio, 2002, as well as the novels: Las dos caras del deseo, 1994 ad Una muchacha bajo su paraguas, 2008. She has lived for long periods in France, Germany, Spain and the United States.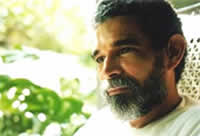 Alex Pausides was born in Manzanillo, Cuba, in 1950.  He has published more tan 10 poetry books, among them: Palabras a la innombrable, 1992; Cuaderno del artista adolescente, 1993; and La Casa del hombre, 1996. His poems has been translated to French, English, Italian and Russian and included in the most important poetry anthologies in his country. He has made incursions in the genre of performance. Recently he won the  Poesía Gaceta Prize, in Cuba. He coordinates the Union Festival of the Writers and Artists of Cuba, and the Proyecto Cultural Sur for promoting arts and literature, as well as the Ediciones Unión, Colección Sur, among other works.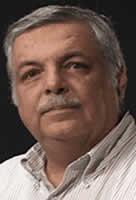 Eufrasio Guzmán Mesa was born in Tuluá, Valle, Colombia, in 1951. He is a poet, writer, literary and poetic researcher. He got a Bachelor of Philosophy and Arts from the Universidad Pontificia Bolivariana. Since 1981 he has been profesor of the Institute of Philosophy at the Universidad de Antioquia and currently is its director. Its theme of writing and intellectual work has been the knowledge of the human being as the bearer of a nature that makes him being and its realization in the context of a concrete cultura. He has researched about the works of the Cuban poet José Lezama Lima as well as about the Colombian philosopher Fernando Gonzales and writer Fernando Vallejo, in whose works he explores the human nature. He has written essays on contemporary Colombian poets and anthropologhy. Some of his books are: Del patio y el velamen, essays about the Lezama Lima's work, 1986; De la navegación, poetry, 2003; Respiración de la casa, poetry, 2008.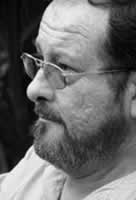 Rodolfo Dada was born in San José, Costa Rica, On March 5, 1952. Poet and writer, he has published poems and articles in newspapers and literary magazines of the world. His work has been included in several poetry anthologies of Hispanoamerica. He is a member of the Association of Authors of Literary, Artistic and Scientific in his country. He founded the Oruga group, the Taller del lunes, and directs the Publishing House of Costa Rica. He coordinates some literary activities in the Hotel Laguna, in Tortuguero. He has participated in several poetry and literary encounters in Guatemala, Cuba, Colombia, Costa Rica, Nicaragua, Argentina and Panamá. His poetry books published: El abecedario del Yaquí, 1981; La voz del Caracol, 1988; Cuajiniquil, 1975; El domador, 1973; Kotuma, la rana y la luna, 1984; De azul el mar, 2004 y Cardumen, 2004.  Awards received: Premio Universitario de Cuento, 1971 with El domador (Universidad de Costa Rica); Carmen Lyra Award, 1981, Editorial Costa Rica Award with El abecedario del Yaquí; UNA-PALABRA Award, 1984 with Kotuma, la rana y la luna. Abecedario del Yaquí and La voz del Caracol are required reading texts in the educational program of the Ministry of Education of Costa Rica. He is a member of the coordinating group of the International Poetry Festival of Costa Rica.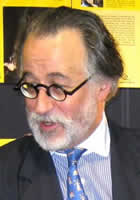 Pedro Alejo Gómez Vila (Bogota, 1953). He is a member of the Board of Regents of the University of America. In 2007 entered as Corresponding Member of the Colombian Academy of Language. From 2003 he has been Director of the House of Poetry José Asunción Silva.   
He has published, The political structure of heaven (1975), By my hand the mirror world went by, (Essay on the tales of Pedro Gómez Valderrama, 1996), Portrait into time (2005), Masks catalogue (2006) and Wings treatise (2007). In the moment he works on a novel.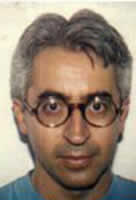 Rubén Darío Lotero. Poet, chronicler, scriptwriter, researcher and profesor, he was born in Medellin On December 16, 1955. In 1991 he won the X National Poetry Prize of the University of Antioquia with its book "Poemas para leer en el bus", published by the same university. In 1990 the Corporación Región para el desarrollo y la Democracia published a recopilation of short chronicles about his young disciples living in places marked by poverty, oblivion and delinquency: "Historias de la calle". After obtain a grant, in 1993, he travelled to Madrid in order to study Spanish Literature and Spanish Language. In 1997 he is granted but this time by the Ministry of Culture to write the poetry book "Camino a casa", published in 2003 in the Colección de Autores Antioqueños. In 2004, the University EAFIT, published his book "Papel de globo. (Poemas para la Navidad), illustrated byJosé A. Suarez. Other awards received: Carlos Castro Saavedra (Alianza Francesa, Medellín, 1990). Secretaría de Educación y Cultura Municipal (1990). Secretaría de Educación de Antioquia (1988 y 1991) and Secretaría del Medio Ambiente de Medellín, 2007. 
"Produced by the good art of these poems, like the good films, one can triumph over the tremendous loneliness that all keep inside and for an instant to be brothers and back to the primigenial order of things." Víctor Gaviria. "The poems of Ruben Darío Lotero are amazing. Maybe nobody like him among us has got the sobriety, from Epifanio Mejía; such simplicity and sobriety, such tenderness and modest for naming things". José Manuel Arango.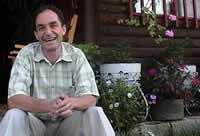 Javier Naranjo was born in Medellin in 1956. He is poet and cultural worker. From some years ago, he directs poetry worshops for children. He has published the poetry books: Orvalho (with Carlos Enrique Ortiz and Gabriel Jaime Caro), Silabario; Lugar de cuerpo ciego; El Diario de Mammo. His book Casa de las estrellas (winner of a creation grant of the Colombian Ministry of Culture) is composed by poetic definitions done by children. In this book, he has recopilated his work along the years as coordinator of poetry workshops. As Pedro Arturo Estrada said, Lugar de cuerpo ciego (Place of blind body) leads us into the most secret intimacy of enjoyment and wonder of the senses,  it give us the shaken vision of the world in its little things, in the fragile up and downs of life that for its apparent simplicity are loaded with more mystery and, also, elusive beauty.
José María Memet pseudonym of Pedro Second Ortiz Navarrete, poet and cultural producer, born in the city of Neuquén, Argentina, of Chilean parents, the 22 of September of 1957.  He was awarded with the Pablo Neruda Prize in 1996. Director of the festival poetry biennial: Chilepoesía. Works: Crucified poems, 1977; Under Threat, 1979; Anyone of us, 1980; The gestures of another Life, 1985; Song of roosters to the dawn, 1986; The fiction house and other poems, 1988; The duel, 1994; Surrounded a noble and beautiful animal between crossbows, 1995; To dawn without Gods, 1999; The mine sweeper of languages, 2005.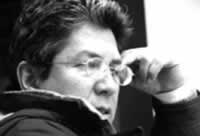 Triunfo Arciniegas was born in Málaga, Colombia. To the moment he has published forty books, mainly for children. He is a M.A. in Literature (Pontificia Universidad Javeriana) and has a specialization in Text Translation (Universidad de Pamplona). He combines writing with illustrating, photography and traveling. If someone ever tries to see what is inside his hobbies backpack he would find besides his characters of monsters and cats, witches and vampires, angels and devils, dragons and unicorns: books, films, two or three painters, music, kites, paper boats, chocolate ice cream, tangerine juice, fog and full moon nights.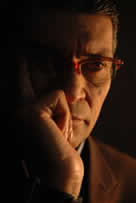 Fernando Linero was born in Santa Marta, Colombia, in 1957. He has published the poetry books: Sonata del Sonámbulo, 1980; La risa del saxo, 1985; Guijarros, 1990; Aparte de amor, 1993; Palabras para el hombre, 1990; Lecciones de fagot, 2004; El bolero en sus propias palabras, 2008.
 Although he studied Philosophy, Linero says that being born on the day the first artificial satellite, Sputnik, was launched, he could not escape being a musician and a poet. The titles of three of his books point to his love of music — son, bolero, jazz— and he has written and produced several music CDs. Philosophy is a constant influence in his poetry, in which he aspires to exalt humanist values.
Ever since his first book, Sonata of the somnabulist, Linero has worked on something that contemporary poetry disdains nowadays: its intimate connection with music. In the first book — postmodern and urban — music is an insistent presence expressed through the rhythm of the poems. But in the rest of his work the musical element resides more in the intonation and emotional content.
Critics have defined him as a pure lyric poet. His perceptions — of lost landscapes finely described — and his thoughts — his observation of a world full of contradictions — always have a musical aura, not of flutes and drums, but — although he studied orchestral conducting and is a professional pianist — of what corresponds to the basic musical component of poetry: lyricism.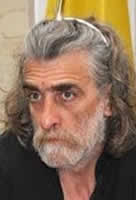 Gabriel Impaglione born in Buenos Aires, Argentina in 1958 is a poet and author. He also works with graphic and electronic publications.  He published "Echarle pájaros al Mundo" (poetry, Ediciones Panorama- Buenos Aires- 1994); "Breviario de Cartografía Mágica" (poetry, The Poet's Workshop- Galicia- 2002); "Poemas Quietos" (Anthology Editorial Mizares- Barcelona- 2002); Poems in e-book "Todas las voces una voz- Edited by Universidad de Educación a Distancia, Madrid, 2002; "Bagdad y otros poemas" (The Poet's Workshop- Galicia- 2003); Short-story "La manada"- Second Prize,  Anthología Escritores Hispanoamericanos en el Mundo- (Edit. Bellvigraf- Córdoba -Arg.- 2004); "Letrarios de Utópolis" (poetry, Linajes Editores- México- 2004). "Cuentapájaros" (poetry, in print, The Poet's Workshop- Galicia). Poems in antholgy: Canto a un Prisionero, Edit. Poetas Antiimperialistas, Canadà, 2005; "alala", Poet's Workshop, España, 2005.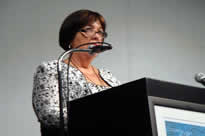 Vilma Reyes (Río Piedras, Puerto Rico, 1958). She is a poet, narrator, Spanish and French teacher; cultural promoter and publisher. She is President of the International Poetry Festival of Puerto Rico. Coauthor of school textbooks: Pen and Pencil, 2006 and World for everybody, 2004. She is also graduated as Arts Bachelor with emphasis on French language of the University of the Sacred Heart; Master in Education of the Inter-American University of Puerto Rico and realized doctoral studies on Hispano-American Literature at the University of Puerto Rico.
She has participated in several poetic meetings in the international domain. Her work has been published in many national and international magazines and a part of her work (tales and poems) has appeared in different Latin American anthologies and in various school series. Some of her poetry books are: Verses for the insomniac rain, 2010; Motherland, 2006; y first flight, 2005; Window of Harmony and Light, 2005.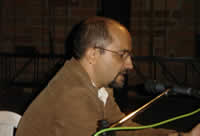 Orlando Gallo was born in Medellín, Colombia, in 1959. He is a poet and lawyer graduated at the University of Antioquia. With his poetry book Los paisajes fragmentarios, he won the Universidad de Antioquia National Poetry Prize, 1983. With La próxima línea talvez, he obtained the Eduardo Cote Lamus National Poetry Prize. His poems have been included in the following anthologhies: Tambor en la sombra, Antología de la poesía colombiana, Muestra de poesía Hispanoamérica actual. Other of his poetry books: Siendo en las cosas, 1984; and Todas las cosas es lo único que dejamos, 1999 (Creation grant of Colcultura, 1995).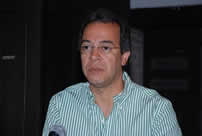 José Mármol was born in Santo Domingo, Dominican Republic, on April 30, 1960 and received a degree in Philosophy from the Autonomous University of Santo Domingo. He has coordinated the Taller Literario Cesar Vallejo (The Cesar Vallejo Literary Workshop) and the Ciculo Literario of the Instituto Tecnologico de Santo Dominigo (Literary Circle of the Technological Institute of Santo Domingo). He is the founder of the Coleccion Ergo de Poesia Contemporanea Dominicana (Ergo Collection of Contemporary Dominican Poetry). Poet and essayist, his poetry proposes to conjugate feeling, thinking and the reflection of saying in the space of the verse. He has received the Salome Ureña National Poetry Prize (1987), the Pedro Hernriquez Ureña Poetry Prize (1992), the Casa de Teatro Prize (1994) and the second prize of the "Eliseo Diego" International Prize (1994) from the "Plural" magazine. Some of his work has been translated to English, French and Italian.
Works: "El ojo del arúspice" (1984); "Encuentro con las mismas otredades I" (1985), "Encuentro con las mismas otredades II" (1989), "La invención del día" (1989), "Poema 24 al Ozama" (1990), "Lengua de paraíso" (1992), "Deus ex machina" (1994), "Las pestes del lenguaje y otros ensayos" and "El placer de lo nimio" (the last two in 2004).
Faumelisa Manquepillán Calfuleo was born in Puquiñe, Chile, in 1960. She belongs to the Mapuche Nation. She describes herself as an artisan in stone, wood and textiles, poet and songwriter. According to her account, the Calfuleo were always the ngenpines of her land, responsible for uniting the earthly with the sacred world. After years of absence, by his family, withouth participating in the rituals of the Mapuche culture, the art of Faumelisa reunites these two worlds, now through his poetry, songs and crafts, all full of symbols of her cultura and also from the unique force that seems to emanate from her own spirit. The stones sculpted by Faumelisa sweat and during the sunny days, there are droplets running down by the rows of figures with woman's forms. "I pick up these stones from the place where my grandfather bathed, near here".  She was included in the book "20 Contemporary Mapuche Poets", 2003 and also in La Memoria Iluminada, 2007.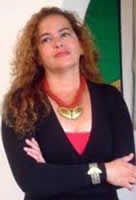 Ana Milena Puerta Born in Cali, Colombia, en 1961, she studied social communication at the Universidad de Valle, Publicity at the Academy of Professional Drawing and Management for the Arts at the Departmental Institute of Bellas Artes. She has published the poetry books: Acto de Palabras, 1986; A Contrapelo, 1994 and Galaxia triste, 1995-2001 (2002). She obtained the Carlos Castro Saavedra Poetry Prize 1992. Álvaro Burgos wrote: «After the reading of her squashed words and brief conceptual depth, all ancient kings needed of consolations and remain during an instant captive of her magic».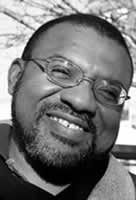 Kwame Dawes was born in Ghana in 1962. He spent most of his childhood in Jamaica. As a poet, he is profoundly influenced by the rhythms and textures of that lush place, citing in a recent interview his "spiritual, intellectual, and emotional engagement with reggae music." His book Bob Marley: Lyrical Genius remains the most authoritative study of the lyrics of Bob Marley. His 11th collection of verse, Wisteria: Poems From the Swamp Country, was published in January 2006. In February, 2007 Akashic Books published his novel, She's Gone and Peepal Tree Books published his 12th collection of poetry, Impossible Flying, and his non-fiction work, A Far Cry From Plymouth Rock: A Personal Narrative. He is the Distinguished Poet-in-Residence at the University of South Carolina and the programming director of the Calabash International Literary Festival, which takes place in Jamaica each year.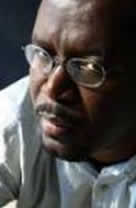 Louis-Philippe Dalembert (born December 8, 1962 in Port-au-Prince, Haiti) is a Haitian poet and novelist. He writes in both French and Haitian creole. His works have been translated into several languages. He now divides his home between Berlin, Paris and Port-au-Prince. He has published the poetry books: Evangile pour les miens. Port-au-Prince: Choucoune, 1982; Et le soleil se souvient (followed by) Pages cendres et palmes d'aube. Paris: L'Harmattan, 1989; Du temps et d'autres nostalgies. Les Cahiers de la Villa Medicis 9.1 (1995); Ces îles de plein sel. Vwa (La Chaux-de-fonds) 24 (1996); Ces îles de plein sel et autres poèmes. Ivry-sur-Seine: silex/Nouvelles du Sud, 2000; Dieci poesie (Errance). Quaderni di via Montereale (Pordenone) 4 (2000); Poème pour accompagner l'absence. Montréal: Mémoire d'encrier, 2005; Transhumances. Paris: Riveneuve éditions, 2010.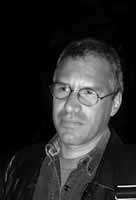 Rafael del Castillo Matamoros was born in Tunja, Colombia, in 1962. He is a poet, writer and publisher. He founded and currently directs the poetry magazine Ulrika and the Bogota International Poetry Festival.  He has received several awards, among them: Revista Babel Poetry Prize (From the National  University of Colombia, 1982); Creation Grant (From  the Ministry of Culture, 1996); Caza de Poesía, International Poetry Prize, Los Ángeles, 2008.  He directs poetry workshop for teachers and other public in the Silva Poetry House.
Poetry books: Canción Desnuda, 1985; El ojo del silencio, 1985; Entre la Oscuridad y la palabra, 1991; Animal de baldío, 1999 and 2000; Pirómana, 2002; Poetry Solo, 2008; Palabras escuchadas en un café de barrio, 2006; Aires viciados, 2007;  Sanos consejos a una prostituta y otros aires viciados, 2008; and Puertas entornadas, 2010.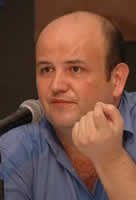 Mario Angel Quintero, of Colombian parents, was born in 1964 San Francisco, California, where he spent his first thirty years. He studied literature at the University of California and was later awarded a Wallace Stegner Fellowship in Fiction from Stanford University. He has published fiction, poetry, and essays in English as George Angel in literary magazines and the chapbook Globo (1996), and received the Nilon Award from Fiction Collective 2 for his book The Fifth Season (1996). Since 1995, he has lived in Medellin, Colombia, where he has published the Spanish poetry collections Mapa de lo claro (A Map of What is Clear; 1996), Muestra (Sample; 1998), Tentenelaire (2006) and El desvanecimiento del alma en camino al limbo (The Soul's Dwindling as It Makes Its Way Toward Limbo; 2009) as well as a book of plays in Spanish, Cómo morir en un solar ajeno (How to Die in Someone Else's Yard; 2009). His visual art has been exhibited and he has also illustrated books. Since 2003, he has worked as director and playwright of the theatre company Párpado Teatro. He also makes music with the groups Underflavour and Sell the Elephant.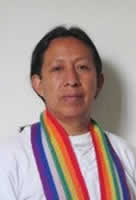 Fredy Chicangana was born in the Yanakuna country, in the south-east of Colombia, in 1964. His Quechua name Wiñay Mallki means "root that remains permanently", considers himself a poet and an oralitor, a word he created to express his self-appointed role in uniting the oral tradition of indigenous cultures with what is written. Since childhood he has taken part in helping his indigenous peoples in the struggle to defend Mother Earth. In 2001 he was a founding member of a movement to strengthen "the places of knowledge and words" of his ethnic group. His poems have been published in many national and international reviews and newspapers and have been included in several anthologies of indigenous Latin American and Colombian poetry.
Like many of the ancestral myths of the Americas, the Yanakuna myths promote the elements that act as links between shadow and light, the serpent and the bird, the world and the underworld. A rainbow that drinks and feeds itself in the depths, to emerge into the light with all its colors, is a primordial element in the poetry of Fredy Chikangana who claims to descend from the Tawantisuyu culture.
Another theme is the root exposed to the light — representing the presence of memory, as a sign of the hidden part of history that emerges from the shadows, in its true form. These important signs and voices have been silenced in the culture. The poetry of Fredy Chicangana is formed in the "jungle school" where the great native leader Quintín Lame said he studied, the school of analogy with the natural elements that has been followed by the Yanacuna people.
Gonzalo Ramírez Quintero. He was born in Caracas, Venezuela, in 1965. He is a poet and essay writer. In essay's domain he has published: a reporting read at the Symposium: Venezuela: Culture and Society at the end of the century, held at Brown University (USA) in 1991, published within the book Venezuela: end of century, compiled by Julio Ortega and published by La Casa de Bello in 1993; Epilogue to the Poetic Anthology of Juan Sanchez Peláez, published by the National Autonomic University of Mexico in 1995; Prologue to the Poetic Work of María Calcaño published by the Universidad del Zulia and the Dramatic Society of Maracaibo in 1996.
His poems have appeared within the Anthology of Latin American Poetry of XXI century, turn and transition, compiled by Julio Ortega and published by Siglo XXI editors from Mexico in 1997. Poems, interviews and essays of his have appeared at diverse Venezuelan and international magazines. He has participated at several forums, colloquies, seminars, conferences throughout all the country. Besieged City, his first work in poetry's domain to be published is at the point of coming to light.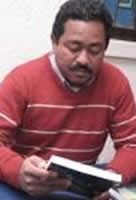 Zabier Hernández Buelvas. Montería, Colombia, 1966. He is a Social Sciences Bachelor of the University of the District Francisco José de Caldas at Bogotá. Director of the Centre of Studies and Social Researches, Bogotá: 2000 – 2002. He is a Journalist and collaborator of the Weekly Journal Voice –Voz-. He is also essayist collaborator of the magazine of political analysis "Taller", editor and compiler of the book "Fallacies and realities on the Plan Colombia", 2001. He has published in 2006 the collected poems named: A dance to dismiss the tragedy. He is cofounder and coordinator of the Poetic and Cultural Collective  Sombrilla which organizes in Pasto and Nariño the International Recital of Poetry from the South. He has written a tale called El Mio Cid of the Carnival, adapted to script and filmed in a short format under the name "the dream of carnacolin", whose premier was presented during the II Encounter of Andeans Cultures, in January, 2010 in Pasto. He is member of the group of poets and writers who publish the National Magazine of Literature Doorbells are ringing. His work has been included in a compilation anthology of Colombian and Mexican poets, whose name is Dreams in the wind, 2010.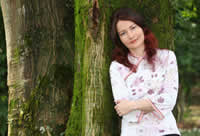 Gloria Posada was born in Colombia in Medellin in 1967. She holds a degree in Anthropology from the University of Antioquia, a professorship in Plastic Arts from the National University of Colombia, a master's degree in Aesthetics from the National University of Colombia and an advanced studies degree in Historical and Natural Heritage from the University of Huelva, Spain. She is also a candidate for the Social Anthropology doctorate at the University of Barcelona.
In 1992 she won the National Young Poetry Award of the Colombian Institute of Culture with her book Oficio divino (Divine Office). In 1991 she won second prize in the Carlos Castro Saavedra National Poetry Award, and in 1990 she was shortlisted for the Eduardo Cote Lamus National Poetry Award with Vosotras (You Women). Naturalezas (Natures) won a Honorable Mention in the Casa de las Américas Hispano-American Poetry Award (Havana, Cuba) in 2002. These prize-winning collections were later published. In 2002, she also won the Individual Creation Scholarship of the Colombian Ministry of Culture for her Lugares (Places) project. In 2004, she was granted the Colombia-Mexico artistic residence and the FONCA/CONALCULTA award of Mexico.
Since the late 1980s, Gloria Posada has devoted herself to an enquiry into nature and the world, which manifests itself sometimes in words and sometimes in images or shapes. In her quest, poetry and plastic arts have had a parallel development, which occasionally involves installations, sound art or interventions of public space.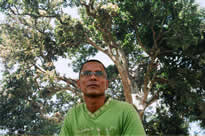 Iván Graciano Morelo was born in Arboletes, Antioquia, Colombia, in 1967. Poeta and teacher.  He is the director of the literary review La Tagua, which has a wide circulation in Antioquia and outside of the department. He won several local contests in poetry and story. He has designed proposals fro promoting reading and writing. He is autor of the book Bajo los palos de mango. Among other publications, his poems have been included in the blog Meridiano 75.
Otoniel Guevara. He was born in Hacienda Chanmico, San Juan Opico, La Libertad, El Salvador, on 10th of June, 1967. He studied Agriculture High School and abandoned his studies on agronomic engineering and journalism at the University of El Salvador. He has worked as creative in advertising agencies and as cultural journalist at radio stations and journals. His labor as cultural promoter comprehends the organizations of festivals and events, poetry encounters, literary workshops, forums, get-together and other. As an editor he headed the projects Mazatli and Alkimia and nowadays he directs the project piscucha inhílica editors. His poetry has been translated into 8 languages and published into 20 individual books and in magazines, journals, anthologies, collective gatherings and electronic media in America and Europe. He has represented the culture of El Salvador in 16 countries and has won more than 20 literary prizes. He is the president of the Foundation Metaphor and director of the International Encounter of Poets «The turn of the offended».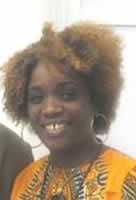 Magia López was born in Cuba. She is a poet, singer and composer. She is the director of the Cuban Agency of Rap. The prestigious Billboard reviw selected her disc La Fabrik as one of the six best productions among a cluster of 1500 independent albums.  "La llaman puta" is one of her recognized songs. She is one of the most outstanding figures in the hip hop movement in Cuba that has deep roots in the community and is already being recognized nationally and internationally. As said by the critic and essayist Roberto Zurbano, she presents an alternative to "neoracistas expressions that have been emerging in Cuban daily life XXI century.
Lucy Cristina Chau was born in Panamá in 1971. He has received several awards, among them: Premio Centroamericano de Literatura Rogelio Sinán 2010, Ricardo Miró Poetry Prize 2008 and the Gustavo Batista Cedeño National Poetry Prize for Young poets, in 2006. She is graduated of the University of Panama with a Bachelor of Arts and English. Since 1993 she is part of the Jose Marti writers association.  She is currently professor of Creative Writing in the English teaching program at the Universidad de las Américas, Panamá. Among her publications are: La Casa Rota; IndiGentes; La Virgen de la Cueva, and the story book De la puerta hacia adentro.
She has representd her country in numerous literary events in America and has collaborated for several literary publications as the Cultural Magazine Tres Mil, the literary review Maga, and the supplement Día D, as well as many web sites dedicated to the literarure promotion.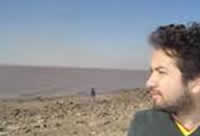 Giovanny Gómez was born in Pereira, Colombia, in 1979. He studied Spanish and Literature at the Universidad Tecnológica in Pereira, a city where he has lived since a very early age and where in 1998 he founded the poetry magazine Luna de locos, of which he is editor. He is also director of the cineclub Cine en Cámara Cine con Alma. He has published poems in many Colombian publications, and was awarded the National Poetry Prize María Mercedes Carranza for his first book, Casa de humo (House of Smoke), to be published later this year. He has been invited to poetry festivals in Colombia, Argentina, Chile and Costa Rica.
The young man wants "a word for a house". The young poet asks language for "a word that has the form of a ship", and adds, "in which I can sail to know the sea". He has discovered that language is a device to modify the world, to travel, to invent, to cover distances that perhaps cannot be covered in no other ship. And he becomes a poet. But his first experience is terrible: "All of my inspiration resembles / the noise of a pair of tied hands." It is not enough to decide, it is not enough to wish; language is intractable. We can have the ship, but the rudder is not in our hands. We can set sail to get to know the sea that so attracted us, but once we are there the sea is something immense and unknown, even menacing.
Alejandro Palacio. He was born the 26 November 1981 in Medellin city and enjoyed his childhood in a humble quarter in the west of this city, which for the disposition of the houses miss-build one on another, receives the name of "El pesebre", there discovered the inclemency of the war. After five years of village's peace he returns to the city to study theater and contemporary dance. But he has to quit his studies to work in factories that provoke him a deep depression almost impossible to overpass when at 22 and after several attempts to commit suicide he decides to leave the work and begins to form part of the literary workshop Te-Lees-Kopio of Comfenalco Antioquia. After this, he became part of the organization of the annual encounter of poets from the nor-west zone of the city, at the Comfenalco Library, in Castilla quarter. Since then he has participated in some festivals of quarters, municipalities and regions, reading poems but without publishing any book. He is bachelor in Basic Education with emphasis in humanities: Castellan language at the University of Antioquia and he works nowadays for the municipality of Medellin as a teacher.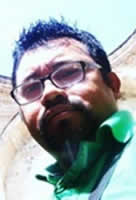 Marvin García was born in Quetzaltenango, Guatemala, in 1982. Poet and cultural worker, he has participated during some poetry readings in Quetzaltenango, Huehuetenango, Ciudad de Guatemala, El Salvador, Nicaragua and Costa Rica. He co-founded the Grupo Ritual, currently is the general coordinator of the Quetzaltenango International Poetry Festival along with some Central American poets. He works for the art promotion in his city and his texts have appeared in several cultural magazines of Guatemala, Mexico and Centroamerica. He has published the poetry books: "no somos los mismos" and "PM [mensajes para ser borrados]".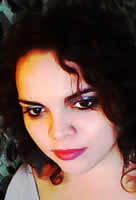 Viviana Villa Restrepo was born in Medellín in 1983. Poet, narrator and scriptwriter, as a member of the group "Poetas del apocalipsis" she arranged three versions of the young poets meeting, La ciudad Vivida. Bachelor in Philosophy at the Universidad de Antioquia, she conducts research on the topic: Strategies for transformation of public space through their line of specialization in visual anthropology. As a result of these investigations has produced several documentaries urban and in recent years began to develop a work with the indigenous Embera and Zenú, within the project: "Indigenous Voices in the Bicentennial".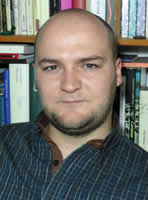 Luis Arturo Restrepo (Medellin, 1983). He is bachelor in philosophy at the University of Antioquia and nowadays is studying his Master in Colombian Literature and works as a part time teacher at the same university.    
His work has awarded the following prizes: Mention of Acknowledgment, Finalist Work XIX National University Concourse of Short Tale and Poetry 2006 University Externado of Colombia, with the collected poems Metaphors of the Disenchanted. Mention of Acknowledgment, Finalist Work, second place, National Prize of Poetry Porfirio Barba Jacob III Edition 2006 with the book Watchman of Boredom. In 2009 he won the VI Scholarship to the Artistic Creation City of Medellin, category Poetry Youngsters. Poems of his have appeared in diverse national magazines and in 2010 Tragaluz Editors published his first book Bet of ashes.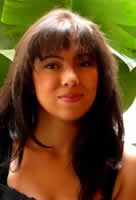 Viviana Restrepo was born in Medellín, Colombia, in 1985. About her poetry, in the words of Pedro Arturo Estrada: "We are born also with the first word. Word that breaks up, word that opens up as a womb and throws us from the primordial silence into the night of the world that is in its turn torned by time in incandescent wounds. For Viviana the matricial blood, the sacrificial blood, the lustral blood the different bloods that have marked her until now transform into ink that waits, that starts to pour into poetry and to burn beyond the body and the contingency of the steps, forever uncertain, in this city and these days of harassment . For Viviana, poetry is gestation of universality, laceration, slow consagration of life that agains longs for rebirth, for the revelation of otherness, the revelation of sacredness in the world. Thus, we attend; we have been invited to witness of that delivery of words that from the most obscure magma of her being convene us.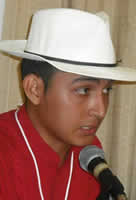 Aarón de Jesús Rueda was born in Las Choapas, Veracruz, Mexico. Currently, he lives in the city of Cárdenas, Tabasco. Poet and singer, he began writing poetry in the workshops of the writer Virgilio Rivera Leticia at the Technological University of Tabasco, where he led several courses in poetry and narrative. Later he attended the Juan Rulfo workshop in the city of Cárdenas, asummed by Níger Madrigal in the House of Cultures Carlos Pellicer Cámara. He has attended several poetry meetings in Mexico, among them: V Encuentro Iberoamericano Carlos Pellicer Cámara, II Encuentro Municipal de A las Choapas Con Cariño, Encuentro Regional de Escritores de Calkini, Campeche, Festival del Día Mundial de la Poesía -sponsored by the UNESCO-, Sesiones de Otoño and Primavera por la Casa Maya de la Poesía and XIV Festival Internacional de Poesía de la Habana.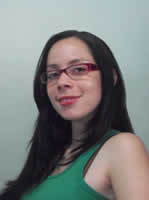 Yenny  Carolina  Correa (Medellín 1987). She is a poet and now courses the final semesters of a pre grade in Letters: Hispanic Philology at the University of Antioquia. She has participated in diverse festivals of poetry and in the III International Encounter of Writers hold in Tarija, Bolivia, during November 2010. She belongs to the literary workshop RENATA of the University of Antioquia. Some of her poems have been included in the anthology Works of the workshop II (U. of A.). She has been one of the winners of the I Young Poetry Prize City of Medellin with her poetry selection Triptych.
POETS OF ASIA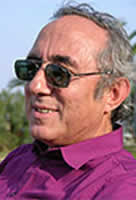 Atahol Behramoglu was born in Çatalca near İstanbul in 1942. He graduated from the University of Ankara, Department of Russian Language and Literature. His first collections of poems, published in 1965 and 1970, were well received as a synthesis of the lyrical poetic traditions with the new avant-garde elements. Between 1970-1974 he lived in Paris, London and Moscow. In Paris he met With Pablo Neruda and Louis Aragon. Fragments of his poem "One Day For Sure" was published in Les Letters Françaises edited by Aragon.
Between November 1972 and June 1974 he worked as a researcher/ assistant at Moscow State University's Faculty of Russian Philology, Chair of Russian and Soviet Literature. In 1975 in İstanbul he edited the monthly literary journal "Militant" which emerged as an important and influential journal during the two years of its publication. At this period of 70's the other collections of poems came out: "Neither Rain…Nor Poems", "During the Siege", "The Epic of Moustapha Suphi", "Quatrains". A selection of Behramoğlu's poetry was translated into Greek and published along with a laudatory attention of Yannis Ritsos(1981). Was arrested in March 1982 along with the other executive members of the Turkish Peace Association and kept atrocious conditions in a military prison until November of the same year. He was awarded the Lotus Prize by the Afro-Asian Writers Union while in goal in 1982. On November1983, at a session of the Turkish Peace Association trial which he did not attend, he was sentenced to 8 years hard labour followed by 32 month internal exile. He had to flee from the country to Paris where he stayed until 1989 when the sentence was dropped. During this period external exile he participated in several meetings in many countries of world(from Australia to Finland)to read his poems and lectures  to the Turkish and another audiences. . İn 1985 was awarded an M. A (Diplomes D'etudes Approfondies/ D.E.A) from the Center Comparative Poetry for his study on the poetries of N. Hikmet and Maiakovsky. . In 1986, in French language the Turkish literary and cultural magazine "Anka" has began to be published under his direction.  In 1988 a selection of his poems was translated and published in Hungary by the "Europa" Publishing House.. . His Epic of Moustapha Suphi (1987/88) was the first play in Turkish staged at the 1989 Avignon Theatre Festival.Prof.Dr.Ataol Behramoğlu currently is the head of the  Russian Language  Department in İstanbul's Beykent University  and also has his column as a literary and political commentator in the daily "Cumhuriyet". Besides his widespread popularity as a poet and writer in his country, he is an eminent translator of the works of Russian poets and writers including the works of A.S.Pouchkin, M.Y.Lermontov, A.P.Tchekov, A.M.Gorky such as of the others.  His poetry has been translated into many languages. Awarded the Great Prize for Poetry 2003 of the Turkish PEN Centre, he also has been honoured by İnternational Pushkin Medal in 2007.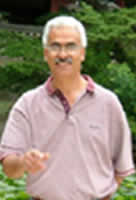 Zakaria Mohammed was born in 1950 in the suburb of Nablus, Palestine. He Studied the Arabic literature at the university of Baghdad in Iraq. As soon as he finished his studies in 1975, he started working as a freelance journalist in Beirut, Amman and Damascus. In his career life he worked as an editor-in-chief for many political, cultural and literature magazines. Currently he lives in Rammallah where he works as a journalist and and editor as well as a trainer for creative writing. Besides writing poems and novels, Zakaria Muhammad wrote story books and theatre plays for children.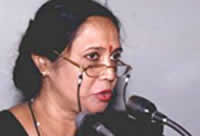 Rati Saxena  is a poet, editor, translator and culture organizer. She is managing trustee of kritya trust for art, culture and literature. She is also festival director of famous kritya festival annually organized in different part of India. She has published Two collections of poetry books in English four collections in of her own poems in Hindi and One in Malayalam,( translated ) and a critical work in Hindi on the renowned Malayalam poet Balamani Amma . Her two travelogues are also ready to print. Her poems have been translated in most of the non Indian languages also. Her one book is published in Italian and one in book in Uzbeck Language is under publication. Her work as research on Atharvaveda - "The seeds of mind" a fresh approach to study of Atharvaveda under the fellowship of Indira Gandhi National Center for Arts. She has worked in Sri Sankaracharya University of Saskrit as a Vedic teacher. Her work regarding Vedic literature and ancient culture are published widely. She has translated about 12 Malayalam works, both prose and poetry, into Hindi and has participated in several national seminars and published articles in a number of journals. Se got Kendriya Sahitya Akedemy award for translation in year-2000 AD. She is Editor of a bilingual Web journal for poetry - www.kritya.in
Kritya is her brain child, which is one of the very few poetry festivals in the country, where she endeavor to make a beautiful combination of art and poetry.  She has been invited for many poetry reading in prestigious poetry festivals like "PoesiaPresente" in Monza ( Italy), Mediterranea Festival in Rome, and International House of Stavanger ( Norway) She has recently participated in famous Struga festival-Macedonia, and Hofleiner Donauweiten-Vienna (Austria).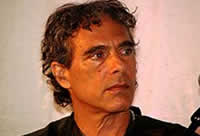 Amir Or was born in Tel Aviv, Israel, in 1956. He is the author of 9 volumes of poetry. His latest publications were the fictional epic Song of Tahira (2001) and the poetry books The Museum of Time (2007) and Heart Beast (2010). His poems have been translated into more than 40 languages and published in anthologies, poetry journals. His poetry was published in 5 books in English, most recently Poem and Day (both by Dedalus 2004, 2006) and Plates from the Museum of Time (ArtAark 2009). Other books were published in Polish, Romanian, Arabic and Macedonian. He has translated into Hebrew eight prose and poetry books, including The Gospel of Thomas and Limb Loosening Desire, an anthology of Erotic Greek Poetry.
Or is the 2000 recipient of the Pleiades honour for having made "a significant contribution to modern world poetry" and of the 2010 OENEUMI literary prize of the Ditet E Naimit festival, Macedonia. He has also won the Bernstein Prize, the Fulbright Award for Writers and the Israeli Prime Minister's Poetry Prize. He was awarded the fellowships of Iowa University, the Centre of Jewish Studies Oxford, the Literarische Colloquium Berlin, the Heinrich Böll Foundation Ireland, and Hawthornden Castle Scotland. For his translations from ancient Greek he was awarded the Culture Minister Prize.
Or has studied Philosophy and Comparative Religion at the Hebrew University in Jerusalem and later on lectured there on Ancient Greek Religion. He has taught poetry and creative writing at Helicon Poetry School as well as in universities in Israel, Japan and Europe. He has published numerous essays of poetry, classic studies, and comparative religion.
Since its foundation in 1990, Or has been chief editor of the Helicon Society for the Advancement of Poetry in Israel. He is Editor of Helicon Journal and its series of poetry books, and international editor of Atlas poetry magazine. Or has founded and developed the Hebrew-Arabic Helicon Poetry School. He is Artistic Director of the "Sha'ar" International Poetry Festival and serves as National Coordinator for "Poets for Peace" (the UN sponsored UPC venture). www.amiror.co.il/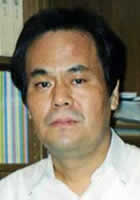 Ban'ya Natsuishi which is the penname of Masayuki Inui, was born in Aioi City, Hyôgo Prefecture, Japan in 1955. He studied at Tokyo University where he received a Masters of Arts in Comparative Literature and Culture in 1981. In 1992 he was appointed Professor at Meiji University where he continues to teach. In 1993 he gave lectures at Jilin University in China, he was invited to haiku meeting in 1994 in Germany, in 1995 in Italy. From 1996 to 1998 a guest research fellow at Paris 7th University. In 1997 he held "Contemporary Haiku" event in Provence.  In 1998 with Sayumi Kamakura, he founded international haiku quarterly "Ginyu", became its Publisher and Editor-in-Chief. In 2000, after attendance to Global Haiku Festival in USA, he co-founded the World Haiku Association, in Slovenia. Currently works as the association's Director. In 2001 attended to Vilenica Poetry Festival in Slovenia, in 2003 to Struga Poetry Evenings in Macedonia, in the same year worked as the Chairman of The Steering Committee for the 2nd World Haiku Association Conference which was held in Japan. In 2004 he was invited to Poetry at Porto Santo in Portugal. In 2005 he attended to the 3rd World Haiku Association Conference in Bulgaria, the 3rd Wellington International Poetry Festival and presided international haiku session of Euro-Japan Poetry Festival in Tokyo. In 2006 he was invited to Poetry Spring in Vilnius of Lithuania and Ohrid P.E.N. Conference in Macedonia. In 2007 he visited Inner Mongolia and Mongolia to promote haiku writing there and held the 4th World Haiku Association Conference in Tokyo as its Chair. In 2008, after attendance to poetry festivals in Latvia, Estonia, Lithuania & Italy, he held Tokyo Poetry Festival 2008 as its Director. In 2009 after attendance to Lahti International Writers' Reunion 2009 in Finland, he co-organized Druskininkai Poetic Fall & the 5th World Haiku Association Conference 2009 in Lithuania., with Kornelius Platelis. In 2010 he attended World Haiku Festival Pecs 2010 in Hungary and Sha'ar International Poetry Festival 2010 in Israel. In 2011 as its Director he will hold the 2nd Tokyo Poetry Festival & the 6th World Haiku Association Conference 2011 in Tokyo.
Among his awards are: in 1980 he was recommended as Poet of the Year by Haiku-hyôron, in 1981 he won First Prize in a competition sponsored by haiku monthly Haiku-kenkyû, in 1984 the Shii-no-ki Prize, in 1991 the Modern Haiku Association Prize, in 2002 the Hekigodô Kawahigashi Prize of the 21st Century Ehime Haiku Prize, in 2008 AZsacra International Poetry Award for Taj Mahal Review. Main Japanese publication: Ryôjô-ki, Seichi-sha, 1983; Poetics of Haiku, Seichi-sha, 1983; Métropolitique, Bokuyô-sha, 1985; Shinkû-ritsu, Shichô-sha, 1986; Dictionary of Keywords for Contemporary Haiku, Rippu-shobô, 1990; The Fugue of Gods, Kôeidô-shoten, 1990; Opera in the Human Body, Shoshi-yamada, 1990; Waves of Joy, Shoshi-yamada, 1992; Poetic Spirit of Genius, Yûshorin, 1993;  The Science of Megaliths and Big Trees, Shoshi-yamada, 1995; Haiku: A Century's Quest , Kôdansha, 1995; Contemporary Haiku Manuel, Rippu-shobô, 1996; Haiku Is Our Friend, Kyôiku-shuppan, 1997; Earth Pilgrimage, Rippu-shobô, 1998;  Haiku Troubadours 2000, Ginyu Press, 2000; Collected Haiku Poems by Ban'ya Natsuishi: Crossing Borders, Chûseki-sha, 2001; Chibimaruko-chan's Haiku Class Room, Shûei-sha, 2002; A Guide to World Haiku, Chûseki-sha, 2003;  World Haiku 2005: No. 1, Nishida-shoten, 2004; World Haiku 2006: No. 2, Shichigatsudo, 2005; Right Eye in Twilight, Chûseki-sha, 2006; World Haiku 2007: No. 3, Shichigatsudo, 2007; Renku: A través do ar / Through the Air/A travers l'air, Shichigatsudo, 2007 (co-authored with Casimiro de Brito); Tenbô Gendai no Shiika Vol. 10, Meiji-shoin, 2007 (co-authored); World Haiku 2008: No. 4, Shichigatsudo, 2008; Flying Pope: 161 Haiku, Koorosha, 2008; World Haiku 2009: No. 5, Shichigatsudo, 2009; Nichiyôbi no Zuisô 2008, Nihon-keizai-shinbun-shuppansha, 2009 (co-authored); Labyrinth of Vilnius, Shichigatsudo, 2009; World Haiku 2010: No. 6, Shichigatsudo, 2010; Haiku Juomujin, Chûseki-sha, 2010 (co-authored with Sayumi Kamakura); World Haiku 2011: No. 7, Shichigatsudo, 2011.
Many of his works have been published in Brazil, Greece, Bulgaria, France, Russia, Slovenia, USA, Romania, India, Latvia, Hungary, Serbia and Italy.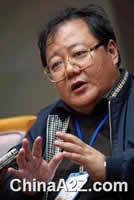 Jidi Majia, the current vice-governor of Qinghai province, is a poet. He was born in 1961, and he published many poetry anthologies from the 1980s. He has obtained many national literature awards and is regarded as one of the greatest minority poets in China. He became the vice-governor of Qinghai province on 28th, July, 2006 and he is in charge of the culture and art of Qinghai province.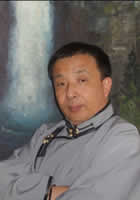 Hadaa Sendoo was born in 1961 and grew up in the grassland of Shiiliigool. Since 1991, he has lived in Ulaanbaatar city. His work has been selected for The Best Mongolian Poetry and in 2006, he founded World Poetry Almanac.
He has published 11 collections of poetry, including The Nomadic Songs and Moonlight (1989);Rock song ( l996);The Land's Words ( 2000);The Steppe ( 2005);Come Back to Earth  (2009);Come Back to Earth  (Taipei 2010);Come Back to Earth  (Tbilissi,2010);Pathway without end(2011);Selected Poems of Hadaa Sendoo(Istanbul, 2011);  New and Selected Poems of Hadaa Sendoo(USA,2011). In 2000, He has won the Poet of the Millennium Award. In 2008, Hadaa was elected a full Member of the Mongolian Academy of Humanities and he was receiving the Creative Giant Award in India and World Poetry Ambassador Medal in Canada. In 2009, He won the Mongolian Writers Union Prize. His poems have been translated more than 30 languages. In 2010, The American Biographical Institute recognized Hadaa Sendoo for 2010 Man of the Year. He has received the pinnacle of Achievement Award, 2011, USA.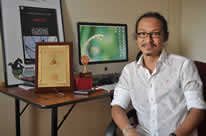 Min Htin Ko Ko Gyi was born in Minbu, central part of Burma, on 25 March 1962. He studied primary education in Taunggyi, Shan State and secondary and high school education in Magway in central Burma. He has graduated from Magway University with B.A (Burmese) in 1984 and got Diploma in Electronics from Mandalay Government Technology Institute in 1987. He worked as a recording engineer in Myanma Radio and Television Department in Yangon from 1990 to 1994. He went to Singapore to work in 1996 and studied Film and Video production Course in Ngee Ann Polytechnic in 2001. Before he finished the study, returned to Burma due to family matter in 2003. Since then he has been working in film industry in Burma as an independent filmmaker. He has made six feature films and three documentary films during those years. He started writing poems at 14 when he was a high school student.  He used to write for university magazines. Poetry books written by him and his friends were published during his university days. He began writing poems in periodical literary magazines in 1990.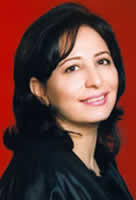 Rira Abbasi, Iranian poet, fiction writer and peace activist, was born in 1962 in Khorramabad, Iran. Acclaimed as Iran's Lady Poet Laureate and the winner of the Parvin Etesami Poetry Award in 2005, Rira is also a member of Iran's Writers Association and the founder and director of the biennial International Peace Poetry festival since 2007. Among her works published are: Black Fairy of Wednesday (2000), No More Guns for this Lor Woman (2001) and the bold collection of love poems Who Loves You More Discreetly? (2002). She published and presented the first collection of Iranian Peace Poetry (an anthology) in 2002. In 2008, she founded the Rira's Blue House, an establishment in line with the International Peace Poetry Festival. A brainchild of Rira Abbasi and supported solely by individual donations and sponsorship of non-governmental organizations, the charter of the Peace Poetry Festival states that "Poetry for peace is affiliated to humanity, regardless of race, religion, sex and geography".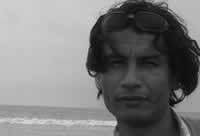 Kamran Mir Hazar was born in Afganisthan in 1976. He is a prominent Hazara journalist, human rights activist and writer who now lives with his wife and one-year-old daughter in Hønefoss, Norway, where he also works. He has set up two much-read websites: the news site www.kabulpress.org and the more literary-focused www.rahapen.org.
Alongside the writing of educational books and publications on politics and censorship, Mir Hazar is a politically committed poet. His poetry is influenced not only by his own Persian-language cultural tradition but also by Latin American writers such as the Mexican Juan Rulfo and the Colombian Garcia Marquez. He has had two poetry collections published: lahn-e tond-e asbi dar ezlâ'-e parvân-e sjodan (The Cry of a Mare about to become a Butterfly) in Stockholm in 2009, and before that, Ketâb-e mehr (The Book of Mehr). An anthology of his poems in Dutch translation will be launched at the Poetry International Festival.
Mir Hazar's criticism of the general treatment of Afghan refugees meant that his first poetry collection was prevented from being published in 1995 by the Iranian censorship board. In 1999, he wrote an open letter to the UN, UNESCO and UNICEF in which he described the fate of numerous Afghan men, women and children, and which was signed by 330 Afghan and Iranian intellectuals. It was not warmly received by the regime. Mir Hazar's most recent book, Censorship in Afghanistan, has recently been published by Norway's IP Plans e-Books. It is the first book to explore the systematic suppression of free speech in Afghanistan, which has been a feature of its ruling authorities for hundreds of years.
In 2004, Mir Hazar returned to Afghanistan, where he set up a critical literary magazine. A few weeks later the publication was banned. He then became news editor and reporter of two Kabul radio stations, Kelid (Key) and Salâm Watandâr (Greetings Fellow Countryman!) His continued fight against Hamid Karzai's increasingly repressive regime has been supported by the International Federation of Journalists (IFJ), Reporters sans Frontières and the Committee to Protect Journalists (CPJ). His clashes with the authorities have deeply affected Mir Hazar; he has compared the appalling conditions in the local prisons with Guantanamo and later described them in a series of five poems entitled Viroes-e nevesjtan (Writing Virus). After his release, Mir Hazar feared for his own safety and his journalistic projects and decided to leave his country for good. After travelling to India, and with the UNHCR's intervention, he ended up in Norway.
He has won various awards for his work and critical reporting, including a Hellman/ Hammett grant from American Human Rights Watch in 2008.
EUROPEAN POETS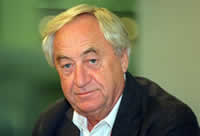 Cees Nooteboom (born Cornelis Johannes Jacobus Maria Nooteboom, 31 July 1933, in the Hague) is a Dutch author. He has won numerous literary awards and has been mentioned as a candidate for the Nobel Prize in literature.
He was born in The Hague, where his father was killed in a bombing in 1945. After his mother remarried in 1948, and thanks to his strict Catholic stepfather, Nooteboom attended several religious secondary schools, including a Franciscan school in Venray and a school run by the Augustinians in Eindhoven. He finished his secondary education at a nightschool in Utrecht.
After his first job with a bank in Hilversum, Nooteboom traveled throughout Europe. In addition to his writing, he has worked for the political weekly Elsevier from 1957–1960 and at the newspaper de Volkskrant from 1961-1968. In 1967, he became the travel editor for the magazine Avenue.
Nooteboom hired on as a sailor on a freighter to Surinam in 1957 in order to ask for the hand of his first wife, Fanny Lichtveld. They divorced in 1964. Some of his experiences are recounted in the book De verliefde gevangene (1958). He was also in a relationship with the singer, Liesbeth List. Currently he is married to Simone Sassen and divides his time between Amsterdam and the island of Minorca.
In addition to his many literature awards, Nooteboom was awarded honorary doctorates from Radboud University in Nijmegen in 2006 and the Free University of Berlin in 2008.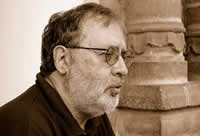 Carlo Bordini was born in Rome, Italy, in 1938. He is a poet, prose writer and essayist. He teaches History in the University of Rome. He has published the poetry books: Strana categoria, 1975; Poesie leggere, 1981; Strategia, 1981; Pericolo, 1984; Mangiare, 1995; Polvere, 1999. A fragment in English: Dust; Purpureo nettare, 2006; Sasso, 2008; Antologia: Pericolo, Poesie 1975-2001, 2004; I costruttori di vulcani, 2010. He also has published the prose books: Manuale di autodistruzione, 1998; Pezzi di ricambio, 2003; Gustavo, una malattia mentale, 2006 (novela); Dal fondo, la poesia dei marginali, 1978; Renault 4, Scrittori a Roma prima della morte di Moro, 2007 ; Non è un gioco, appunti di viaggio sulla poesia in America Latina, 2008.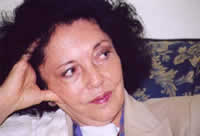 Aitana Alberti was born in Argentina in 1941. Daughter of the great Spanish poet Rafael Alberti and the prominent writer María Teresa León, she studied Antropological Sciences. She has been an unstoppable publisher and researcher on the work of the Spanish poets of the generation of 27. They also has promoted their live and works On the Spaniard and Cuban TV. Currently she is the Cuban president of the Proyecto Cultural Sur, to promote poetry and the arts, that contains some 30 cities in Europe and America. Her poems has been translated into German, Polish, Russian, Rumanian and Italian. Among her poetry books are: Poemas; Y de nuevo nacer; Pupila al viento.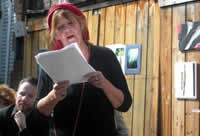 Agneta Falk  is a poet and visual artist, born in Stockholm 1946. After studying drama and literature, she moved to England in the late Sixties, where she worked as a teacher of drama, communication, literacy and creative writing. From 1992-1999 she was the co-director of Word Hoard, promoting writing in the community and organizing poetry events. For seven years she ran a women's writing group and also worked with people in recovery and the mentally handicapped. She's had several writing commissions, in collaboration with photographers and artists. For her first book in English, Here by Choice ( Trigram Press, 1980), she received a writer's bursary from Yorkshire Arts. She co-edited The Long Pale Corridor with Judi Benson, ( Bloodaxe, 1995), an anthology of bereavement poems, the first of its kind.
In the late Nineties she moved to San Francisco, where she frequently reads her poetry and exhibits. Part of the year she spends in Italy and England, where she reads at festivals and other events. It's not Love/It's Love was published was by Multimedia Edizioni in 2000. Her poetry has been translated into many languages, and a forthcoming book of poems is being published in Venezuela. She's deeply committed to working against trafficking, and has used it as a subject in her poetry. At present she's working on her next book of poems.
Christian Ide Hintze was born in Vienna, Austria, in 1953. Lyric & multi media poet. Author of performances, tapes, books, installations, exhibitions, super 8 films, pamphlets, posters, cds, dvds & internet sites. Inventor of instruments. Creator of a 7 fold poetics.
Publications: Zettel, Interactive Poetry (handbills, 1974-79). Mmm, visual poetry (video 1983). Li-te, infrastructural poetry (temple, 1984). Die goldene flut, literary poetry (book, 1987). 30 rufe, acoustic poetry (cd, 1992). Orivesi teachings, instructive poetry (multi media, 2008). Nantzn, performative poetry (dvd, 2010).
Editor of: über die lehr- und lernbarkeit von literatur / on the teach- and learnability of literature (book, 1992). Sound poetry live (cd, 1996). Falco's many languages (book, 2010).
Presentations at festivals & exhibitions in Esslingen (1976), Ljubljana (1983), The Hague (1985), Tokyo (1987), Bern (1987), Buenos Aires (1993), Stockholm (1993), Berlin (1994), Medellín (1995/96), Rosario (1996), Jakarta (2001), Bremen (2007), Novi Sad (2008), Oslo (2009).
He serves as the director of the Vienna Poetry School.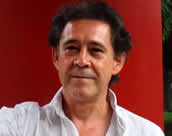 Pedro Enríquez was born in Granada, Spain, in 1956. He is poet, narrator, editor and architect. He collaborates continuously in the organization of cultural events, coordinating encounters of poets and recitals of poetry and music. He is director of the Magazine Fictions, Letters Magazine; his poems have appeared in diverse literary magazines from Spain, USA, Mexico and Portugal. He has published the books of poems: Extreme to extreme of the silence, 1987; Histories of sand, 1993; Watchman of fog, 1995; The arid steps, 1999; The echo of the birds, 2002; The hands in their flight, 2003. Juan J. León says, "… Pedro Enríquez writes an intuitive poetry, aside any preconceived technique, freed of all plan or determining measure: his is a poetry marked by sensibility and out of rationality. The accumulation of suggestive images is the continuous evidence of a changing reality which centers the reader attention. His poetic expression prefers to suggest than to say, to provoke comprehension before any understanding, facts to liberate the imagination of the readers, so they could give their own interpretation of the poetic content after their sensibility, knowledge and will. It is as if this writer would be noting the poetic impressions at the same rhythm that they appear to him during his day to day experience as if this would be question of a semi automatic writing…"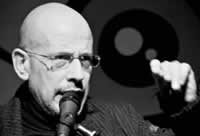 Lello Voce was born in Naples in 1957. He lives and works in Treviso (Venice). He is a poet, writer and performer. His work has been translated into French, English, Spanish, Catalan, Japanese, German, Brazilian Portuguese (by Haroldo De Campos), Chinese and Arabic (by Joumana Haddad).
In 1982 he published Singin' Napoli cantare (Ripostes ed.) in 1985, (Musa!) (book + audio tape, Mancosu ed.) and I segni i suoni le cose (book + Audio CD, Manni ed.) in 1996. His first novel – Eroina (Transeuropa ed.) - was published in 1999. He wrote all of his second novel, Cucarachas, live on the Internet on www.raisatzoom.it, and it was published in 2002 by DeriveApprodi. His next poetry book, Farfalle da combattimento, which includes an Audio CD with his readings and music by Paolo Fresu and Frank Nemola and is illustrated by six drawings by Silvio Merlino was published in the InVersi series edited by Aldo Nove by Bompiani (1999). In 2003 he was awarded the Delfini Poetry Award for L'esercizio della lingua (with original drawings by Sandro Chia, Mazzoli editore).
The verses of the latter sylloge were set to music by Frank Nemola and published in his first CD, Fast Blood , [MRF5 musical editions, distributed by SELF] – in cooperation with musicians Paolo Fresu, Michael Gross, Luigi Cinque and Luca Sanzò.
Lai was published in 2007 by edizioni d'if and his novels, collected under the title Il Cristo elettrico were re-published by No Reply in the same year. L'esercizio della lingua (poetry, 1991-2008) , a selected anthology of his whole poetic production which also includes the poems in his latest collection, was published in September 2008 by Le Lettere of Florence under the moral Patronage of the Fabrizio De Andrè Foundation-NPO, in the Fuori Formato series, edited by Andrea Cortellessa. The book is accompanied by a Dual Disc, the audio part of which contains the new poetry tracks, Piccola cucina Cannibale , with music by Paolo Fresu, Michael Gross and Frank Nemola. The DVD side contains original video by Giacomo Verde and Robert Rebotti, and some archive audio-video materials.
He is the Director of Absolute Poetry Festival, one of the most know poethic events in Italy. www.lellovoce.it.
Rodolfo Häsler nació en Santiago de Cuba en 1958 y desde los diez años reside en Barcelona. Ha publicado los siguientes libros: Poemas de arena, 1982; Tratado de licantropía, 1988; Elleife (premio Aula de Poesía de Barcelona, 1992; De la belleza del puro pensamiento (beca de la Oscar B. Cintas Foundation de Nueva York, 1997; Poemas de la rue de Zurich,  2000; Paisaje, tiempo azul, 2001 y la plaquette Mariposa y caballo, 2002. Ha sido incluido en Anthologie de la poésie cubaine du XXè. siècle, 1997, Nueva poesía latinoamericana, 1999; Antología de la poesía cubana, 2002, Poemas cubanos del siglo XX, 2002; Los poemas de la poesía, 2003 y en Por vivir aquí. Poetas catalanes en castellano.1980 – 2003. Traductor de la poesía completa de Novalis y codirector de la revista Poesía 080 de Barcelona.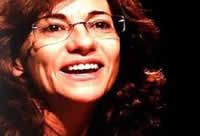 Anna Aguilar-Amat was born in Barcelona on January 31, 1962. She was recently awarded three prizes for Catalan poetry: the Jocs Florals of the city of Barcelona for Petrolier i teatre; the Carles Riba award for Transit between two flights (Trànsit entre dos vols); and the Màrius Torres award for Music and Scurvy. She has also published with Francesc Parcerisas the book of poems Little things (Coses Petites), with designs by Miquel Plana, and the book of essays The Pleasure of Reading (El plaer de la lectura). Her fourth book of poems is The Goose Games.
Aguilar-Amat is president of QUARKpoesia (Aula de Poesia de la Universitat Autònoma) with the aim to promote poetry translation of less translated languages. In 2006 she started the poetry imprint Refractions (Refraccions) with the aim to publish mostly bilingual or trilingual poetry books.
She has a PhD from the Universitat Autònoma de Barcelona where she now teaches Terminology at the Translation Faculty.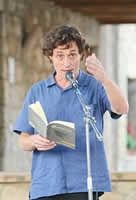 Tomàs Arias Soler was born in Berga, Catalonia, Spain, in 1966.  He is a poet, narrator, essayist and musician. As head of engineering projects he has designed the installations of the New Museum of Science of Barcelona as well as the Palau St Jordi (Olimpic Head Office, 1992), among other places. He has published the poetry books Romanços (Ed. Cossetania, 2004) awarded with the IX Salvador Espriu Prize, and Odi sobre tela (Ed. La Breu, 2011). He also wrote and published a book of newspaper articles: Papers de diari (Edicions de l'Albí, 2010), the book of tales Contes de bany (2008) and the novel Dadà (2011), both edited by the Companyia Nacional de Poesia. He collaborated at the first disc of Ivette Nadal, Guerres dolcíssimes (2009).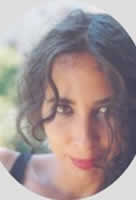 Giovanna Mulas was born in Nuoro, Sardinia, Italy, on May 1969. He currently lives in Lanusei, Ogliastra province, Italy. Her extensive work includes some literary genres. Poetry books: Dei versi, 1995; Canticum praesagum, 1996; Come le foglie, 1997; y A silent Refuge, 2003. Narrative work: Passaggi per l' anima, 1994; La musa, 1994; La stanza degli specchi, 1995; Il tempo di un' estate, 1998; Il rumore degli alberi, 2003; Lughe de Chelu e jenna de bentu, 2003; L'isola degli angeli silenti e fate ribelli, 2005; Mater Doloris, 2006; Delle trascorse stagioni, 2006; Racconti fantastici, d'amore e di morte (with Gabriel Impaglione: El taller del Poeta, 2007). She also published the essay Penelope che parlava alle Pietre, 2005 and Laboratorio di letteratura creativa, 2005. She has received many international literary awards and has been included in numerous international poetry anthologies.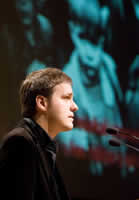 Kirmen Uribe (Ondarroa, 1970) according to the literary critic Jon Kortazar has supposed a "calm revolution" in the domain of Basque literature. He has published fiction, poetry and essay books for adults and tales and novels for children and young people. He was awarded National Prize of Narrative in Spain for his novel Bilbao-New York-Bilbao (Seix Barral, 2010), none the less that formerly he had wined a great acknowledge for his book of poems Take my hand meanwhile (Visor, 2003), translated into several languages and awarded National Prize of the Critic. The English version was chosen as a finalist by the PEN American Center as the best poetry book translated into English, in USA during 2007.
Uribe is Basque Philology bachelor from Vitoria-Gasteiz and realized his Compared Literature post grade studies at Trento, Italy. By means of working with musicians and plastic and audiovisual artists he is the author of multimedia projects which combine the literature with other artistic disciplines.
The Harvard Book Review the prestigious magazine of Harvard University has affirmed: "Uribe's literature takes roots in the Basque Country, but it is completely universal". He has participated in several Literature International Encounters in Europe, Asia and America, and has worked at different written press media such as El País and The New Yorker.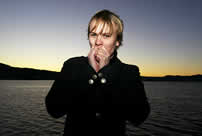 Endre Ruset  is a Norwegian poet currenty residing in Oslo. He is the artistic director of the Norwegian Festival of Literature and was awarded the Bjornson Scholarship for his work Kims lek (2005). Some of his published books are: Signaler 01(Cappelens årlige litterære revy), diktbidrag (2001); ribbeinas vingespenn, dikt (Gyldendal) (2001); kims lek, dikt (Gyldendal) (2005).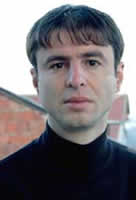 Nikola Madzirov was born on 27 May 1973 in Strumica (Macedonia). He has published poetry, essays and translations. For his book of poetry Locked in the city (1999) he received the Studentski Zbor award for the best debut book, while for his Somewhere nowhere (1999) the Aco Karamanov award. In 2004 he published the collection of poems In the city, somewhere. For the poetry of his latest book Relocated stone (2007) he received the Hubert Burda award, which is presented to authors born in Central and Eastern Europe. His poetry has been translated into eighteen languages and published in collections and anthologies in Macedonia and abroad. He is the Macedonian coordinator of the international poetry net Lyrikline. Based on his poetry, two short films have been made in Sofia (Bulgaria) and Zagreb (Croatia). He has participated at several international poetry festivals (Poetry Spring; Struga Poetry Evenings; Vilenica; Medana), and has received several international awards and scholarships (KultuKontakt; Internationales Haus der Autoren Graz; LiteraturHause NÖ). He lives and works in Macedonia as an editor, author and translator. Member of the Organizer Committee of Struga Poetry Evenings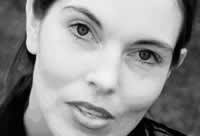 Sigurbjörg Þrastardóttir was born in 1973 in Iceland. She is the author of six poetry collections, various theatre pieces and a novel. Her career in journalism includes eight years at the Morgunbladid newspaper and column writing for cultural magazines. Thrastardóttir's first novel, The Story of Sol, received the Tómas Guðmundsson Literary Prize, granted by the Major of Reykjavík, and her strong poetic narrative of narcotics and love, Blysfarir (Torch Marches), was nominated for the Nordic Council Literary Prize 2009. Thrastardóttir's poetry has appeared in 13 different languages and she is a regular guest at literary festivals from Belgrade to Barcelona, from Zagreb to Copenhagen. Books: Blálogaland (Land of Blue Flames) poetry, 1999; Hnattflug (Circumnavigation), poetry, 2000; Sólar saga (The Story of Sol), novel, 2002; Túlípanafallhlífar (Parachutes of Tulips), poetry, 2003; Fallskärmsresor, poetry collection in Swedish, 2004; Blysfarir (Torch Marches), poetry, 2007; To Bleed Straight, poetry collection in English, 2008; Brúður (Bride), poetry, 2010; Theatre: Maður & kona: Egglos (Man, Woman, Ovulation), stand-up, 2003; Þrjár Maríur (Three Marys), monologue, 2004; Hreindýr + Ísbjörn óskast (Reindeer + Polar Bear Wanted), two one-acts, 2005; Gunnlaðar saga (The Saga of Gunnlod), stage adaptation, 2006; For children: Húfulaus her – jólasveinasögur (A Hatless Army), Christmas short stories, 2010.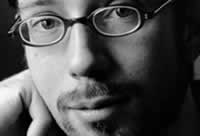 Raphael Urweider nació en Berna, Suiza, en 1974. Poeta, traductor y músico. Estudió Literatura Alemana y Filosofía en Friburgo. Libros de poesía publicados: Guten Tag Herr Gutenberg, 1999; Lichter in Menlo Park, 2000; Kobold und der Kunstpfeifer, 2002; Das Gegenteil von Fleisch, 2003; Alle deine Namen, 2008. Ha traducido varias obras teatrales de Joanna Laurens, así como la obra Minsk de Lavinia Greenlaw. Algunos reconocimientos recibidos: the Arbeitsstipendium des Deutschen Literaturfonds, the Leonce-und-Lena-Preis, the Förderpreis des Bremer Literaturpreises y the Clemens-Brentano-Preis, entre otros.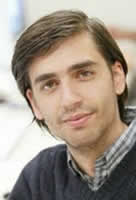 Fernando Valverde was born in Granada, Spain, in 1980. He is one of the most awarded and recognized voices of the young Spanish poetry. Some of his published poetry books are: Viento favorable, finalist in the Premio Hispanoamericano de Poesía "Juan Ramón Jiménez"; Siguieron Madrugadas (Editorial Cuadernos del Vigía) and Razones para huir de una ciudad con frío (Visor Libros). For his collection of poems about travels entitled La soledad del extranjero (The Foreign's loneliness), edited by the Universidad de Granada, he received in 2005 the Federico García Lorca Prize for Spanish university students. With Los ojos del pelícano (Pelican Eyes) obtained the prestigious "Emilio Alarcos" of the Principado de Asturias. Currently, he prepares a book about his travels through Nicaragua, Palestina, Bosnia Herzegovina, Siria, Israel, Montenegro, Cuba, México, Serbia and Jordania, among other countries. He studied Hispanic and Romanic Filology. He is the director of the Granada International Poetry Festival in his country.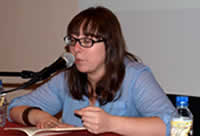 Elena Medel a poet and literary critic born in Córdoba, Spain, in 1985. She is one of the young voices of the Spanish poetry. Since 2006 she owns a scholarship of the Ayuntamiento of Madrid in the Residence of Students. She belongs to the coordinator team of the La Bella Varsovia and collaborates as article redactor at diverse literary supplements of the Spanish press. 
Her work is collected in the poetry books "My first bikini", Prize Young Andalucía 2001, "Vacations" 2004, "Tara", 2006, a notebook "A heart murmur", 2007  and "Erotic tales of San Valentine", 2007. Her work has been translated into Arabic, English, Italian and Portuguese, and has appeared in some anthologies.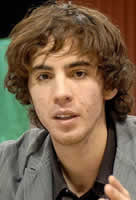 Julian Heun was born in Berlin, Germany, in 1989. Poet and leading exponent of the Spoken Word, he studied Comparative Literature and German Studies in Berlin. After his graduation in 2008 he travelled for India, South and Central América, where he wrote many of his poems. Some of the awards he has received for his work are:
Deutschsprachiger Meister im Poetry Slam (U20) & Gast des Goethe-Instituts beim Other Words Festival (San Francisco), 2007; Deutschsprachiger Vizemeister im Poetry Slam, 2008; Vierter bei den Poetry Slam Weltmeisterschaften (Paris) & Berliner Stadtmeister im Poetry Slam, 2009; Stuttgarter Besen: Goldener Stuttgarter Besen & Publikumspreis, 2010.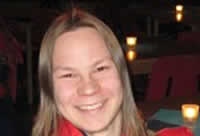 Niillas Holmberg was born in July 2 1990, in Finland. His first poetry book was published in 2009, Dego Livččen Oaidnán Iežan (As if I'd seen myself). In 2010, he became a member of the Sami Writer's Company. In 2010, he won the Uralic Poetry Slam -competition in the city Oulu, and that same year he was invited to present numerous reading / singing -performances in Finland and Norway in different kind of literature happenings and festivals.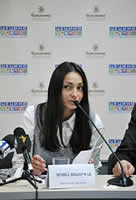 Iryna Vikyrchak
was born in Ukraine.  She is a poetess, translator and photoartist. She studied at the Department of Modern Foreign Languages and at the Department of Geography (management of travel industry) of the Chernivtsi National Yurii Fedkovych University.
Laureat of the regional poetry competition for young poets Chysti Rosy, author of the poetry book Talk to an Angel (2005). Her poetical works appeared in almanac Pershi Lastivky, Bukovynskyy Zhurnal, local newspapers and on-line editions, ZeitZug.com in particular.
Scholarship holder of 'Future Leaders Exchange Program' (2004-2005, Minot, ND, USA) and summer program from German academic exchange service DAAD (2008, Munich, Germany).
Poetry is translated into Russian, German and English. At the moment is teaching English at Chernivtsi National Yurii Fedkovych University. Iryna also is the executive director of International Poetry Festival MERIDIAN CZERNOWITZ.
OCEANIA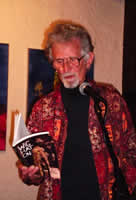 Philip Hammial has had twenty-two collections of poetry published. His sixteenth collection, In the Year of Our Lord Slaughter's Children, was short-listed for the Kenneth Slessor Prize in 2004, as was his fourteenth collection, Bread, in 2001. His twenty-first collection, Skin Theory, was shortlisted for the ACT Poetry Prize in 2010. He has represented Australia at several international poetry festivals: Poetry Africa 2000, Durban, SA; The Franco-Anglais Festival of Poetry, Paris, 2000; The World Festival of Poets 2000, Tokyo; the Festival International de la Poesie, Trois Rivieres, Canada, 2004 and the Micro-Festival, Prague, 2009. In 2006 an anthology of Australian poetry in French that Hammial edited – 25 poetes australiens – was published by Ecrits des Forges in Trois Rivieres, Quebec and Le Temps des Cerises in Paris. His poetry has appeared in nineteen Australian poetry anthologies and in journals and newspapers in nine countries. In 2004 Hammial was awarded an Established Writer's grant by the Literature Board of the Australia Council. He was a resident at the Australia Council studio at the Cité International des Arts in Paris for six months in 2009/2010. He is also a sculptor (thirty solo exhibitions), the director of The Australian Collection of Outsider Art (twenty-six exhibitions in five countries) and the editor of Island Press Co-operative (forty-seven titles published). www.australianpoetryreview.com.au / www.jacketmagazine.com/26/hawk-hamm.html
OTHER POETRY FESTIVALS DIRECTORS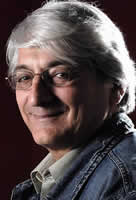 Gastón Bellemare was born in Canada in 1942. He is the chairman of the Poetry Festival at Trois-Rivières, 'the poetry capital of Canada', and works as a Director of Publishing at Écrits des Forges, a publishing house specializing in poetry. He is the founder of many national and international poetry promoting organizations and also holds many positions of trust.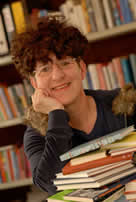 Regina Dyck was born in Alemania. She is the director of the poetic meeting Poetry On the Road, Internationales Literaturfestival Bremen. This festival presents contemporary world authors and to emphasize a great variety of forms of expressions, from traditional to experimental performances readings and interdisciplinary happenings. This festival receives thirty poets every year. 15 of them from Germany and the other group come from 15 countries of the world. "To find and listen to an author read his own work is an intimate experience, which makes it more sensual pleasure of literature. A paperback book can not offer such an experience. Perhaps these events of the spoken word awaken something in the visitor, which responds to the storytelling. Before the printing press was invented, the stories were spoken orally and people relied on the spoken word much more. "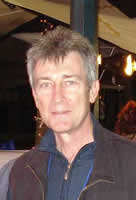 Peter Rorvik is director of the Centre for Creative Arts in Durban, South Africa. The centre, which is affiliated to the university of  Kwazulu-Natal, organizes festivals such as Time of the Writer, Durban International Filmfestival and Poetry Africa. The Centre for Creative Arts creates an enabling environment for the flourishing of innovative expression and exchange that reinforce the arts as a mechanism for human and social development.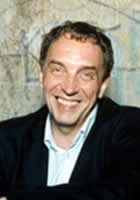 Thomas Wohlfahrt was born in Germany in 1956. He is the founder and the director of Literaturwerkstatt Berlin, from 1991. Doctor in Literarute and musician, has founded and managed major projects such as "Literature Express Europe 2000" "lyrikline.org website" and the Poetry Festival of Berlin. Wohlfahrt belongs to several national and internacional organizations and is the curator and advisor to several international events in art and literature. The Zebra Poetry Film Award born by his initiative and he is the President of that Jury.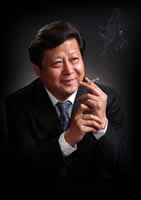 Liu Guiyou  was born in China on February 1956. For years, he was engaged in journalism and cultural propaganda field, he successively plotted "China (QingHai) Three-river International Photography Festival", "China (QingHai) World Mountain Documentary Festival", and participate in planning the "international water and life music journey "and 'The International Poetry Festival of QingHai Lake "etc. He has rich experiences in events planning and cultural publicity.
Bas Kwakman (b.1964) is Managing Director of Poetry International Rotterdam, organiser of the annual Poetry International Festival, and of Poetry International WEB, one of the most important international websites on poetry. Bas Kwakman was educated as a visual artist and teacher of Art History and worked as an independant artist for several years. After his studies Marketing and Management for Art and Culture he became an organiser in the field of arts: visual arts, contemporary music and literature. Bas Kwakman worked as a Project-Manager and Marketing Manager for the two major Art Foundations in Rotterdam. In 1996 he co-founded a magazine and publishing house for Literature and Visual Arts and in 2003 he started working for Poetry International as Managing Director and programmer of the yearly Poetry International Festival. The Poetry International Festival in Rotterdam is for almost forty years one of the leading festivals on international poetry in the world and is the main international meeting place of poets, poetry-professionals and poetry lovers. Besides the festival, Poetry International is the central organization of Poetry International Web (www.poetryinternational.org), a worldwide website on international Poetry with editors in more than 45 countries, that publishes a quarterly magazine on the web www.poetryinternational.org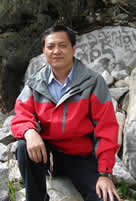 Gao Changchun was born in Changzhou, Jiangsu province, China, on January, 1968. He graduated from the Faculty of Philology and Literature of China, University of Minority Nationalities in Qinghai (1989). Later he has worked in different government institutions in the province, by engaging in cultural exchange and promotion of literature. With rich experience in organizing literary activities and promote cultural projects. He has participated in the organization of several events among them, the cycling race around the lake Qinghai, the Qinghai International Poetry Festival as well as with the music travels of water and life. He has collaborated many times with the TV of Qinghai, Beijing and Hainan to present cultural activities. He is member of the directive group of the musical epic and quaint The Mistic of Qinghai and also of the national ballet White Dove.   
Sergio Muñoz Arriagada was born in Valparaíso, Chile, in 1968. He is a poet and Bachelor of Musical Arts and Sciences and Professor of Music at the Catholic University of Valparaiso. He is the director of the Poetry Workshop and manager of cultural activities in the Cultural Center La Sebastiana, which has organized several cycles of poetry.  He was awarded, among others, with a Pablo Neruda Grant (1994), and also with the Grant for the Creation of National Council for the Promotion of Books and Reading (1999). He has published three poetry books: Lengua muerta (1998), 27 Poemas – Lengua en Blues (2002) and Lengua ósea (2003).  In 2010, one of his projects was awarded by the Music Fund for writing an opera based on the life and work of poet Gonzalo Rojas. He was one of the organizers of the First National Meeting of Writers, Valparaiso 2010. Logistics is currently Coordinator of "Poesía a cielo abierto" in his natal land.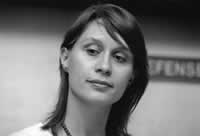 Céline Hémon was born in France. She is the director of communications and international relations of Le Printemps des Poètes, poetic meeting which programs aproximmately 15.000 poetry events along France. Throughout its history, the Spring of Poets is stated as the main manifestation of the art of poetry in his country.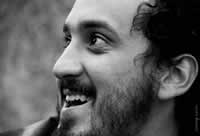 Oscar Petrel was born in Puerto Montt, Chile, in 1981. He is a poet and professor of Education in Spanish from the University of Concepción. In 2007, the Ph.D. program in American Literature at the University of Concepción published his first book: The three stations of a toy train. Some awards received: The Armando Rubio Huidobro  National Prize of Young Poetry (2005), Honorable Mention in the National Competition of Youth Art and Poetry from the University of Valparaíso (2008) and third place in the National Poetry Award "Lagar" (2009), in tribute to Gabriela Mistral, with part of his unpublished poems: The Mysterious Don Chico Malilla case. He is currently General Coordinator of "Poesía a cielo abierto" in Valpaiso, Chile.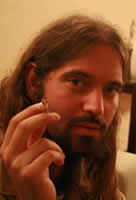 Andrés Urzúa de la Sotta was born in Viña del Mar, Chile, in 1982. He is a poet and cultural worker. He studied journalism and literatura at the University of Viña del Mar. He has obtained several literary awards, among them the National Scholaship Foundation Pablo Neruda (2006), first place in the National Competition Youth Art and Poetry Valparaiso University (2008), and the Creative Writing Fellowship from the National Council of Books and Reading (2008).  He is currently working as difussion coordinator of "Poesía a cielo abierto".
March 18th, 2011
Última actualización: 04/07/2018