Twenty Years of a Historic Poetic Project for the World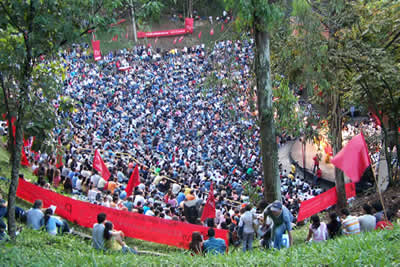 Medellín in the last decade of the 20th century and the first decade of the 21st century: Twenty years of complex events in a city among many of the cities of the world that have suffered extreme violence. Twenty years ago, in the then called capital of world crime and drug trafficking, it was the time of the war between the drug baron Pablo Escobar and the Colombian State, of genocide and assassinations of political leaders, of the growth of criminal bands in the tenements of the city and their will to take possession of it block by block. Bombs and car bombs exploded everywhere and everyday. There were not enough firemen to fight fires, not enough news people to report on them, and people could not understand the causes and the political consequences of such an explosive environment. Hundreds of young people fell like dominoes. Many heads had high prices on them. To be a paid killer was a lucrative calling in a war that swept away so many lives.
But in 1991, one hundred posters announced the opening of the International Poetry Festival of Medellín, in the same city and that funereal time of deafening slaughter, but under a banner with a verse that called for a peaceful gathering: "Poetry is power." And on April 28, before some eight hundred persons, thirteen poets, nine of them part of the editorial board of the Prometeo review, read their poems in the Cerro Nutibara of Medellín, while the verse of Matsuo Bashō waved on banners in the wind in the midst of the devoted contest: "From the white drops of dew learn the way to the pure land." The city was swept by beauty; horror was left behind. Poetry then began to form a new conscience, a new sensibility, and to create and conserve a new atmosphere that burst in to counter the unnamable nightmare, blowing a breeze of sweet caresses on a generation with no future, inspiring in the young a new soul for the moment of the great crossroads of the world. People spoke about poetry in small groups, in bars, in classrooms, in the buses, the libraries and in countless encounters.
A new dream became real among daggers. A new season of the spirit made its way against adversity, in spite of the conservative bias of Colombian poetry fed weakly by a stale past, against the pragmatic spirit of the rulers and executives, in opposition to the aggressiveness of an atrophied, decomposing society that only thinks about net profits. But young people, boys and girls, artists and poets thought otherwise: That there is no greater profit than beauty and no other truth than life, overpowering, transforming itself. One after another annual, massive celebrations took place. Wole Soyinka, Juan Gelman, Gonzalo Rojas, Ramón Palomares, Hans Magnus Enzensberger, Bernard Noel, Edoardo Sanguinetti, Saadi Yousef, Abdellatif Laabi, Mutsuo Takahashi, were among several hundred poets who read many thousand poems filling the astonished ears of Medellín, suddenly dubbed "world capital of poetry." Hundred thousands young people crowded in streets, squares, parks and auditoriums of the city, vibrating to the slow and pleasant flash of light. Poets transformed the conscience of young people, and these fed the heart of poets. Together they developed the poetry of the unlived or already forgotten on Earth.
It fed a dialogue between many languages, they talked about other's achievements with sympathy, and they told about the experience of the International Poetry Festival of Medellín in many countries, in the waiting rooms of distant airports: From mouth to mouth, poets spread the seed of the legend of the battle between Spring and Winter, the constant subject of poetry about the eternal struggle between life and death.

It inspired new ventures. A lighthouse was built on a planetary scale. The Medellín Festival inspired the founding or contributed to the consolidation of international poetry festivals in Venezuela, Bolivia, Chile, Costa Rica, El Salvador, Nicaragua, Santo Domingo, Puerto Rico, Argentina, Portugal, South Africa, New Zealand, and in other Colombian cities like Bogotá, Cali, Barranquilla, Cartagena, Pereira, Pasto, Ibagué, Tunja, Bucaramanga and Riohacha.
But the world capital of poetry only still exists in the poems and the memory of those who have taken part in this annual miracle that spreads to ever more quarters of the city. It is necessary that poetry reaches the depths, through language bursting forth from the heart of poets, of this generous and caring city, seeping into the minds of people of all social classes this project of irreversible poetic justice and spiritual reconciliation, transcending the thunder of war with the embrace of diverse and even opposing cultures. It is necessary that the world understand and help to spread the voice of this wide river. Poets and thousands of young people will write the new poetry. In the capital of enlightenment, the stone of irradiation comes to the surface.
We slept, but our heart kept watch. Our head was soaked by the dew of the future dawn. Poetry strived stronger in the frontiers of evil, for victory waits on the shores of shadows. Death confronted the whole city and demanded transcendence: In this city, in this country there will grow the great tree of a new poetic legend after the seed of this dream will send out countless shoots.
The invited poets for the celebration of XX International Poetry Festival of Medellin (July 8th to 17th, 2010) are Vladimir Marku (Albania), Teresa Colom (Andorra), Althea Romeo-Mark (Antigua), Esteban Moore (Argentina), Lola Koundakjian (Armenia), Quito Nicolaas (Aruba), Udo Kawasser (Austria), Obediah Michael Smith (Bahamas), Quamruzzaman (Bangladesh), Claudio Willer (Brazil), Homero Carvalho (Bolivia), U Sam Oeur (Cambodia), Paul Dakeyó (Cameroon), Alberto Vélez, Andrea Cote, Ángela García, Argemiro Menco, Berenice Pineda, Claudia Trujillo, Consuelo Hernández, Darío Jaramillo, Eduardo Peláez, Fernando Rendón, Gabriel Arturo Castro, Gabriel Jaime Franco, Gustavo Garcés, Héctor Fagot, Jairo Guzmán, José Libardo Porras, Juan Diego Tamayo, Juan Diego Velásquez, León Gil, Marco Mejía, Pedro Arturo Estrada, Piedad Bonnett, Rafael Patiño, Raúl Henao, Sarah Beatriz Posada, Tarsicio Valencia, Tatiana Mejía, Umberto Senegal, Walther Espinal (Colombia), Vito Apshana (Nación Wayuu, Colombia), Guillermo Sáenz Patterson (Costa Rica), Domingo Alfonso, Oscar Cruz (Cuba), Verónica Zondek, Javier Campos (Chile), Mette Moestrup (Denmark), Rei Berroa (Dominican Republic), Lucila Lema (Kichua Nation, Ecuador), Amin Hadad, Arif Khudairi (Egypt), Lauri García Dueñas (El Salvador), Jean Clarence Lambert, Alice Caron Lambert, Julien Delmaire (France), Alhaji Papa Susso (Gambia), Uwe Kolbe (Germany), Carolina Escobar Sarti (Guatemala), Koumanthio Zeinab Diallo (Guinea), John Agard, Grace Nichols (Guyana), Imtiaz Dharker (India/UK), Luigi Cinque (Italy), Christopher Okemwa Oira (Kenya), Patricia Jabbeh Wesley (Liberia), Homero Aridjis (Mexico), Juan Gregorio Regino (Mazateca, Mexico), Hadaa Sendoo (Mongolia), Howard A. Fergus (Monserrat), Mohammed Bennis (Morocco), Luis Carlos Patraquim (Mozambique), James Norcliffe (New Zealand), Niyi Osundare (Nigeria), Erling Kittelsen (Norway), Nathalie Handal (Plaestine), Aiban Wagua (Kuna Nation, Panamá), Carlos Villagra Marsal (Paraguay), Gemino H. Abad (Philippines), Renato Sandoval (Peru), Yevgeny Yevtushenko (Russia), Milena Ercolani (San Marino), Cecil "Blazer" Williams (San Vicente y Granadinas), Braño Hochel (Slovaquia), Indran Amirthanayagam (Sri Lanka/ United States), Jenny Tunedal, Lasse Söderberg (Sweden), Fabiano Alborghetti (Switzerland), Hala Mohammad (Syria), Jules Deelder (The Netherlands), Jean Jacques Sewanou-Dabla (Togo), Ak Welsapar (Turkmenistan), Vasyl Makhno (Ukrania), Caroline Bird (United Kingdom), Bob Holman, Ken McCullough (United States), Gustavo Pereira, Ophir Alviarez (Venezuela).
Última actualización: 07/12/2020