Ko Un, South Korea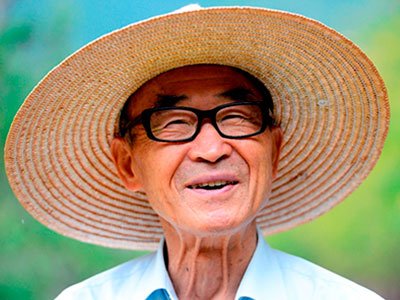 Por: Ko Un
SONG OF NOW

Now is a time when we can neither come nor go.
Now is a time when all is blocked,
you,
and I, too, left solitary,
remote from any place.
For some, it's the time
for losing the rest of their life,
for some, it's the time
for being unable to sleep because of the rest of their life.
Nevertheless,
now is the time for renewed introspection:
excessive factories,
excessive development,
excessive growth,
excessive publicity
imperious discoveries,
canny inventions,
excessive consumption,
excessive waste,
ah, excessive discrimination.
Now is the time for repentance, when the virus of endless desire should be flushed away.
Dear analogue world!
Clamorous digital markets on all sides!
In this social ordeal
now is a poignant time for philosophy in my life.
 

TWO

We now meet the meaning of two,
meet the original meaning of two
that has come back through weathering.
How could such a commonplace thing
be so fresh and new?
So-called humanity.
Life of my own day after day,
all, save me, are enemies.
Leaping from the hell of myself alone
I meet with this,
so-called humanity,
so-called homo sapiens
so-called we, the mandala of the planet's life community,
by the panic caused by Coronavirus.
One more thing,
my so-called fatherland, my so-called people.
Captured by globalization,
taking wherever I go, here and there in the world,
as the landing place for my life,
as my pseudo-destined territory,
captured by nomadism—
immigration, naturalization, tourism, study abroad, business trips,
now I crawl into the land where my ancestors' bones are buried,
into the nostalgia of my people,
meeting my own blood and forgotten dialect,
blowing away all anxieties and ostentation,
I greet the first night of my return,
by the extreme situation caused by Coronavirus.

 
ELEGY

What are we to do?
What are we to do?
Moonlight is sobbing
at the sacrilege of burying corpses in piles
on Hart Island off New York.
We hardly have the heart to pray for you.
Retreating
in the dead of night with candle extinguished,
I wail at my own life.
 
Farewell, Farewell
How could we be blessed with pleasure alone
by the grace of Venus, the evening star?
We should overcome this breathless critical moment,
by accepting also pain and sorrow.
And so
by the wisdom of Venus, the morning star,
we lock,
we open,
and send today's coronavirus away.
Farewell,
take with you my wicked civilization's virus.
***
IT'S

It's a heart throbbing,
tears dripping from the muzzle of a gun.
It's
subtracting rather than adding up,
dividing rather than multiplying.
It's
listening.
It's
a bowl of rice.
It's
underground roots
not having to worry about the leaves up above.
It's
someone's childish fluting.
It's every kind of life,
each individual life
not subject to other lives.
It's
the sight of harnessed oxen plowing fields in days gone by.
Alas!
oxen's millennial yokes.
It's
a father dying ahead of his son.
It's
a mother tongue.
It's
one person's blood warming another person's blood.
It's
a mother for whom her baby's crying is all.
It's
an archipelago.
It's a person being a human for another human being,
a person being nature for Nature.
It's
myself being finally abolished
Ah, Peace!

---
Ko Un (born 1 August 1933) is a South Korean. He had been imprisoned due to his role in the campaign for Korean democracy and was mentioned as one of the front runners for the Nobel Prize in Literature.
He is author of more than 155 volumes, including many volumes of poetry, several works of fiction, autobiography, drama, essays, travel books, and translations from classical Chinese. Many of his works in English translation, he has been translated into more than 10 languages.
Complete volumes in English: Morning Dew: Selected poems, 1996, trans. Bro. Roger; The Sound of my Waves: Selected Poems 1960-1990, a bilingual edition by DapGae (Seoul), 1996. trans. Brother Anthony and Young-moo Kim; Beyond Self: 108 Korean Zen Poems, 1997; reprinted as What?: 108 Zen Poems, 2008, trans. Young-Moo Kim and Brother Anthony; Traveler Maps: Poems by Ko Un, 2004, trans. David McCann; Ten Thousand Lives (selections from the first 10 volumes of Maninbo), 2005; Little Pilgrim: A novel, 2005, trans. Brother Anthony and Young-moo Kim; The Three-Way Tavern: Selected Poems, 2006, trans. Clare You and Richard Silberg; Flowers of a Moment, 2006, trans. Brother Anthony, Young-moo-Kim and Gary Gach; Songs for Tomorrow: a collection of poems 1960-2002, 2008, trans Brother Anthony, Gary Gach; Himalaya Poems, 2011, trans. Brother Anthony and Lee Sang-wha; This Side of Time, , trans. Clare You and Richard Silberg; First Person Sorrowful, 2012, trans. Brother Anthony and Lee Sang-Wha; Maninbo: Peace and War (selections from volumes 11-20), 2015, trans. Brother Anthony and Lee Sang-Wha.
Literary awards: Korean Literature Prize (1974, 1987); Joongang Literary Prize (1992); Manhae Prize for Poetry (1998); Danjae Prize (2004); Bjørnson Prize Order for Literature (2005); Cikada Prize (Swedish literary prize for East Asian poets) (2006); Yeongrang Poetry Prize (2007); Griffin Poetry Prize Lifetime Recognition Award (2008); Republic of Korea Arts Award for Literature (2008), Golden Wreath of the Struga Poetry Evenings (2014); NordSud International Prize for literature (2014).
Última actualización: 20/02/2022