Amjad Nasser, Jordan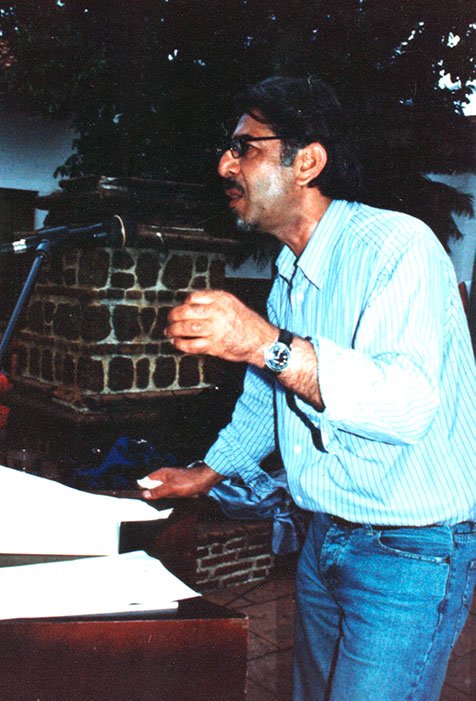 14º Festival Internacional de Poesía de Medellín
Por: Amjad Nasser
The Ascent Of Breath
I
Neither the spears of the mighty, nor the knifes of dwarfs;
rather
your hand,
rather
the fingers of your hand;
no,
rather,
your breath
tearing furrows through the eternal air and leaving them to the seeds of pain spreading through the front tooth and tongue.
I hear them beneath the incense of poppy luring the idols of my life,
spreading their palms at the doorstep.
I ascended their path, raising my confusion as a flag of surrender
IV
On the way to you
I denied the star that had guided my step
and my skill amongst my peers.
Amidst those passing with wide shoulders
mine was the bent figure beneath the lightning
I turned towards slopes that silently received the sermons of the summits
I heard beneath the deafness of the sky things splitting apart at the height of their abandonment
I came upon hills being born of the forgetfulness of mountains
and floating spirits tattooed by the horseshoe of midday heat
I passed boxthorn spreading aimlessly along the paths
and I offered support
and with what strength I had I partook of the soil
that harboured the seed of poison and of theriaca.
Crowds came, and the dust raised a veil between us,
so they returned with spoils of nothingness.
I resorted to a mountain hoping to take something of what could be seen.
The trackers
after
despairing
climbed
a hill
and dreamed
of Urso
Major.
VII
... But
why do this glass
and that smoke
not relieve sleeplessness?
Why do I
not drift away
nor awaken?
It is as though I had not seen
and had not heard
and had not touched
and had not inhaled what your breath
left upon my hands.
X
Crowned with my lightness;
my throne upon the air
is supported by tormented breath
My lightness has not left a trace of me on the ground,
nor has it raised me to you
Oh my lightness
raise me
or drop me with a sloping shoulder
to repel the dust blowing over my childhood footsteps
amongst the rams.
Oh my lightness
the stranger has arrived
who has no yesterday or tomorrow
the stranger
has arrived
upon the
last
breath.
Última actualización: 22/12/2021