Piedad Bonnett (Colombia)
Por: Piedad Bonnett
Traductor: Nicolás Suescún
OF THE KINGDOM OF THIS WORLD
I speak
of the girl with the face disfigured by fire
and sweet, upright breasts like two windows of light,
of the blind boy whose mother describes a color to with invented words,
of the cleft-lip kiss never given,
of the hands that never came to know that the light rain is tepid like the neck
of a bird,
of the half-wit who stares at the coffin where his father will be buried.
I speak of God, perfect as a circle, and all powerful and just and wise.
Biography of a Fearful Man
My father was soon afraid of having been born.
But he soon remembered also
the duties of a man
and they taught him
to pray, to save, to work.
So that soon my father was a good man.
("A real man", my grandfather would say).
Nevertheless
"like a dog whining, muzzled
and tied to a stake" fear persisted
in the deepest spot of my father.
Of my father,
who as a boy had sad eyes, and as an old man
hands as solemn and as clean
as the silence at dawn.
And always, always, the air of a lonely man.
So that when I was born my father gave me
all that his disoriented heart
knew how to give. And that included
the loving gift of his fear.
As an upright man, my father worked each morning
and got around each night and, when he was able to,
he bought in installments the little death
he always wished to have.
He paid for it strictly,
without any anxiety, year after year,
like an upright man, my good old father.
---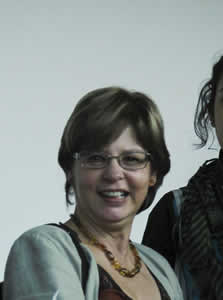 Piedad Bonnett was born in Amalfi, Antioquia, Colombia, in 1951. Since she was 8 she moved to Bogotá. She is a graduate in Philosophy and Letters from the University of los Andes, where she is Literature teacher in the faculty of Arts and Humanities since 1981. For her first book De círculo y Ceniza, 1989 she received mention of honor in the Spanish American Poetry Contest Octavio Paz. In 1991 premiered the play Gato por Liebre. In 1994 she published Nadie en Casa, her second poetry book. In that same year she obtained the National Prize of Poetry Colcultura with her book El hilo de los dias, published in 1995. In 1996, with Ese animal triste, she consolidated as one of the most representative voices in the contemporary Colombian poetry. In 1997 at the Teatro Libre she presented her second play named: Que muerde el aire afuera under the direction of Ricardo Camacho. In 1998 she published a personal anthology of her poetry entitled No es más que la vida and the book of love poems Todos los amantes son guerreros.
Última actualización: 07/07/2021