Casimiro de Brito, Portugal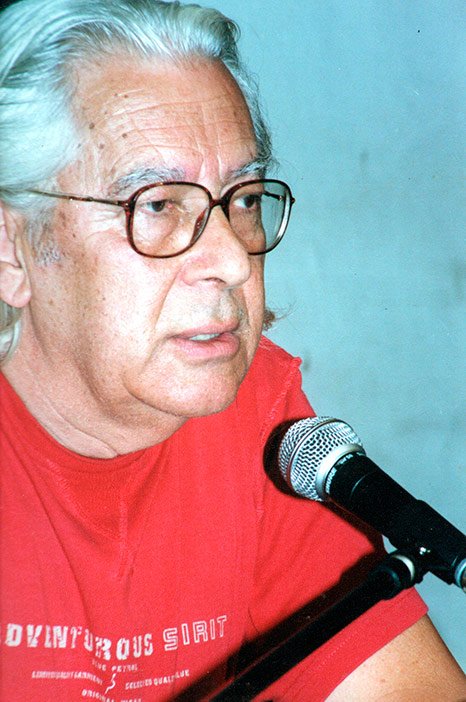 15th Medellin International Poetry Festival
Photo by Javier Naranjo
Por: Casimiro de Brito
1
A man
goes along in his body
and suddenly
falls. I hear
the heart´s silica
crumble.
And I also hear
earth and air
welcoming the bones
of the prodigal son.
This event in itself´s
nothing new
but it hurts. The Autumn
wind
bites my bones
and it hurts.
---
Casimiro de Brito was born in Algarve, Portugal, in 1938. He is the author of 42 books of poetry, prose, essays and aphorisms. He has been included in over 120 anthologies and has been translated into 21 languages, including Galician, Spanish, Catalan, Italian, French, English, German, Flemish, Dutch, Swedish, Polish, Slovenian, Serbo-Croatian, Greek, Bulgarian, Hungarian, Arabic, Yiddish, Chinese and Japanese. He has edited the following literary magazines: Cadernos do Meio-Dia (1956-1959) and Loreto 13 (Medium of the Association of Portuguese Writers) where he worked for ten years. In 2002 he received the Leopold Sedar Senghor Poetry International Prize, for his poetic work. Some of his works are: Poemas da Solidão Imperfeita, 1957; Ode & Ceia, 1984; Versilia/Itália, 1985; Labyrinthus, 1980; Duas Águas, Um Rio, 1989 (with António Ramos Rosa); Subitamente o Silêncio, 1991; Intensidades, 1995; Opus Affettuoso, 1997; Na Via do Mestre, 2000; Arte Pobre, 2000; Animal Volátil, 2001, and the anthology O Amor, a Morte e Outros Vícios, 2004. Director of the International Poetry Festivals of Lisbon, Porto Santo (Madeira) and Faro. Vice-president of the Association of Portuguese Writers, President of the European Association for the Promotion of Poetry and President of the Portuguese PEN Club.
Última actualización: 24/01/2022