Joumana Haddad, Lebanon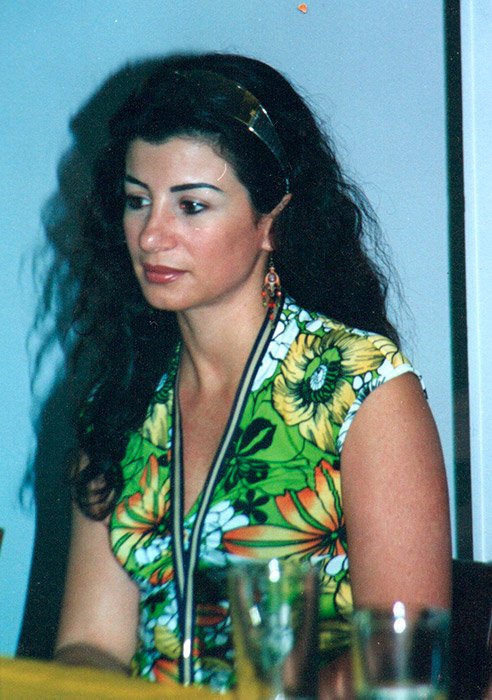 15º Medellin International Poetry Festival
Photo by Javier Naranjo
Por: Joumana Haddad
Traductor: The autor
Blue Tree
When your eyes meet with my solitude
Silence becomes fruit
And sleep turns into storm.
Forbidden doors are opened
And water learns how to suffer.
When my solitude meets with your eyes
Desire rises and spreads
Sometimes like an insolent tide
A wave running without end,
Or like a sap falling drop to drop
A sap more burning than a torment
Beginning that is never completed.
When your eyes and my solitude meet
I surrender naked as the rain
Generous as a dreamt breast
Tender like the vineyard that matures the sun
Multiple I surrender
Until the tree of your love is born
So high and rebellious
So rebellious and so mine
Arrow that returns to the arch
Blue palm nailed in my clouds
Growing sky that nothing would stop.
When I Became Fruit

A girl and a boy I was conceived under the shade of the moon
But Adam was sacrificed at my birth
Immolated to the vendors of night.
And to fill the gap of my other essence
My mother bathed me in waters of mystery,
Placed me on the edge of each mountain
And molded me in light and darkness,
So that I become the center and the spear,
Transfixed and glorious,
The angel of pleasures that have no name.
Stranger I grew
And nobody harvested my fields.
I drew my life on a white sheet,
An apple which no tree gave birth to,
Then I split it and I got out
Partly dressed in red and partly in white.
I was not only in time or outside of it
For I matured in the two forests
And I remembered before being born
That I was a multitude of bodies
And that I slept for a long time
That I lived for a long time
And when I became fruit
I knew what awaited me.
I asked the wizards to take care of me
So they took me.
Sweet was my laughter
Blue my nudity
And timid my sin.
I flew on a bird's feather
And became pillow at the delirious hour.
They covered my body with amulets
And coated my heart with the honey of madness.
They protected my treasures
And the robbers of my treasures,
Brought me silences and stories
And prepared me to live without roots.
And from that time on I fly.
I reincarnate in the cloud of each night and I travel.
I am the only one to tell me good-bye
And the only one to welcome me.
The desire is my way and the storm my compass
And in love I do not drop anchor in any port.
At night I give up most of me
Then I hug myself passionately when I return.
Twin of the high tide and the low
Of the wave and the sand
Of the abstinence of the moon and its vices
Of love and the death of love.
During the day my laughter belongs to the others
And my secret dinner belongs to me.
Those who understand my rhythm know me,
Follow me
But never rejoin me.
---
Joumana Haddad was born in Lebanon in 1970. She is a poet, translator, journalist and teacher. She has worked at the Lebanese newspaper An Nahar since 1997. She speaks seven languages, including Spanish, and is preparing a doctorate thesis on the subject of poetic translation. Publications: The time of a dream, 1995; Invitation to a secret dinner, 1998; Abyss, 2000; I haven't sinned enough, anthology, 2004; The return of Lilith, 2004. She has published a number of works translated from Italian, French and Spanish, and has translated a number of Arab poets into French, Italian and Spanish. She is preparing an anthology of modern Lebanese poetry in Spanish. Her poems have been translated into Spanish, French, Italian, Polish and English, and have been published in literary magazines such as Alhucema (Spain), Fornix (Peru), Hojas Sueltas (Colombia), Kalimat (Australia), Europe (France), Supérieur inconnu (France), as well as in two anthologies put together by Abdel Kader Janabi on modern Arab poetry and published in Paris: Le poème arabe moderne (the modern Arab poem) and Le verbe dévoilé (The uncovered word). She has interviewed recognized international authors, including José Saramago, Paul Auster, Umberto Eco, Yves Bonnefoy, Peter Handke, Wole Soyinka and Antonio Tabucchi.
Última actualización: 28/12/2021