Gerrit Komrij, The Netherlands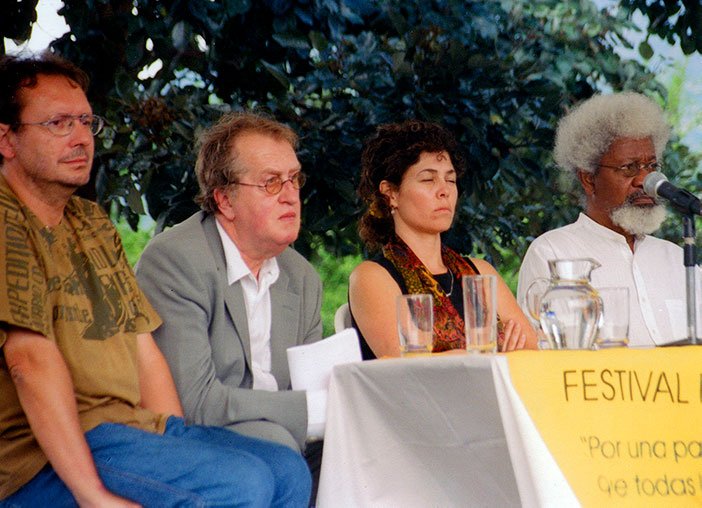 Luuk Gruwez, Gerrit Komrij, Maria Baranda, Wole Soyinka
15th Medellin International Poetry Festival. Photo by Javier Naranjo
Por: Gerrit Komrij
Traductor: Scott Rollins
[III]
The words flew forth, to the towns
They created form, culture, and kneaded us
Stumbling on and mindful of the past.
They made soul from dust and gold from bronze.
They became slinging arrows for prophets,
For usurers, contracts. Quickshot prayers
For scared sinners. Words turned slogans
And available as small change, fell into disrepute.
The sun shone in the city. Laughter was heard.
A bird whistled. We fell into conversation.
Something pretty about love. No one saw
The brass knuckles, the shards on the gate.
---
Gerrit Komrij (30 March 1944 – 5 July 2012) was a Dutch poet, novelist, translator, critic, journalist and playwright. He rose to prominence in the early 1970s writing poetry. He acquired a reputation for his prose in the late 1970s, writing acerbic essays and columns often critical of writers, television programs, and politicians. As a literary critic and especially as an anthologist he had a formative influence on Dutch literature: his 1979 anthology of Dutch poetry of the 19th and 20th centuries reformed the canon, and was followed by anthologies of Dutch poetry of the 17th and 18th centuries, of Afrikaans poetry, and of children's poetry. Those anthologies and a steady stream of prose and poetry publications solidified his reputation as one of the country's leading writers and critics; he was awarded the highest literary awards including the P. C. Hooft Award (1993), and from 2000 to 2004 he was the Dutch Dichter des Vaderlands (Poet Laureate).
Última actualización: 21/01/2022