Esteban Moore (Argentina)
Por: Esteban Moore
Traductor: Craig Czury, Jo Anne Engelbert
"Stone as You"
this mired metal stone/ -the size of a plum from the Alto Valle
that shares with the gray rock and the dry bushes -/the sand of
this territory spread in the distance before your eyes -/will not
remember its origin -but when your mouth pronounces the
word meteor "it will flash "from the deep crevices " of your
voice "numerous constellations
Tranlated by Craig Czury
The white woman from Africa
"the diamantine splendor of the Sphinx's face/
blinds the eye's vision"
Edmund P. Kirk
the white woman from Africa has the yellow eyes of a sleeping lion
the slow phosphorescence of snakes in summer
her jaws
God knows
know the consistency of male flesh
if she wants to she can
make from a man
small magical butterflies crimson dangles
to adorn her breasts
the white woman from Africa hides a heart that pumps
deep black bloods
by moonlight her sharp teeth of Arctic ice
leave dark marks on the chosen body
a fact that occasionally provokes her sweetest smile
the white woman from Africa can also whenever she wishes
lift her hand
bestir her marble fingers
stop the world right before your eyes
leave you bereft of memory
Translation Jo Anne Engelbert
---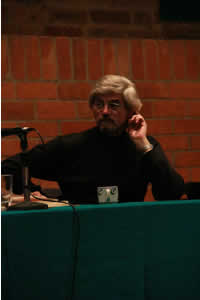 Esteban Moore was born in Argentina in 1952. Poet, translator and journalist. In poetry he has published: La noche en llamas, 1982; Providencia terrenal, 1983; Con Bogey en Casablanca, 1987; Poemas 1982-1987, 1988; Tiempos que van, 1994; Instantáneas de fin de siglo, 1999; Partes Mínimas y otros poemas, 1999. He has translated Charles Bukowsky, Raymond Carver, Lawrence Ferlinghetti, Allen Ginsberg, Gregory Corso, Gary Snyder, Bill Berkson, Anne Waldman, Andrei Codrescu, Seamus Heaney among others, In 1990 he was invited to The Jack Kerouac School of Disembodied Poetics, founded by Allen Ginsberg, where he carried out a translation project. In 1994 he exposed about poetry and translation in the Poetry School of Vienna, Schüle fur Dichtung in Wien. He has participated of various festivals in his country as well as in those of Montevideo (1993), Medellín (1995) and in 1998 he was invited by Amiri Baraka to take part in the homage committee to Allen Ginsberg that carried out an encounter in New York, in which he participated. He collaborates with publications of his country and abroad. His work has been partially translated into English, Italian, German and Portuguese and included in several anthologies. At the present time he prepares an anthology of contemporary Irish poetry.
Última actualización: 09/03/2021