Chiranan Pitpreecha, Thailand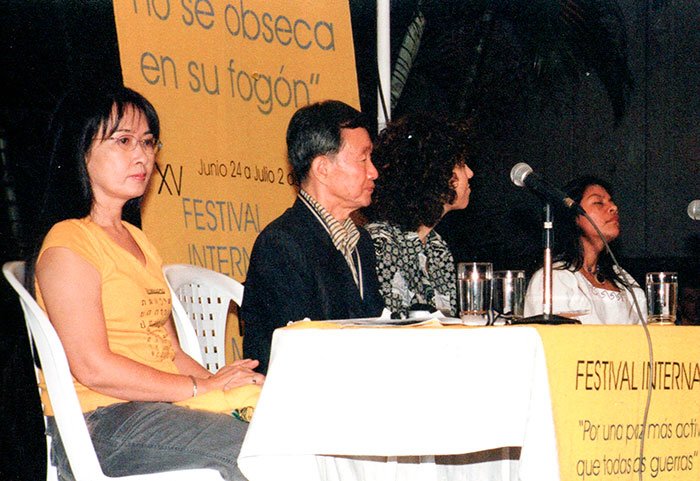 15th Medellin International Poetry Festival
Photo by Javier Naranjo
Por: Chiranan Pitpreecha
First Rain
The first rains in May
Stream down, red
Steel rains, violent
Bodies-piercing, blood-flowing
Like water, flooding the streets
A rank stream of blood.
How many stars fell and crashed?
How many hearts are broken and crushed?
The wound of our native soil
When will it ever heal?
What devilish power
Dare kill the people?
Fighting blood lives on,
Death rousing people
The soul enduring,
Protecting the justice of the people.
The first rains seep into the ground and disappear into the earth
Leaving meaning and memory
Enriching the earth with their moisture
Nourishing the crops of democracy.
---
Chiranan Pitpreecha was born in Thailand in 1955. She was a well known figure in the 1970s student movement in Thailand. Following the violent suppression in 1976, she, along with thousands of Thai students, fled to the jungle and joined the Communist insurrection. Almost immediately after she returned from the jungle in 1981, under the protection of amnesty law, her poem, Cracked Pebble was selected "The best Poem of 1981" by P.E.N. International, Thailand. She then resumed her education at Cornell University in the United States where she received a B.A. and M. A. History. Chiranan is one of Thailand's best known authors, and has produced a wide range of writings for Thai periodicals and newspapers, from poetry, history, travel articles to social commentaries. In 1989 The Missing Leaf, her first poetry book based on personal experiences in the jungle, won the prestigious South East Asia Write Award. In 1992 "First Rain" was selected as "The Best Poem of the Year" by P.E.N. International, Thailand. Her works have been translated into English, French, German, Japanese, and Malay.
Última actualización: 02/01/2022