Edwin Thumboo, Singapore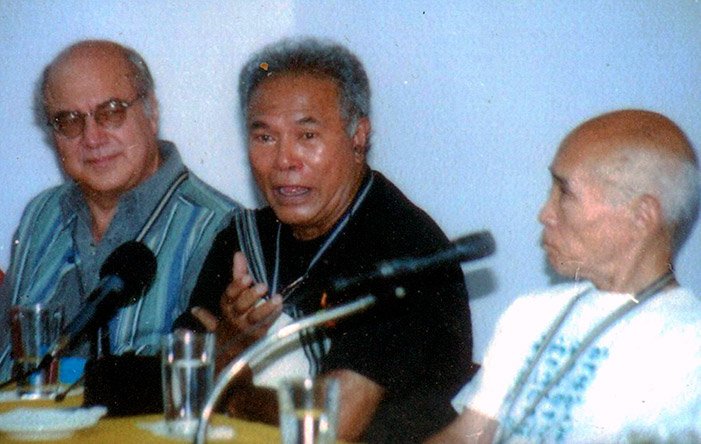 15th Medellin International Poetry Festival
Photo by Javier Naranjo
Por: Edwin Thumboo
Hawaii
Up these grey volcanic slopes, shy, tiny
Shrubs with secret mini-flowers, snug
And love in undulating hula moonlight.
They begin to tremble, burn when the sun
With all its physics, crests the peaks, releases
Dusty-devils to shoo and suck untidy drifts.
Rising, the wind´s sap doubles our pulse,
Moving spirit and body, hard and wet,
Merging their utterance. Curve and flank
Change acts of taking into smooth, deep giving.
Your eyes are words grown from amber;
Your brows horizons awaiting evening colours.
As day begins to list its promises, the island
Turns and sighs and dreams around your navel.
Then our blood gallops, mane tingling
Each nerve, making baby rainbows
Among these crags; soar steeply into
The sky´s open cry. Then sudden, magical,
Your grip surprises in recurring waves,
Keeps us within the circle of our selves.
Below, the sea, a creeping blue, immensely
Continental, carried quiet journeys. We look,
Touch, trying to know the whole of silence.
A Poet Reading
1
She is sunlight, standing by the pool,
In a garden we laced with flowers
And songs, as we walked into ourselves.
Enshrined within a tactile moment,
With no beginning, with no end,
Her brow, lifted gently by rising lotuses,
Receives the sky's deep reverence
As her eyes watch seven golden koi
Swim serenely into provinces of silence.
Then, on the left side, where the heart
Resides, her hand lifts, reluctantly,
As if compelled by lingering strands
Of bitter, ancient winds, now sadly
Come together, taking her
In ways that only harsh things can.
There is always darkness to elide,
After which she is again
Sunlight waiting to be poems.
2
She is someone we all know, especially
Those whose names are writ in water, who scour
Big and small infinities, who are at times blessed
By paths that absolve the failure of their lines, when,
Pilgrimming, they find a star's immaculate heart,
That returns us to this image, trysting yet again.
Then lexicon and grammar and naming stir,
Bringing metaphor, metonymy, syllepsis, plus
Assorted relatives, to achieve a feverish
Making. That is never done, for our words don't
Take in all. A cup always slips, shatters
Into lamentations at imagination's door.
The perfect poem is future tense. Meanwhile,
Neat incompletion must suffice. Life goes on.
Meditate on words for modern times, alive to
This surge, this minute, and the next, curving
Towards us, to reveal poet on poem's calling.


3
Question: Is there difference if you've heard
This one before; or seven other people read
The same poem, if ever it's the same?
Which do you, he and she and I, hear or want?
We anticipate, having written a little ourselves.
Some just wait, expectorant but undecided,
Contemplating means to conjugate verbal icons.
Others crouch beneath a great authority, namely,
Phonemes dipped in psalms, to set against despair;
Or from tough shards of ancestral history,
Especially post-colonial midnight happenings
Marked by the magic of powerful after-birth.
Perhaps that nascent celebration in our heads, waiting
For release; or buried, because love, singing died;
Or a special CD loading a line from Keats, knowing
A drop of dew is but a world of dew. Then, but then,
Semi-finally, that satisfactory equation, briefly great,
Formed as all purpose burns, burns into cool radiance,
Then soars up the throat of language as she commands
Symbol, sound and image to open, and shut, doors.
Another poem does it's work and then dissolves
Into earth, water, fire, air.

4
Impatient, the quiet starts to rustle and undo,
As rhyming fingers manage artifice and mood.
Once more she is sunlight by the pool, once more.
Recalled, revised, recaptured for this gathering,
She quivers, stakes her space in several memories,
Is transmuted into many distances
As we listen to the one we come to find.
The glass hall empties; awaits another coming.
But she never leaves, our sole certainty.
See her as you will; as you can;
As you travel,
Or, sit still.
Aug-Sept-Dec 1999
Jan 2000

---
Edwin Thumboo was born in Singapore in 1933. He is a poet and a literary critic, considered as one of the pioneers of English literature in Singapore. He is the Director in Chief of the Center for the Arts of the National University of Singapore, where he has been Dean of the Faculty of Arts, at the Faculty of Social Sciences, and was made a professor emeritus in 1997. Publications: Rib of Earth, 1956; Child's Delight: Book 1, 1972; Child's Delight: Book 2, 1972; Gods Can Die, 1977; Ulysses by the Merlion, 1979; A Third Map: New and Selected Poems, 1993.
Última actualización: 02/01/2022