Muhsin Al-Ramli, Iraq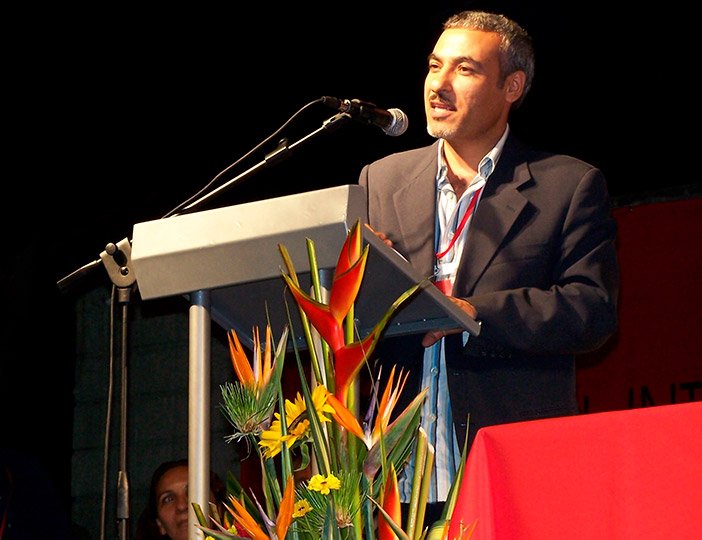 15th Medellin International Poetry Festival
Por: Muhsin Al-Ramli
Traductor: Alycia M. Rivard
No to Liberating Iraq from Me
This ink spilled on your papers
is the blood of my country.
This light pouring out of your screens
Is the sparkle in the eyes of the children of Basora.
This one that is sobbing in the darkness of his exile
Is me;
Orphan after you have killed my parents: Tigris and Euphrates;
Widow after you have crucified my soul mate: Iraq
Oh…for you, my land: crucified on the crosses of your desires.
Ay´you, gentlemen of the war
Listen to me:
No to the party of military men on the roof of my house.
No to the executioner that you have proposed
or are going to propose.
No to the bombs of your liberty falling over the heads of my people
No to liberating Iraq from me or me from him.
I am Iraq.
My balm is my writing and I know what I want.
Leave me to myself, to my rebeck and your absence.
Go back to your movies behind the ocean.
Leave me what is left
of the minarets, the mausoleums of my ancestors,
of the tombs of my family
And drink from the cups of petroleum until you are quenched.
Rob the honey from the sulfur and the sand from the desert.
Take with you your clients.
Take to the dictator everything you have bought yourselves with my
blood.
Take what you like and leave,
leave me alone
with the shot-down dreams of my sister,
with palms engulfed in flames on the banks of Mesopotamia,
with the bones of my father
and my afternoon tea.
Leave me alone
with the sad songs of the south
and the slit throats of the north
and the peacocks of the Yasidies.
Leave me alone
to cure the injuries of my land of Iraq
Solo
like Mary
solo with my solitude
My country: crucified on the crosses of your desires.
I will know how to animate his resurrection.
He knows how to be reborn from ash.
Maybe you have forgotten that he is the creator of the Phoenix?
Ay, an inferno, for you gentlemen of the war
Listen to me:
Do not scare the clouds of Baghdad with your planes.
Do not sow soldiers in our garden.
Do not take the hijab from my mother.
No. I scream no to liberating Iraq from me or me from him.
I am Iraq.
Villages have flourished from my coat, and I know what I want.
Leave me to myself, to my family and to your indifference.
---
Muhin Al-Ramli was born in Iraq on March 7, 1967. Poet, novelist, playwright, narrator, journalist and translator. He studied Spanish Philology at The University of Baghdad, 1989. He made his doctorate in Philosophy, Letters and Spanish Philology at The Universidad Autónoma de Madrid in 2003. Thesis: The traces of Islamic culture in Don Quixote. Published books: Regalo del siglo que viene, Amman, 1995; En busca de un corazón vivo, Madrid, 1997; Hojas lejanas del Tigris, Amman, 1998; Migajas esparcidas, El Cairo, 1999; Las felices noches del bombardeo, El Cairo 2003; and Todos somos viudos de las respuestas, Madrid 2003. He has translated into Arabic some works of Miguel de Cervantes, Lope de Vega and José de Espronceda, among others. He was awarded the Prize for The Young Writers, Baghdad 1988 for his story El último encuentro con un amigo and the same prize in 1989, for his story Un accidente de copia. He has worked as journalist in Iraq, Jordan, and Spain. Since 1992, he is a member of The Association of Iraqui Translators. He has given conferences about Iraqui and Arab literature, translation and about Don Quixote. He is founder, publisher and co-publisher of the cultural review ALWAH since 1997 (The only arabic cultural magazine in Spain) Some of his texts have been translated into English, Spanish, German, Catalanian and Kurdish.. In his own words: "In my country, poetry isn´t considered a luxurious complement but a need. It is not just a mean of expression but it becomes a vivid experience and furthermore an expression for life itself. Thanks to poetry, the individual lives what he wasn´t allowed to live. Poetry enriched Iraq more than oil, which has rather brought catastrophes to the nation. The Arabic Peninsula and Iraq are the only places in the world where the birth of a poet was celebrated because he was going to be the spokesperson of the tribe. Laws, teaching and history will be written in verse. Still today among my people, letters are written in verse. It´s the only place in the worlds where a poetry market existed, the one of Mirbad, in Basra where people from distant places gathered to buy, (especially those in love), sell, learn or criticize".
Última actualización: 20/12/2021