KAMAU BRATHWAITE
KAMAU BRATHWAITE
Barbados, 1930
de Guanahaní
como los principios —oh odales oh adagios—de las islas
bajo las nubes donde escribo el primer poema
su calor marrón ahora que las reconocemos
aún a esta distancia de tormenta
todavía sin sonido. tanta esperanza
ahora en torno al corazón rayo que empecé a llorar
con tanta felicidad de un paisaje conocido
tal genio del color. forma de la bahía. cabo
los oscuros yermos de las cadenas de
montañas. una puerta abriéndose en el cielo
hasta bien abajo penetrado estos nuevos azules y
dormidos amarillos verdes — como el abrazo
de una madre como el cercamiento
de un amante. como bancos
de peces emigrando hacia su patria. adentrándose
en la luz brillante de la expectativa. nacimiento de
estos largos caminos a lo largo de la orilla de Eleuthera
ahora hundiéndose en su memoria detrás de nosotros

Y MILES Y MILLAS Y MILES
Para Miles Davis
Se marea
con la altura
berrea el sol
oye
sólo el bronce
de su ánimo
si volara
sería
águila
miraría
yacer la
tierra suave
contornos
yacen campos
rayados
las casas encajan en los valles
podría ver nubes
sobre el agua
bogar por tierra como cascos de enormes barcos
pero es sólo
un gallo
no ve
nada
no oye
nada
aspira
al cielo
con ojos
cerrados
el cuello
hinchado .
& trinó       hasta que un ojo
se A
brió a la luna
&
azules notas osci.
laron osci.
laron de las tres.
esquinas del útero
.
cuando se acabó
          el clic cloc
el
reloj
          paró
. & la roca          de su cráneo          se cayó

LLEGA EL NUEVO MUNDO
Así desvalido
así
sin guía,
sin héroes,
te encontramos: amante
guerrero, tú que odias,
llegando por las hileras
del bosque
pie suave
al suave suelo
del silencio:
nos encontramos en el túnel
sucio de hojas.
Artilla
tu mosquete apun
ta sonó
fuego y nuestros
guerreros de firmes
carnes, cálidos,
picados por
moscas
cayeron.
Cuánto
Cuánto
Oh Señor
Oh demonio
Oh fuego
Oh flama
hemos andado
hemos viajado
hasta aquí
a este encuentro
este susto
y vergüenza
en el sucio
silencio.
Cuánto tiempo hemos
viajado por
cuestas jaspeadas
de sílice, piedras
secas como agua,
a este centellear
de flama en el bosque.
Oh quién nos ayudará
Ahora, des-
validos, sin
caballos, sin
guía, sin
esperanza, sin
Hawkins, sin
Cortés por venir.
Encarcelado Prempeh,
muerto Tawiah,
reprimido y colgado
Asentawa.
Oh quién nos ayudará
Ahora: Jerónimo, Tackie,
Moctezuma por venir.
Y el fuego, nuestro
fuego, forjando candados,
rocas más negras que hierro;
el fuego nos traicionó ya
en nuestra aldea; ahora
en el bosque, el fuego nos
tira como pájaros; nos arden
vainas en el vientre. El fuego
tira muros, forja
estos candados fogosos
más negros que el hierro
y en fila recorrimos el sendero
eslabonados en un nuevo
silencio de sonoro hierro.

2
Pasaremos mucho tiempo sin ver
otra vez esta tierra, estos árboles
de nuevo, vagando tierra adentro con el sonido
del rompiente, el humo subiendo
Pasaremos mucho tiempo sin ver
otra vez estas granjas, suaves húmedas lentas verdes
de nuevo: Aburrí, Akwamu,
sube la niebla
Ahora mira estos duros hombres, fríos
ojos claros como el agua que montamos
hábiles con la vela y la soga y los aparejos
Ahora mira estos fríos hombres, audaces
como el agua golpeando la proa en súbita ola feroz,
indiferentes, al parecer, a la batalla
del viento en el agua;
pues nuestra sangre, pronto
mezclada por capricho con su pasión,
por indiferencia, por furia,
creará nuevos suelos, nuevas almas, nuevos
ancestros; fluirá como esta marea fija
a la estrella que mantiene a flote la nave
a nuevos mundos, nuevas aguas, nuevos
puertos, el orgullo de nuestros ancestros mezclado
con el viento y el agua
la carne y las moscas, los látigos y el fijo
miedo al dolor en este puerto encadenado que nos recibe.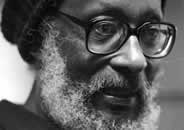 Kamau Brathwaite nació en Barbados el 11 de mayo de 1930. Poeta, dramaturgo, ensayista e historiador, graduado en la Universidad de Cambridge. Su obra se ocupa del complejo patrimonio caribeño y sus raíces africanas. Ha sido partidario del uso de un "lenguaje de nación", estrechamente ligado a la experiencia africana en el Caribe. No es el dialecto o creol solamente, sino que como lo ha afirmado, el tipo de inglés hablado por la gente traída al Caribe, no el inglés oficial de ahora, sino el lenguaje de los esclavos, los obreros, los criados que trajeron los colonizadores. Desde 1950 empezó a publicar breves relatos, crítica literaria y poesía en Bim, revista de las Indias Occidentales. A mediados de los 50's trabajó en el departamento de libros de texto del Ministerio de Educación de Ghana. En 1957 nacía esta nueva nación, convertida en modelo para otras colonias en lucha por la independencia. Durante aquellos años se familiarizó él mismo con el verso tradicional y los mitos precoloniales africanos, lo cual fue considerado esencial en la construcción de una nueva identidad cultural en Ghana, donde también él estableció un teatro para niños, y escribió libros para ellos y piezas de dramaturgia. Algunas obras suyas: Four Plays for Schools, 1964; Odale's Choice, 1967; Rights of Passage, 1967; Masks, 1968; Islands, 1969; Panda No. 349, 1969; Penquin Modern Poets, 1969; Folk Culture of the Slaves in Jamaica, 1970; The Development of Creole Society in Jamaica 1770-1820, 1971; The Arrivants: A New World Trilogy, 1973; Caribbean Man in Space and Time, 1974; Contradictory Omens: Cultural Diversity and Integration in the Caribbean, 1974; Other Exiles, 1975; Days & Nights, 1975; Black + Blues, 1976, Premio Casa de las Amércicas; Mother Poem, 1977; Our Ancestral Heritage, 1977; Wars of Respect: Nanny, Sam Sharpe and the Struggle for People's Liberation, 1977; Soweto, 1979; Barbados Poetry, 1979; Jamaica Poetry, 1979; World Making Man: A Poem for Nicolas Guillen, 1979; Sun Poem, 1982; Third World Poems, 1983; History of the Voice: The Development of Nation Language in Anglophone Caribbean Poetry, 1984; Colonial Encounter: Language, 1984; Roots: Literary Criticism, 1986; Jah Music, 1986; X/Self, 1987; Sappho Sakyi's Meditations, 1989; Middle Passages, 1992; Shar, 1992; The Zea Mexican Diary, 7 September 1926 - 7 September 1986, 1993; Trenchtown Rock, 1993; Roots, 1993; Dream Stories, 1994; Words Need Love Too, 2000; LX the Love Axe/l: Developing a Caribbean Aesthetic, 2002; Born to Slow Horses, 2005.
Última actualización: 28/06/2018