Breyten Breytenbach (South Africa)
Por: Breyten Breytenbach
BREYTEN BREYTENBACH

Exile, Representative
for F.M. and M.K.
you grow less agile, more compliant,
fat squats in your body
like ants deep inside a dead animal,
one day it consumes you,
your eyes burn brighter with solitude
you live as if you'd never die
because you don't exist here
and yet death walks in your body,
down through your intestines
death is knotted in your wings

the earth caves in behind your eyes,
the hills grow still, the emptiness green,
your hands and smile collapse,
photographs and pamphlets are pasted
over memories: experience is a dream

you learn to beg
and ply with the raw contrition of your people
the insatiable bureaucrats,
the Officials of World Conscience: you look
through the holes of their hearts into the mirror

with daylight you're still awake,
your mouth gray from muttering;
words swarm like parasites around your tongue
and make nests in your throat
in a crowd you're always a fugitive,
don't smoke, don't drink:
is your life not a weapon?
you go down poisoned with despair,
shot like a dog in a dead-end street

and by the time you want to crack the day's skull
and shout: Look, my people are on their feet!
here comes the mother explosion! power!
you've forgotten the silences of language
so that ants will crawl from the cry
belched from your entrails: blind freedom fighters
---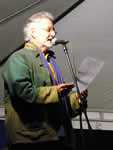 Breyten Breytenbach, 1939-, South African writer, painter, and activist. Although he is from a distinguished Afrikaner family, he soon became a committed opponent of apartheid . He left South Africa in 1960, settling in Paris in 1962. Breytenbach's first literary works were poems, many expressing his political views, and he is widely recognized as the finest living poet of the Afrikaans language. His verse volumes include Die ysterkoei moet sweet (1964; The Iron Cow Must Sweat ) and Voetskrif (1976; Footscript ). Some of his most notable early poetry was published in English translation in In Africa Even the Flies Are Happy: Selected Poems 1964-1977 (1977). Many of Breytenbach's prose works are written in English.
When he returned to his homeland for a clandestine visit in 1975, he was arrested, charged under the Terrorism Act, and jailed for seven years. Out of this experience came the semifictional Mouroir: Mirrornotes of a Novel (1983, tr. 1984) and The True Confessions of an Albino Terrorist (1985), a harrowing account of his imprisonment that is his best-known work. Breytenbach returned to Paris after his release from prison in 1982. He has written vivid accounts of three different returns to South Africa, the haunting A Season in Paradise (1976, tr. 1980), the apprehensive yet hopeful Return to Paradise (1993), and the memoir Dog Heart (1999), in which he makes an identity-seeking journey into his past while expressing bitter disappointment with his postapartheid homeland. Breytenbach is also known for his paintings, many of which portray surreal animal and human figures, often in captivity.
From: The Columbia Encyclopedia, Sixth Edition
Última actualización: 23/02/2021