KOUMANTHIO ZEINAB DIALLO
KOUMANTHIO ZEINAB DIALLO
Guinea, 1954
I hear
the laughter of the blue birds
that discover the secret refuge of my passions
And I surprise the peeved sun
taking by storm my blue house.
Its palpable rays like
the absence of the loved one
drive away the shadow of my crazy thoughts.
Orphan
of my hot flesh
I hear you weeping this absence
And my singing that, every morning,
I offered you in the warmth of my sheets.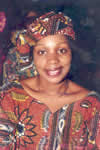 Koumanthio Zeinab Diallo (Kazédi) was born in 1956 at Labé in Guinea. She hails from a rich poetic tradition. Her first work was dedicated to her children, Dalanda (Lynda), Ousmane (Mawdo), Mamadou (Vieux) and Tguidanké (Nene). Koumanthio Zeinab Diallo is a foundation member of the Guinean branch of the PEN Club International, a member of the International Committee of Women Writers and of several other literary associations. She gained a first prize for poetry written in the Pular language in 1990. An Agricultural Engineer by profession, she has been a development consultant for UNDP (United Nations Development Programme).
Publications Comme les Pétales du Crépuscule [Like Petals at Dawn]. Lomé: Editions La Semeuse-Togo, n.d. (55p.). Poetry. This book of poetry contains thirtyone poems grouped around the following themes: A suggestion of love; Peace and love; A ritual of hope; The roots of despair; Past and present beauties.
Pellun Gondhi. Guinée: Editions Ganndal, 1996. (46p.). Poetry in Pular.
Les Epines de l'amour. [The Thorns of Love]. Paris: L'Harmattan, 1997. (91p.) Novel. A Princess gets married against the wishes of her father.
Le fils du roi Guémé et autres contes du Fouta Djallon de Guinée. [The son of the King of Guémé and other stories of Guinea's Fouta Djallon]. Paris: L'Harmattan, 2004. (90p.). Tales. [Preface by Bernard Salvaing].
Daado l'orpheline et autres contes du Fouta Djallon de Guinée. [Daado the orphan and other stories of Guinea's Fouta Djallon]. Paris: L'Harmattan, 2004. (94p.). Tales. [Preface by Bernard Salvaing].
Le Rire du silence. [The Joy of Silence]. Paris: L'Harmattan, 2005. (60p.). Poetry.
Les Humiliées. [Humiliated Women]. Paris: L'Harmattan, 2005. (90p.). Theatre. From http://aflit.arts.uwa.edu.au/DialloKZeinabEng.html
Última actualización: 28/06/2018