Frank Chipasula (Malawi)
Por: Frank Chipasula
MANIFESTO ON ARS POETICA
My poetry is exacting a confession
From me: I will not keep the truth from my song.
The voice undressed by the bees;
I will not bar the voice undressed by the bees
From entering the gourd of my bow-harp.
I will not wash the blood off the image;
I will let it flow from the gullet
Slit by the assassin's dagger through
The run-on line until it rages in the verbs of terror;
And I will distil life into the horrible adjectives.
I will not clean the poem to impress the tyrant;
I will not bend my verses into the bow of a praise song.
I will put the symbols of murder hidden in high offices
In the center of my crude lines of accusations.
I will undress our land and expose her wounds.
I will pierce the silence around our land with sharp metaphors,
And I will point the light of my poems into the dark
Nooks where our people are pounded to pulp.
I will not coat my words with lumps of sugar
But serve them to our people with the bitter quinine.
I will not keep the truth from my heartstringed guitar;
I will thread the voice from the broken lips
Through my volatile verbs that burn the lies.
I will ask only that the poem watch the world closely;
I will ask only that the image put a lamp on the dark
Ceiling in the dark sky of my land and light the dirt.
Today, my poetry has exacted a confession from me.
---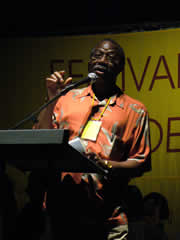 FRANK CHIPASULAwas born in Malawi on 16 October 1949. Editor and fiction writer. He holds a B.A. (with Credit) from the University of Zambia, an M.A. in Creative Writing from Brown University, an M.A. in Afro-American Studies from Yale University and a Ph.D. in English Literature from Brown University. Chipasula's Visions and Reflections (1972), a pioneering book of poetry in English by a Malawian poet, was followed by O Earth, Wait for Me (1984), Nightwatcher, Nightsong (1986) and Whispers in the Wings: New and Selected Poems (1991). He is currently working on The Burning Rose: New and (Re) Selected Poems. He has also edited the following ground-breaking anthologies of African poetry: When My Brothers Come Home: Poems from Central and Southern Africa (1985), (with Stella) The Heinemann Book of African Women's Poetry (1995) and Bending the Bow: An Anthology of African Love Poetry (Fall 2008). His fiction includes the novels, In the Shadow of that Stone and In a Dark Season (in progress). His poems have appeared in numerous literary journals, newspapers and anthologies on the three continents in English, French, Spanish and Chinese. "Frank M. Chipasula comes to us with rich language and a bursting, compassionate heart. I have seldom encountered poetry which expresses so much pain as his reports of monstrous state atrocities in Southern Africa in Whispers in the Wings. His vision is full of righteous rage and its power is overwhelming in such poems as A Hanging and A Grain of Salt."—Adrian Mitchell, (one of the most respected 20th Century poets), London, U.K. "Chipasula expresses in his thought provoking and beautifully written poetry a deep pain towards the conditions that lead him into exile."
Última actualización: 11/02/2021