Jorge Galán (El Salvador)
Por: Jorge Galán
Traductor: Elizabeth Gamble Miller
TRANSIENT
Standing on the sidewalk, by the curb of this street
in the northern section of this city
where a man can die and his death
have the same importance
as the breath of a small woman
who senses a wisp of white aroma, that can
never be the aroma of snow.
Death isn't worth much here,
just a bit more than a tree collapsing
upon itself deep in the forest, unnoticed by anyone,
but it should be worth as much as a tower's
collapsing to the vast sound
of a thousand trumpets.
Like dark doves, the screams here
drop off the eves or come to die under roofs
of buildings and houses where rats and mould meet.
Wind is the only wrap here, the only comforter.
Cars pass by my feet in small waves.
Behind me transients and the night are the same.
Street lamps have lighted like sudden eyes
recovering their sight.
Death is the only daily abundance.
I move again, I walk in a straight line,
I turn neither left or right,
the shadow of a boy winds around my feet
like one day a boy did around the legs of a mother
whose eyes weren't seeing the world but darkness.
My walk carries me to a corner. I stop.
I think about the seasons, the way they move and then stop at the particular place
where they're supposed to and never mistake the location.
I'd like to be the winter stationed on this distant corner.
Feminine spring or feverish summer interest me little,
autumn is only of interest to my eyes, and a pair of eyes can't be a soul.
If my soul were a hammer I myself would be an anvil and the hammer that hits that anvil.
If I were an animal I'd be an earthworm crawling over places concealed,
caverns of a vastness like before creation.
If I were a tree I wouldn't be one tree but a forest of slender bamboo
yellow and delicate like fingernails of a useless invalid.
I sit down, I lean back. I see the night has come,
the stars that I can't read and the blackness I can't explain or posses.
People looking at me prefer to see a body lying there and not an eternity
opening in the heavens, like loving arms around another body, about to close.
They prefer to see ingenuousness filling a face of inert rubbish,
hunger outlining cheeks that once were fresh apples.
They prefer to observe a pallor of insanity and the pride of dementia
rather than the map of creation that rests upon each one's head
in just the way an unending, splendid crown would sit on the head of a king.
I sit down. I get up. I cross a street. I stop on the sidewalk,
on this sidewalk where I could die and no bell would toll announcing my death
or any knee bend or any tear fall or any prayer be spoken.
Automobiles are lightning flashes in a darkness that reaffirms itself.
I realize I'm the sediment from that darkness and I smile to myself and think
I know I've discovered the importance of an existence,
the absolute goal of the same, the purpose for which man was created.
There should be angels embracing my feet.
There should be a dozen beautiful children kissing my hands.
There should be a thousand women moistening my hair with the finest perfume.
There should be music of tambourines behind and before me.
This should be a beach dotted with palms and not a dismal street.
I ought to say that my breath has sometimes revealed to me the smell of death.
And to think that I was handsome like the white cub of a powerful lion.
Behind me the beings and the night cannot and should not be different.
My discourse is the fog that descends from the trees.
---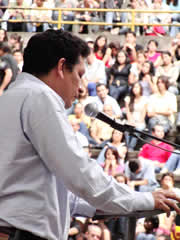 JORGE GALÁN was born in Bolivia February 17, 1971. Studied philosophy at the Universidad Mayor de San Andrés de La Paz, and Anthropology at the Universidad Católica de Cochabamba. He has published the following poetry books: Prehistorias del androide, 1994; Con la misma tijera, 1999; Santo sin devoción, 2000; Y allá en lo alto un pedazo de cielo, 2003; Extramuros, 2004; Pequeña librería de viejo, 2007, National Poetry Prize. Editor of the literary magazine La Mariposa Mundial and the literary supplement El Duende. He has also produced short stories and his literary work is contained in various anthologies. He collaborates with newspapers and magazines from his country and abroad. He lives in La Paz. Roberto Echavarren refers to Pequeña Librería de viejo, saying: "The poems of Benjamín Chávez are more a substraction than an addition. They highlight a deconstructive process that leaves few things (or at least few you can see) standing, but inserts us in a space that they segregate, a field of the most radical dispossession. "Lanuguage peels itself" Its minor tone is its greatest success. It opens a habitable space, where the echo reverberates in silent meditation "the weak music of soft things" (probably his deepest or best poem). In lonely retreat those humble companies let you hear their dull outcry, but it must be very silent to hear them. All the opposite of a show of shining images or rhetorical declarations, the voice of Chávez is thin but authentic and it gives us the secret of a tempered ear.
Última actualización: 31/08/2021