ISABEL GARCÍA
ISABEL GARCÍA
(Colombia, 1949)
OMEN
Brought by the breeze
A sleepless ember
Announces what's to come.
—The signal travels stealthily—
Who makes a rumpus in the shadows
And spoils the almond tree's rest?
Who will strongly wield the dagger
Against the dawn?
Who among us will cover ourselves with horror
In the morning?
Remembering all, the emisary came
On his face a white carnation
Withers.

Translation by Nicolás Suescún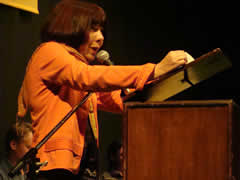 ISABEL GARCÍA MAYORCA was born in Ibagué, Colombia.  Essayist, poet and university professor. With musical studies in piano and singing, she has dedicated her past years to the study of Latin American contemporary narrative and poetry, with emphasis in Colombia, on which she has several publications. She  has participated in national and international congresses, seminaries and symposiums and has been invited to universities in Colombia, the United States, Spain and Italy. With several essay books, she has obtained national and international distinctions with the Ministry of Culture, the Distrital Culture Institute and the Andrés Bello Accord. As a poet she has been invited to Barcelona, Florence, Seattle, New York, Mexico, Venezuela and Hay Festival-Cartagena. She is the author of: El tiempo se volvió poema, Con la vida, Postal de viaje y Hoja por hoja. And co-author with Óscar Torres and Martha Canfield, of two books of poetry respectively translated to English and Italian. Her poems have also been translated to French and have been included in various anthologies in Colombia and abroad. She has directed workshops of literary creation and is presently a teacher in the Masters degree of Creative Writing at the Universidad Nacional de Colombia. In an essay about the author, Franca Bacchiega states: "To tend towards harmony as a constant and primary search seems to be the conducting thread that ties all of Luz Mary Giraldo´s poetry together and gives it a very precise color where bliss and frustration, light and shadows, vitality and listlessness direct us towards a substantial search of pairing up opposites and an order in which they may be gathered, but, at the same time, the search for a nucleus to hold them, that may let them manifest themselves and fold themselves once again when their movement is done. This process, in which the author participates being implied in that which she observes and feels, becomes poetry."
Última actualización: 28/06/2018