Yolande Mukagasana (Rwanda)
Por: Yolande Mukagasana
Traductor: Nicolás Suescún
MADNESS
This evil and accomplice sun
That dares smile to the assassins
That dares illumine this damned country
Where the prevailing law is the law of blood
In which I can only see the abyss
In which the whole word will sink
A black hole in which there is nothing but death
No glimmer whatever, no ray of hope
The absence of victims is the hangmen's absence
The absence of hangmen is the victims' absence
We all have our life in common
Such a funny species humans are
I kissed the wind that took away my children
I wanted to kiss it so I could feel them
To hold them tight in my arms
To say to myself nothing could ever take them away
I would follow them farther than the most distant point
We would remain together for all eternity
An eternity only I understand
Because my eternity is my present time.
The wind blew all over my body
I wanted to be naked to feel ist coolness
I felt hot living in irreality of my reality
I sweated a lot seeing the unreality of my life
I would have loved this wind had tickled me
To be able to laugh, as of old, at my foolishness
To laugh at my silliness of thinking evil is strong
To be able to laugh at myself
To laugh out of joy in a too strong misfortune
I must get rid as fast as I can
Of these sufferings sterilizing me
Reducing my body and my soul
While the world thinks I go on living
However I died that day
Those 100 days without an answer from on high
Made me doubt of its existence
Even holding in contempt those who showed it to me.
Translation by Nicolás Suescún
---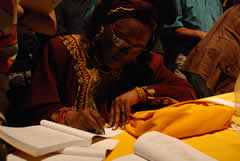 YOLANDE MUKAGASANA was born in Rwanda in 1954. She survived the Rwandan genocide of 1994. She lost her three children as well as her husband, brothers and sisters. In memory of the genocide and with a view to assist the reconstruction of the country, she wrote three books entitled La mort ne veut pas de moi (Death does not want me), N'aie pas peur de savoir (Don't be afraid to know), and Les blessures du silence (Wounds of Silence). Today, Yolande has formed a new family by adopting three of her nieces who were orphaned in the genocide. She built a new house where she used to live in Rwanda and looks after around twenty orphans. She created the Association Nyamirambo Point d'Appui, Foundation to Remember the Genocide and Assist the Reconstruction of the Country. The head office of the Association is in Brussels while the Rwanda counterpart is an NGO called Nyamirambo Point d'Appui which aims to support the regeneration of the Rwandan social fabric. Yolande Mukagasana devotes her time and effort into informing and educating people on living together in the midst of differences, and gives conferences in schools and associations. Among the many awards she has received are the Alexander Langer Foundation Testimonial Award, in Italy (1998); Award for International Understanding Between Nations and for Human Rights conferred by the European College of the Iena University, in Germany (1999); The Peace Golden Dove Award conferred by the Archivio Disarmo Association of Rome; Woman of the 21 st Century for Resistance Award, in Brussels (2003); Honourable Mention for Peace Education by UNESCO, in Paris (2003). Yolande Mukagasana has co-authored the theatre play entitled Rwanda 94 in which she plays her own role. Publications: La mort ne veut pas de moi, éditions Fixot, 1997; N'ai pas peur de savoir, Robert Laffont, 1999; Les blessures du silence, Actes Sud, 2001.
Última actualización: 19/02/2021