Henrik Nilsson, Sweden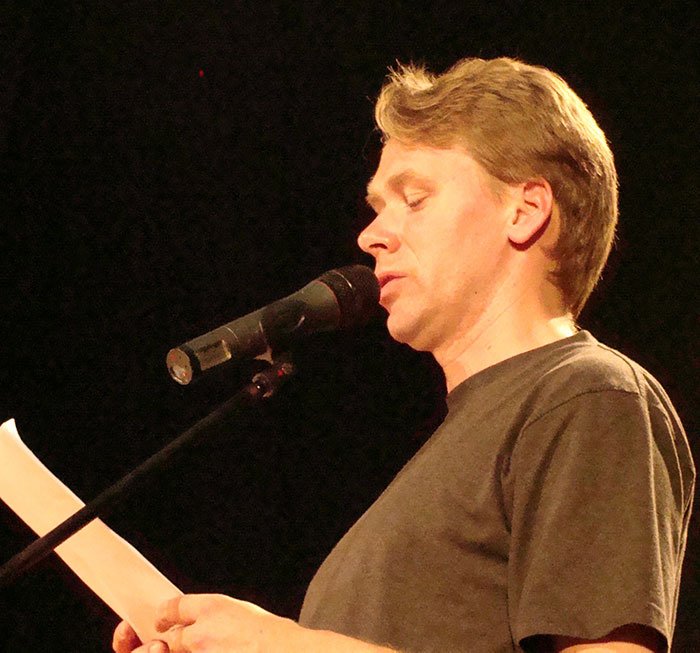 18º Medellin International Poetry Festival
Photo by Nidia Naranjo
Por: Henrik Nilsson
Traductor: Henrik Nilsson
CRIMINAL
Poetry is criminal.
It cannot tell what is yours from what is mine
It wears a disguise and smashes the cameras
It always has several escape routes
It takes hostage
It's highly dangerous, always on the run
It has cocked its guns
It's desperate, has nothing to lose
It forces you down on your knees
It cusses, prefers faint light
It's difficult to find, but always finds you
It has an overseas address
It always looks to the side
It's wanted
It always disappears out the back door
Poetry is criminal.
---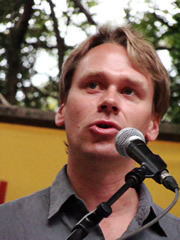 HENRIK NILSSON was born in 1971 in Malmö, Sweden, where he lives. Its first poem book "Without shoes", published in 1993, was considered in the newspaper "Svenska Dagbladet" "one of the most promising and exciting poetic debuts of the last years". It is a collection of experimental poetry, full of images. His next book took several years in the making: it is a short stories collection called The Nights, Veronica (Forum, 2006) which has as its center of action the city of Lisbon (Portugal), place of Nilsson's residence for several years. During 2006 and 2007 he has lived for various periods of time in Istanbul (Turkey); a situation that helped give birth to the long poem Om det to regnar när du to kommer till Istanbul (If it Rains When You Get to Istanbul, 2007). In his activity as a literary critic his interests are wide, having comprised, for example, Spanish, Portuguese and Turkish literature. He has collaborated in a series of Swedish and foreign literary magazines. For several years He has regularly been writing literary critics and columns in the Swedish newspaper "Sydsvenskan" and has also collaborated in the program "Obs" in P1 of the Swedish radio. Henrik Nilsson is also a translator of Spanish and Portuguese poetry. At the beginning of "If it Rains When You Get to Istanbul", the great city of Istanbul, a place where the writer has lived for various seasons in the past years, is slowly covered by the darkness of dusk, and a journey deep into the night and the rain begins. Concrete images are mixed with darkly sparkling thoughts until, little by little, the poem is transformed into an existential drama.
Última actualización: 25/01/2022