MAMTA SAGAR
(India, 1966)
A RIVER POEM
Inside the river are the sky, the cloud, and the sun.
In my hands' bowl is the river.
If I throw up my hands,
the river spills in drops, scattering
sky, cloud, and sun all o'er me.
From my hands' bowl, if I drink
the river, then within me, the sun, the cloud, and the sky.
Tell me, who is in who?

Translation by Chitra Panikkar and Mamta Sagar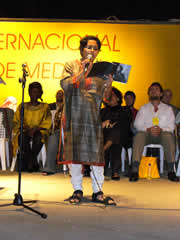 MAMTA SAGAR 1966. Dr. Mamta G. Sagar, Kannada poet/playwright has three collections of poems, "Hiige Haaleya Maile Haadu" (Like this the song) 2007, "Kaada Navilina Hejje" (Footprints of The Wild Peacock) 1992 and "Nadiya Neerina Teva" (Dampness of the River) 1999 and four plays to her credit. "The Swing of Desire", English translation of her Kannada play 'Mayye Bhara Manave Bhara', is included in the anthology, "Staging Resistance: Plays by Women in Translation", 2004. "MahiLa Vishaya" (Women Subjects), A collection of Essays in Kannada and English on Gender, Language, Literature and Culture 2007 is her recent book. She represented India at the 9th Poetry Africa Festival held during October 2005 at Durban, South Africa. Mamta has been translating contemporary African and Francophonic poetry into Kannada language. Mamta has conducted theatre and poetry workshops culminating with readings and productions for women, children and people from marginalised communities. Her poems are translated into Indian languages such as Marathi, Hindi, Malayalam, Bengali, Telugu and English apart from Spanish and French and have seen publication in various journals and poetry anthologies in those respective languages. / Her doctoral work is in Comparative Literature from University of Hyderabad. and the thesis is titled as "Gender, Patriarchy and Resistance: Contemporary Women's Poetry in Kannada and Hindi (1980-2000)". With a specialization in Comparative Literature, Gender Studies, Kannada Literature and Cultural Discourse, she has presented papers in important national and international seminars and conferences. With a specialization in Comparative Literature, Gender Studies, Kannada Literature and Cultural Discourse, Mamta Sagar teaches at the Centre for Kannada Studies, Bangalore University and lives in Bangalore, India. Mamta Sagar, a sensitive poet and play-wright writer in Kannada, has effortlessly combined creativity with contemporary women's issues. (…) She responds: "Poetry has been my first choice fro creative expression. Through my poems I explore language, formulated by men, to express and signify meanings in a highly marginalised world which has always alienated women…" // Mamta says she is proud to be writing in her mother tongue though there are limitations for writing in any regional language in the present "wide" world order. She also unhesitatingly acknowledges the place of English as an Indian language fro creative expression.