Usha Akella, India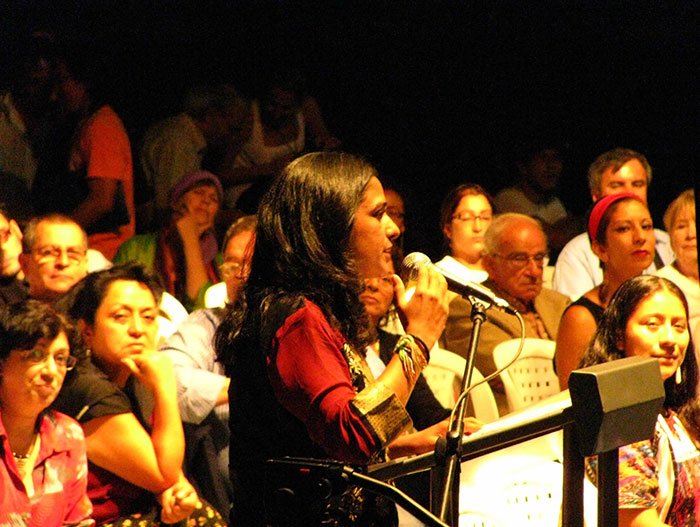 19º Medellin International Poetry Festival
Photo by Nidia Naranjo
Por: Usha Akella
The Post Office With Many Countries
(For Agha Shahid Ali)
You whispered truths. Your songs floated down the valley to Amherst,
Echoed in Manhattan. The streets followed you like incense.
You who could not go home, hear now, "It is here. It is here."
Kashmir your bangles are broken
The children are in plastic bags clear as grapes plucked from the vine.
Are they mine? Did you write your poems with ink clear as plastic
Or tears. Shall we mourn in rhyme? Refrain. Refrain. Refrain. Refrain.
Kashmir your borders are open
Build a church within a mosque within a temple within a heart within a poem,
You found your home. Is it mine? To whom shall we leave our lines instead
of LOCs? Whom shall we bribe for air? The children are harvested in our time.
Kashmir your lines are on our palm
You never named the enemy or the Beloved. You knew the nameless horror.
To whom will you post your letters now? To whom shall we be faithful?
You've crossed the river. Kashmir is upon us as rain. We are stained.
Kashmir your heart has no borders
Iraq, where are your arms?
1.
In his mind the world appears as gossamer,
on the borderlands of reality, he has forgotten
his age but love is stubborn too-its embers persist
as he navigates his orphaned siblings with stumps,
like a penguin's or turtle's shortened measure.
This land is a darkness in which all lights disappear,
and children plunge into water to wipe away our sins,
they could not have scripted this- the frozen expressions,
like masks in a grotesque carnival;
neither in condemnation, nor comprehension,
their souls withered stare- petals to parchment,
Mohammed hears no voices in this desert.
2.
Not away, from or to, are you free, running free,
The sun warm on your arms, warm ash, singed flesh memory.
Are bells ringing instead of bombs?
Are you wearing the color of God's skin?
Line the sky holding hands, tiny hands like stars in the night,
Throw us confetti, the color of all flags,
Help a mother sleep, sing to us till we are forgiven.
Song for Gulsoma
Little girl, you wore green at your wedding at four,
Your father dead, your mother gone, married off you were,
"Let me die. No more years," you said, "no more, no more."
Beatings, bread and beans, beatings, bread and beans,
scar tissue, cuts, and scars; in the land of dollars,
drive and money, little girl we've seen you on a screen.
No teddy bears, no Disney on ice, no skates, no burgers and fries,
No play dates, no icing on cake, no basketball, no ice cream,
No mama's hugs, no blanket or bed, shivering cold under dark skies.
The days you were beaten, starved and locked in a shed,
Little girl, little girl, your beautiful smile keeps me warm,
your spirit a mystery, you lived on when they wanted you dead.
Gulsoma, shine on little girl, old soul, shine on, shine on,
You're a bird, you found your wings, you're an orange flame,
Gulsoma you smell of rose, the sweet perfume of your smile,
In a land of rock you're a river running, running, running on.
What is the color of paradise in your dreams?
Gulsoma, shine on little girl, old soul, shine on, shine on,
You're a bird, you found your wings, you're an orange flame,
Gulsoma, you smell of rose, the sweet perfume of your smile,
In a land of rock you're a river running, running, running on.
What is the color of paradise in your dreams?
Late March in Austin
The rains come with the hail in the dark,
A pelting from the sky and splintered roofs,
In the morning the pollen leaves marks
on dashboards like streaks of urine and soot,
bushes outbreak pink blossom like a baby's breath,
green like the gleam in a cat's eye, a quicker foot.
Gray skies a tad lighter do not portend death,
But the beginning of Spring in slow measure,
the mane of oily roads seem to sleekly melt
the high rises, the sun shattering its treasure
on dark glass panes and the return of the bats,
as Egyptian hieroglyphs in sky, a dark pleasure
to the senses, and the city, a nimble footed cat.
Yesterday's poem
Be sure the day will not remember our shadow,
The night will forget our dreams,
The moon will forget our stories,
Be sure the dust will ring bells of welcome
in many languages.

Be sure we will pass each other by
As breaths pass by in the air
And meet in a leaf.
We will meet without knowing
of meetings and partings,
This will be called neither shore nor wave.

Be sure like disappearing fingerprints on pane,
an embryo of us will unfold in an invisible book.
Today's poem
Today's poem wants to unlock
the handcuffs of yesterday poem
that was called true poetry,
Yesterday's poem is already a star blinking light,
Today's poem may be no more
than the primal darkness, the poet dreads.
Today's poem knows it is no match
for yesterday's poem,
It may come hobbling on crutches
instead of running a marathon,
Today's poem is the wetness
after the wave of yesterday's poem,
Today's poem is not wise, it is a little afraid,
its voice is small, its embrace frail,
It may clutch the robe of the poet with a small hand,
It may ask the poet for refuge instead
of offering refuge like yesterday's poem,
Today's poem may make no friends or even enemies,
And tells the poet the last word is humility
Method of Hand Washing
Use soap and running water
Rub your hand vigorously
Wash all surfaces, including
Back of hands
Wrists
Between fingers
Under fingernails
Rinse well
Dry hands with paper towel
Turn off the water using a paper towel,
Instead of bare hands,
shred a man's soul in Abu Ghraib.
Ripe Fig
On return from Ljubljana I am sleepless with metaphor in my bed;
one place- a well in which another appears or disappears as reflection
Goriška Brda's rich sin—vineyards- terraced emeralds, flung necklaces,
pomegranates bursting with nectar, staggered streets, spires, strudel
burek, ivor; Flores del noche, Oleander, turgid nuclei of sunflowers,
deep blue skies- do I see all this or the absence of India, what she is not.
In each act of perception/ a simultaneous arises- the red scarves of the
Gul Mohar trace the green; hidden cities within folds of the visible ones.
A place is a pair of eyes in which appear all faces of the beloved,
A face is a place of shifting contours- what flares today fades tomorrow.
The monsoon choked air gradually lightens, the white rangolis fade
with the dusk, banana leaves flapping as elephant ears grow tattered,
poems flare in the soul one after another. Life is constantly negotiating
its terms and mortality…the poet negotiates with life through metaphor.
The world is a ripe fig bursting with hunger- the cities come and go.
Piano Keys
She insists on 'mummy,' or 'mommy,' or 'mom.'
I wince and claim 'amma'—this word—chord
of lineage—this word—river running into sea.
We spar daily in this hierarchy of sounds, language
our capers on the floor of two continents.
Rich with the sounds of her anklets, the air
shimmers with wind chimes to her every move.
'Go away,' 'I don't like you,' sounds sharp as a mouse-trap
closing on prey. I become a mountain, looming censor
of sounds to be said, not said, at three.
Also comes the daily bevy of I love yous—a sound around
which bloom entire fields of tulips in which I dance.
I anchor my entire existence for the sound of her laughter,
she grasps a joke, it skips clumsily through a white topsy-turvy.
From this her mouth—small dark cave, mysterious orifice,
the provenance elsewhere—sounds slip through, inchoate clues
to the moist clay of her self, these are the days I believe truth
may have a color the cluster of dark purple grapes, the hours
are like piano keys, and poems don't ache with loneliness.
True to the Lake
The tiny ripples of the Ohrid are true to the lake, I see, and
I affirm I will not lie as a poet, I will tell the truth about
this pavement, this sun staining the blue sky
like a bride's ripening henna, the lines of my palm—
a hidden hieroglyph, I shall tell the truth
about who breathes through me, this leaf, this boldness
of the hibiscus and how she takes her throne
in the universe like an empress, the truth about my lineage,
my heartbeat, relationships,
how each person is a mirror and a reflection
at the same time, how poetry is a lover, god
and torturer, and I the slave, the one who holds the pen,
the truth about how I get from one point to another,
from somewhere to my mother and then from home
to homelessness, the truth about why I love this universe
winding itself about me like thread around the bobbin…
all of which I know nothing.
It is spring
It is spring. The leaves are withered.
It is spring. A leaf is falling.
The sky is blue. It is spring.
Earth's arms outstretched, it is spring.
It is spring. She is free.
It is spring. She takes no memories.
Turn to the friend. It is spring.
Friend turn to thee. It is spring.
It is spring. Leaf take with you the tree.
It is spring. Leave no memories.
Leave no tears. It is spring.
Bird fly with no trace. It is Spring.
SUFI POEMS
The first gong
The first time I heard your name
it went down into the well of my being,
I knew it as I know myself, the first gong
that echoed me back to me.
Flowers bloomed in the soil of my memory—
wild hibiscus, priceless orchids, delicate jasmines;
a hybrid of red, white, elegance, India and timelessness,
of earth and heaven, of dust and blood and loveliness and us.
I smelt the spring and smelt your odor seeping out of the earth.
My blood carried you to the farthest tip of my being.
I a divining fork tuned to only one thing,
I awoke, your name, the gong that sounded my day,
I fell asleep, your name, the hand that rocked me to sleep,
I dreamt of you, a reminder of who I was.
The face that does not bear the footprints of the world
Do not think that I do not see how you look at me.
Do not think that I do not know.
Your face has the flush of a flower at dawn
so seeped with tenderness and fragility,
it is a face that bears not the world's footprints.
Nothing has touched it except my Love,
Doves take flight from our gaze,
The white scales of your eyes are pale
stretched with timeless agony,
always succumbing to Love finally,
always caught as fish lying in the sun ready to die,
Do not think I do not see
the unloosening of your face.
But as your beloved
The truth is, I define no other identity of myself
but as your beloved.
The shameless truth is this,
In this century of liberated women
marching the world like soldiers
and seizing the hallways of universities with intellect,
I have found no more meaning into my life
but as your beloved.
Behold. Behold me. Be beholden.
Be loved. Be beloved. Love.
Calling
All the times you remembered you had forgotten something
(a pencil, a book, door keys, license, train tables, your watch;
the inexhaustible things of activity)
was a trick, a tug to remember the big things—
my heart, my name, your soul , our destiny, our story;
a patchwork of remembering and forgetting,
a black void of agony sequined with stars.
What is remembered glitters
hemmed with my calling, stitched with love
even the moon smiles form time to time in recollection of us...
our story doesn't forget you,
you love all your romances under this canopy.
Turning every corner for you
I walked the streets hearing you in the footsteps of strangers,
I turned every corner to catch a glimpse of you,
In the corners of every city in the world—
in the chaos and romance of Chudi bazaar
in the greedy and pulsating streets of New York City
the allure of Champs Elysees
the tulip beds of Keukenhauf
the dusky accents of Merrida
the bold whore lanes of Amsterdam
the arched mysteries of Cordoba
the smells of Chinatown
the cobbled history of Bruug
the hilltop blessing of Pavagadh
the eternal gaze of Krishna at Guruvayur
the utter desolateness of Betamcherla
the passageway to Mahakali in Ranigunj
Baltimore's wharfs
The mountainous solitude of Sandia…
Every corner I turned I turned for you
every corner I turned the earth turned in upheaval
This I have done over lifetimes
as you play hide-and-seek
This I will do till
scavengers tear my heart out
and when they do
they will have to eat your name not mine.
Because your footprints
I walk softly upon the earth
because your footprints could be on it,
because I could be walking spaces you have tread.
How many bodies have you dwelt in to catch my eye?
the peanut seller,
that Metro North conductor,
the cobbler on the sidewalk in James Street,
the woman who said she saw God in my face.
Each time I connect with someone is it you?
Each time I behold beauty is it you?
Have you chosen to haunt me by haunting the universe?
Such a yearning
Such a yearning began with your departure—
each day into night
each night yearning into dreams
each dream yearning into dawn
each dawn into reality
each day into night
my body yearning to meet death
my spirit yearning to mingle with God
Such a yearning began with your leaving
from the yearning for you to the yearning for God
Such a yearning...
Such a teaching... the prophets talk of in words
I have known in this yearning.
The dervish dances
The time has come for your return.
See! The roses blush deeper,
the grass is frisking,
the lilting sunlight is singing songs,
the leaves are ringing bells,
when the rains come they come chanting your name,
the streets to my heart await your return,
Manhattan is desolate without you,
My words become archaic, the metaphors ancient,
I am arrested by my face because soon it will be lost in your eyes,
See! The dervish dances madly spinning the world with her.
You tell me
My face has cast its net upon you.
I grieve at this falsity.
What will you say of the slackening of my body;
the wrinkled hands?
the heaviness?
the wisps of gray?
the turning of time?
the beginning of the end?
But each time I look into the mirror
one face reveals itself—
the face that you saw when we parted.
What age is that face?
You tell me on your return.
I am afraid for myself
I am afraid for myself
Ever since your visit or was it a visitation
your light has been lodged in me,
now I drift somnolent, heady and
the light doesn't stop seeping from my eyes,
people are transfixed by this light,
I ask God—What is this madness?
This madness of carrying another person within me,
God replies—How can you know me if you don't know this madness?
Why? Why?
Why? Why? Are there two of you?
One dances with me in the light,
I can pluck the stars from his eyes,
stars that have emblazoned my soul's journey for centuries,
the other is dancing naked
a cabaret girl for the world
that is throwing coins at you,
how your soul flows between these two banks.
Washed away
a thousand faces adrift rippling in eternity,
fine water drips through my fingers...
The Light within the light
I should have known the Light within the light,
the Beloved within the beloved,
Clever God who reeled me in with the right bait—you!
the sly hand that played us along,
you the stooge, I the fooled.
Go now with the wind,
Like cotton unhinged from the cotton tree.
The exit of one has left room
for the universe to creep back in.
How can you know me if you don't know this madness?
---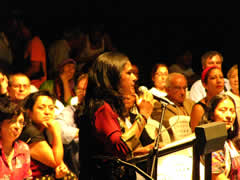 Usha Akella author of two books of poetry, moved to the US from India in 1993. She studied at the Hyderabad Central University (M.A. English) and at the University of Baltimore (M.A. Publications Design) where she combined courses in Creative Writing and Graphic Design. Her writing life seriously began at UB with her first and only Creative Writing teacher Kendra Kopelke. Her poetry has ranged from feminist to Sufi oriented themes, and is described as compassionate, intense, and moving. Her first book of poems was em>Kali Dances, So Do I published by Authors and Writers, India Ltd.. Since then she has given scores of readings at reputed organizations both in the U.S.A and India, and at international poetry festivals. She won the wine poem award at Struga Poetry Evenings 2006, Macedonia, the first Indian and woman in 45 years to do so. She was the winner of Maryland Poetry Review's Egan Memorial Contest, and a finalist twice for the Wisconsin University Press contest. Her poem One hears was a pushcart nomination. Her poems have been/will be translated into Macedonian, Malayalam, Ukranian, Spanish, Turkish, Punjabi and Slovenian. She has been featured in many US based Indian and Indian newspapers/magazines, such as Times of India, Deccan Chronicle, WOW, 040, The Hindu and India Abroad. She featured with four other poets to represent Indian Writing in English at a 2008 Sahitya Academy poetry event (considered the highest Literary organization in India.) She served as Editor for Borderlands Literary Review, spring/summer issue 2007 which carried a section on contemporary Macedonian poets. She was dedicated to offering Creative Writing workshops to schools in India- a first in most places during her recent one-year stay in India. She is involved in the organization of Kritya, an international poetry festival in India. She has been an invited poet to various festivals such as Struga Poetry Evenings 2006, Macedonia; Days of Poetry and Wine, 2007, Medana, Slovenia; Austin International Poetry Festival 2006; Houston Poetry Festival 2006; Calicut International Book Fair, India, 2007; Oaxaca Festival of Humnaities 2008, Mexico. Founder, The Poetry Caravan A visionary at heart, her most significant contribution to the Arts is the Poetry Caravan in Westchester County, New York.
Última actualización: 15/12/2021