Jotamario Arbeláez (Colombia)
Por: Jotamario Arbeláez
Traductor: Nicolás Suescún
After the War
a day
after the war
if there is a war
if after the war there is a day
I will hold you in my arms
a day after the war
if there is a war
if after the war there is a day
if after the war I have arms
and I will make to you with love
a day after the war
if there is a war
if after the war there is a day
if after the war there is love
and if there is what it takes to make love
MCMLXIV
In 1964 there was a man who was called Jotamario and used to wear a top hat.
People said to him: Mister Jotamario, what are you doing with that top hat?
And he said to them: Dear People, what are you doing with that question?
It was 1964 and he had not realized
that poets who wrote for the future were out of fashion.
It was 1964 and he had not realized
that in the United States the Blacks were killing Whites with the White's arms.
It was 1964 and he had not realized that if someone opened the doors it was for him to
smack into them.
But he had heard about the californium bomb
in the embassies Easter parties;
but he had donated half a liter of blood
for the anemia of the hospitals in the tropics;
but had read in Playboy
that Malcom X maintained that Jesus Christ was black;
but he had looked back on the mirror of his bicycle
half a million dead scattered in a horrible nap.

Sometimes walking on the streets under his canicular top hat,
he savored ice creams that were a pole of tastiness
and his greatest desire was to piss from the top of the Eiffel tower.
He did not have a wooden desk
but people said he had a writer's timber,
he did not have a typewriter
but whenever he had it in him he wrote typewritedly
and when people listened to him they applauded as with gloves,
as with a single hand.
At school they made him memorize the Pascal's Pensées
and he loved the bitterness of the philosopher.
He then switched Pascal for Pascale Petite
and bitterness for cannabis.
He never had ideals.
Ideals seemed to him diseases of the idea.
He had instead ideas of genius.
Like that one.
He ate popcorn
which were the only pops he loved for the moment.
he booed if the movies
were not according to his whims.
Only on Sundays he didn't look at himself in the mirror
but at his photo published in the newspaper
and it was not because they were his that he thought
his poems were really worthy of him.
He had a police record as impeccable
as a perfect crime.
Fortunately his father
was the same size as his,
fortunately his lover
wished the same things as he,
fortunately people
thought differently from him.
His parents threw up their hands in horror
looking at him receiving the broth from the sky;
his friends shook his hands two or three times weekly,
there were always rubber shoe apostles at his table
and in the terraces of the city they asked for a dish of meteors.
He was a rebel against the fashionable walls
and his bed was the only ring in which to fight.
His bed with dancer foot legs,
with milking cows's sheets
His bed as soft as the earth's crust
when the earth was like an orange.
His bed with a microscopic fauna
where he devoured the morning biscuits.
His wife moaned under his feather weight like a balance,
under his weight and his presence of flamethrower in the night of hospitable thighs,
and he laughed as he put on her neck the black collar with stones of different colors
and his laughter broke the light orange crystals.
He was a useless poet and his name was Jotamario,
like Buda's.
The Misfits Will Never Forget you Marilyn
Now that the worms have thrown the last shovelful of oblivion on your body
now that you live under Los Angeles without needing psychiatrists
now that the haughty bone in your thigh is just dust in a box
and your buttocks are pure dust spread on the satin floor of your tomb
now that the totality of your body fits into de smallest of your powder-boxes
now that your toenails lie at your feet scattered like dead planets and the platinum heels
of your gala shoes bend in champagne baskets under the terrible weight of the
absence of your Achilles' heel
now that in your wardrobe moths have done the same with your dresses smelling of
Beverly Hills parties of Chanel number 5 of the five fingers of a hand
now that the eccentric millionaire that rented the mansion you inhabited in Brentwood
has quit looking for your armpits in every nook and cranny of the living-room and is
organizing for his guests a rhinoceros safari in Peru
now that the psychiatrist that treated you went bankrupt and to pay his taxes is now
writing your "memoirs" and besidesbecause his three wives are very much missing
the monthly twelve thousand dollars fee she used to pay him
now that the sleeping pills that you took run out in drugstores like definitive lullabies
now that nobody knows who was norma jean baker because the Baker Norma Jeans
abound in the telephone directories
now that the 188 thousand million psychopaths no longer see you in English with subtitles
in Spanish like a witch of Salem flying on a baseball bat
now that the drama by your ex-husband about your life has not moved one way or the
other the Broadway critics
and the sun of the photographers has forever ceased to illuminate you
oh she-cat full of mystery on the Mercedes Benz of oblivion
in this small Latin American country that's called Colombia
live several misfit poets that don't want to forget you
and that remember you when the moon rises over the Jaguars
when we slide down the steps of the jet
when we read in the press that Dalí has made a sculpture of your teats with drawers
when a white two-floor ambulance passes swiftly by our side like a siren
and our wives shout on top of the elevators
Sometimes like now we lift a prayer to you why not lift you in a prayer
in a requiem in an anti-requiem in a prayer to the dead what do we know about those
names
only that every man prays to the one he loves most
specially if the one he loves most is dead
and it is then that we want to lie face down in the Westwood cementery
to feel in our pubic pores the blades of grass that grow in your American groin
now that you're dead and repose without much hope in the resurrection
of the body
in that small place which is like the small navel of America
after living among spotlights and fog
with shopkeepers and tycoons
with dramatists and policemen
among the mirrors and the mirage
of love
---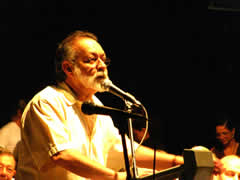 Jotamario Arbeláez is the main exponent of the nadaísta movement, a group of rebellious poets and writers who revolutionized Colombian literature in the 1960s. He was one of the first followers of its founder, Gonzalo Arango. He dropped out of high school, but some years later was awarded an honorary degree for having written the 'vindicative' poem, 'Santa Librada College'. For twenty years he worked in an advertising agency, has been awarded three national poetry prizes, and is now a columnist at El Tiempo newspaper. He has spoken at poetry festivals in sixteen countries. Published books: El profeta en su casa, Ediciones Triángulo, Medellín, 1966; Mi reino por este mundo, Editorial Oveja Negra, Bogotá, 1981; El espíritu erótico (with Fernando Guinard), An anthology of poetry and pictures, Bogotá, 1991; La casa de memoria, Ministerio de Cultura, Bogotá,1995; El cuerpo de ella, Instituto Distrital de Cultura y Turismo, Bogotá, 1999; Nada es para siempre. Antimemorias de un nadaísta, Bogotá, 2002; Le corps d'elle, engravings by Máximo Flórez, translation by Marie Daguerre, Paris, 2004.
Última actualización: 22/06/2021