Francisco de Asis Fernández (Nicaragua)
Por: Francisco de Asis Fernández
Traductor: Indran Amirthanayagan
The poet and his mirror


There is a man who lives in my mirror,
who has profited from the moments of looking at me, and
appears to hold, for his age, the perverse other side of my dreams.
Years ago it was different. And time has made him someone else.
He gives the impression now of having rejected a lot
and one does not see the beauty that gave him youth.
It seems that where he lives it is cold and has begun to rain.
The man I perceive in the mirror is reserved and reflective
and only sometimes repeats my words as in a deaf echo.
I am saddened that his great passions have furrowed his skin
and have darkened it with solitude, and sad thoughts,
and eyes pockmarked by chicken feet and deep rings.
I am afraid of his looks of resignation and reproach
and his profound nay-saying of being accomplice to joy and the lie.
His tone is made of thoughts and he does not hear my guitar
and each day he looks more like my father.
He has my father's face invaded already by sadness.
He does not agree with the dissipation of my work and my days
and he wants me to be more faithful to my house and my dreams.
He compares his world full of reflections
with mine that has no balance, not in joy or sadness,
in truth or lies, in prose or poetry,
and he sees me like a young deer loose among the crags
in a landscape of stones and thorns.
When he passes his hand like a comb through his hair it appears
he would pull out the likeness he shares with me by the roots
and that he no longer wants to have my worldly image
popping up unexpectedly to disturb the richness of
the cloistered solitude he inhabits.
With my other me
There are some secret passageways between that unknown in the mirror
and the rabid dog who inhabits my heart and my wrinkles.
Cornered, he hypnotizes me and wakes me up torn apart by his screaming.
What does his dumb sadness hide when I ask:
Did you dance to imaginary music and did not happiness exist in your childhood?
What do you know about your parents' separation and the shipwreck of your family?
Who has a tender side and who a dragon's mouth?
The worst demons spring from the lack of pride
in solitude before the mirror.
They suck your blood, they lie, defraud, betray,
and make your heart that rabid dog
who earns his bread opening death's bodies without knowing where to put them,
and crosses damned Hell to find out
that poetry prohibits one day from appearing like another.
I discovered today, this new fact, that to put the unknown back
in the mirror they substituted the glass with bricks of transparent water
built with excess pebbles unleashed by the enormous floods
and leftover tears from family tragedies.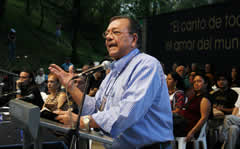 Última actualización: 20/10/2021