Luis Bravo (Uruguay)
Por: Luis Bravo
Traductor: Laura L. Chalar
Moving in their places
"I didn't do anything, but something was done,
what is shadow-bereft and echoless"
Marina Tsvetaieva
1.
And what will come out of this?
this is a different trade:
— I leave for work, says one
and this one says:
— And what about it? I come in,
we'll see what comes out
who decides?
my slave sweats over his chisel
my master counts his profits
what yardstick shall I read by?
there are many sticks, break a twig off
the "talking to yourself" one,
... we'll see what's it about those greyhounds
a peculiar trade, I see:
to enter into what comes out of there
to accommodate what fits in.
2.
The scene is set:
their temperament I sniff
I follow them inside
closely feel my way
their resonant flesh I bring
on the table I set them down
if they say I say them or eat them up
book them in a letter: "my dear girl, my dear man"
:
saying is sheer risk by virtue of enthusiasm.
3.
... sleeping still, the unconscious muttered:
"this trade's one of going in"
"not like 'going out to work'"
it's a trade of opening up for the one who took off from that one,
no one knows who he takes after, as they say of a child...
what if the one who's taken off should hear
things no one has ever named?
ah, then he knows something's beginning,
started to come out, as if saying...
4.
- give me the thing itself the thing
not the idea abstracted into names
- give me a yellow canary
not a dream where I don't wake up
except in muddles of symbols
- give me a trickle of saliva, alphabetic flesh
two and three mustard seeds,
give taste to the wine of the senses
- give me what has not been given:
those dice who tell at random
what only the last innocent sees and hears.
5.
to go out into the fields
and lie down in the day's tactile light:
to have the fowl beforehand
and the keys in place:
to set feet on a flat flight
and watch the clouds in silence:
(but why should these infinitive
couplets do any such thing?)

6.
or go to crumbs
little birds pecking away in birdbaths
as the new imagination's sumptuous find
then I wipe off the dust
from among oblivion's things
and through my hand
surrender to that sparkle:
I pour shadow onto shadow
and dream of the tree and its fruits
7.
- it's gift-wrapped,
a book for your father.
- it's a piece of glass, Daddy,
from Rocío, he said to make me open it.
(a dew glass 1? what a fine image, I think)
- yes, like a window, it's for opening:
: "MOUNTAIN POEM"
"Poem of the end"
"(New year letter)"
and the book, opened at random, says:
"you and I have to talk..."
all said! but
what fruit will come in
once the poem's skin has been peeled off?
and on which dish of the scales
can the Russian voice of autumn have fallen?
—Please, please come in— says Marina
—What, is this a house?— a voice asks
—That of my soul. Words!
—True, if speaking to yourself,
you're very much in the right!
—You think so? Maybe, but look, I've been imagining
that you were a ghost from the future coming into my house
like a poem, and once inside...
* Translator's note: "Rocío", a Spanish female name, means "dew" in the same language.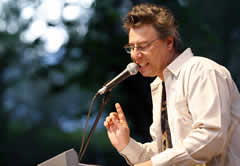 Última actualización: 12/11/2021