Francisco de Asis Fernández (Nicaragua)
Por: Francisco de Asis Fernández
Traductor: Indran Amirthanayagan
Kingdom of words

I want a kingdom of words
a river of words
to wash away human misery
and plant roots in my soul
so that it might be an Argonaut,
a Quixotic lady in fantastic seas
a valiant dreamer of liberty.

A kingdom of words
to rearrange the movement of birds in branches
to feel the color of a star
the aroma of wind
the spirituality of men's passion.

A kingdom of words to help me know
human being, seas and stars
to join my soul and my body
and please my flesh.

I want a kingdom of words for my soul
as much as I want a vast country for my heart
a free country like we've all imagined.
A kingdom of words to seduce me
and roll out from my tongue
like a string of pearls
at dusk in my country,

A kingdom of words or a river of words
overflowing, carrying everything it finds in its path
a will-o-'the-wisp in my mouth
a passion devouring my dreams.

To burn my lips
and grant me the keys of the imagination
the islands of colors and spices
Amboina, Banda, Ternate and Tidore
with their trunks and tragedies and adventures
in the sea of lamentations of Vespuccio and Magellan

To have it come to a halt before me
all I need is the light of your eyes
the trembling at the threshold of dreams,
splashing on the white page.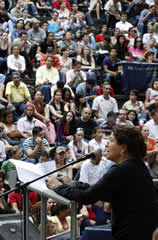 Última actualización: 20/10/2021