Klaus Merz, Switzerland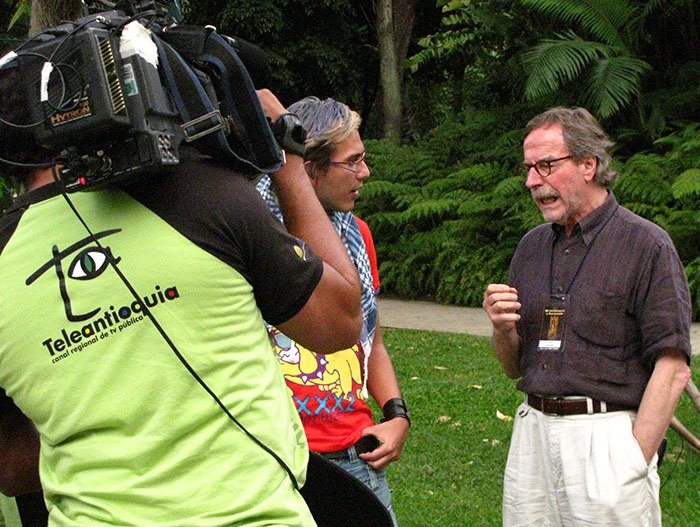 19th Medellin International Poetry Festival
Photo by Nidia Naranjo
Por: Klaus Merz
Close to the Wind
Have played no golf an played no
billiards, haven't trained any dog.
Have never ridden a heavy motorbike
nor sailed close to the wind.
And sometimes bravery
has deserted me
to insist on a word
like forest or cloud.
However more often
I see right into my neighbours
as far as their
children's faces.
(Translation Gerhard van den Bergh)
Fusion
Der wider die Windmühlen
antrat
der mutige Krieger
hat sich seinen Feind
zum Freund gemacht
wurde Müller.
Buchstabensuppe
Das Alphabet stürzt
aus den Worten:
Wir schöpfen
das Chaos
mit Löffeln.
In Stosszeiten
Aus den Städten die Ausfallstrassen
sie führen in Abende hinein
die nirgends mehr einmünden.
Fast täglich bleibt einer aus.
Erfolglos enden die Fahndungen
das Protokollblatt bleibt weiss.
Wenn man mich anhörte
ich könnte zeugen.
Vorstunde
Moses, der Wüstenfuchs, lebt.
Er hat nicht aufgehört
vor sein Volk zu treten
unermüdlich.
Zu reden mit seinen Händen
und zu reden von Gott
dem zürnenden und dem gerechten.
Vom Gott, der ein Mensch wird
und vom Menschen, der zum Gott wird.
Auf allen Plätzen der Welt
steht er und preist
besingt ein verheissenes Land
jenseits der Dürre
und stampft mit den Füssen.
Er tritt ein für sein Volk
das er mehr liebt als sich selbst.
Moses ist nicht gestorben.
Er hat nur seinen Namen gewechselt
die Legende vom Schilf und die Wunder.
Seine Söhne blasen weiter die Trompete
und zu jeder Stunde kann es sein
dass sie vor Jericho treten
und die Welt
und in der Welt das verheissene Land
zu Staub zerfällt.
Liquidation
Noch hängen auf den Balkonen
die Winterhäute des Vorjahres
mein vergilbtes Metaphernkleid.
Zeit, es herunterzuhauen
eh der erste Schnee fällt
der mir die alten Taschen
wieder mit Kälte füllt.
Föhn
Plötzlich
diese Verzweiflung
Geliebte.
"Rühr mich nicht an!"
Im Handumdrehen weiss man
über nichts mehr Bescheid.
Lauter grüne Bänke
stehen am Horizont
ein heller Tag.
Und die Jäger
legen ihre Gewehre
auf Wanderer an.
Glück
Diese Zuversicht gestern
als der Himmel so blau war.
Und sich die Häuser
auf der flachen Hand
balancieren liessen.
Stand der Dinge
Am harten Klang
zusammenprallender Porzellan-
rinder sind wir erwacht.
Auch die andern
Gegenstände im Zimmer
Vasen, Bilder
sind jetzt nicht mehr
einfach da.
Ihre lauernde Gegenwart
kann jederzeit um-
schlagen in nackte
Gewalt.
Flug
Nur mit den Armen rudernd
fliegen wir nächtelang
durch die Gegend
die Sternwarten
leuchten.
Aus der Neandertalzeit
hat man das Grab
eines Kindes entdeckt
das auf einen Schwanenflügel
gebettet lag: Dieser Flug
setzt uns fort.
Rast
Mannshoher Mais und
Raben im kurzen Gras.
Aus dem Ackerland
leuchtet die Wintersaat.
Hinterm Speicher lehnt
der Bauer an der Bäuerin.
Trauerarbeit
Tag für Tag kniet
die Witwe in den Rabatten
sie stellt den Engerlingen nach.
Sonntags setzt sie
zur Feier des Tages
eine Porzellanente ins Gras.
---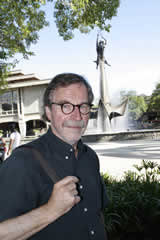 Klaus Merz wurde 1945 in Aarau geboren und lebt heute in Unterkulm/Schweiz. Er absovierte eine Ausbildung zum Sekundarlehrer in Wettingen und Lausanne und ist Mitglied der Akademie für Erwachsenenbildung Luzern. Längere Aufenthalte hat er in Südfrankreich, Berlin, Paris und London verbracht. Zusätzlich zu seinen Dichtungen tritt Klaus Merz als Autor von Hörspielen und Drehbüchern auf. Er hat Porträts, Reportagen und Geschichten für du und andere Zeitschriften verfaßt. Klaus Merz´ Dichtung zeugt von einer ungemeinen Dichte der Sprache. Vor allem in der kleinen Form glänzt er als ein Meister der poetischen Sparsamkeit. Bei aller Knappheit entwickeln seine Verse eine große Suggestivkraft voller Spannung, da sie, trotz des engen Raumes, den sie einnehmen, mit überraschenden Wendungen aufwarten. Durch das bloße Andeuten von Eindrücken, durch das bloße Skizzieren von Bildern erstrahlen diese in umso kräftigeren Lichtern und Farben. Die verschiedenen Ebenen, die in den Gedichten evoziert werden, oszillieren so um einen Mitelpunkt. Die vordergründige Ruhe, die die Texte Klaus Merz´ auf Anhieb verbreiten, sollte trotzdem nicht dazu einladen, es sich mit ihnen zu bequem zu machen, denn seine Prosaminiaturen, so zum Beispiel in Garn (2000), bieten bei aller Treffsicherheit und Präzision der Beschreibung genügend Material, um sich eine ganze Weile mit ihnen zu beschäftigen. Sie erwecken beim Leser eine Neugier auf mehr, ohne sich ihm aufzudrängen.
Última actualización: 25/01/2022