Guido Oldani, Italy, 1947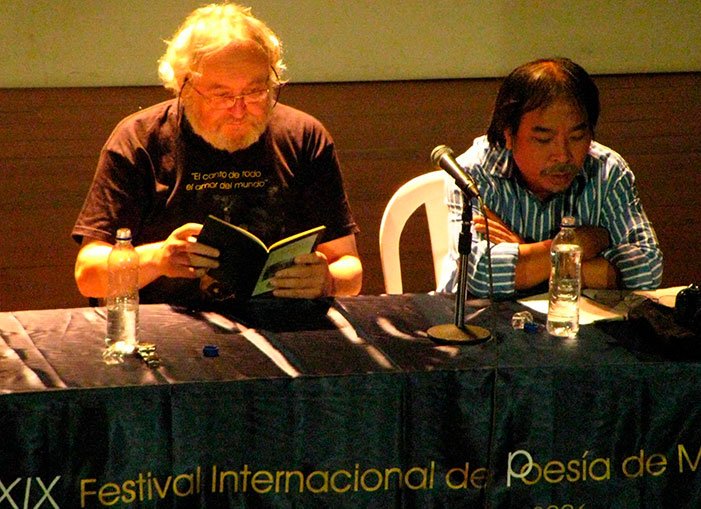 19th Medellin International Poetry Festival
Photo by Nidia Naranjo
Por: Guido Oldani
The Washing Machine
the spin is whirling like a planet
and its people are the clothes
the married couple has put in it.
his and her clothes, grip each other
in a tangle, in a somersault, wet,
those are the only lovers who are left,
the other two grab by their throats.
L'orto
intorno al ponte lungo l'autostrada
lui vive come dentro ad un motore,
si tiene su il morale col rumore.
ricava nei ritagli, fra i raccordi
di corsie, un orto ha l'aria d'auschwitz
con gli ortaggi verdognoli gasolio
che irriga sottraendo al pozzo nero,
così s'immerge dentro la natura,
e il vicino, gli invidia la verdura.
La fatina
di sera e la mattina gli sciacquoni
cantano in casa come bassi russi,
da fuori li guardonano i lampioni.
e il sole che è bisex, di notte è luna
e noi si vive finchè scatta il taimer,
che più ci fa longevi ci bastona
e caricati di ricordi orrendi,
ci allevia la fatina dell'alzheimer.
La pace
non ci amareggia del tutto se il vicino
si fa un infarto per la lite in corso
ma con la guerra l'animo è diverso.
se non si è proprio là dove c'è il fatto
si è almeno in tanti contro gli oppressori,
lui garibaldi ci sarebbe andato
ma io se parto chi mi innaffia i fiori.
---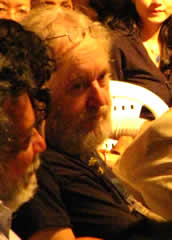 Última actualización: 20/01/2022