Fathieh Saudi, Jordan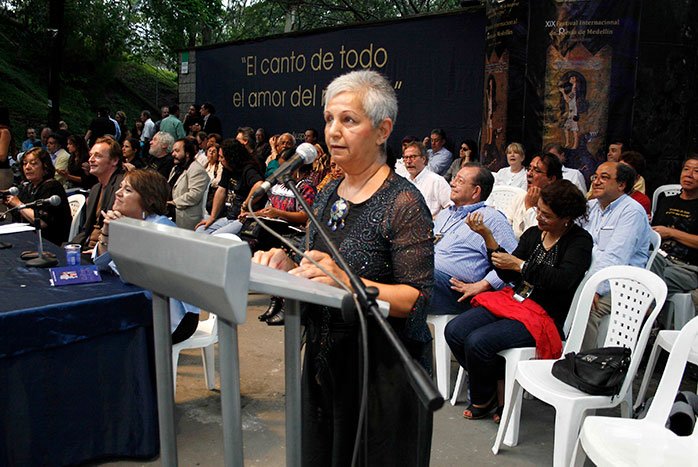 19º Medellin International Poetry Festival
Photo by Nidia Naranjo
Por: Fathieh Saudi
The Beloved
Who dared to invade the centre of your dream?
Playing on the beach
Hugging your cuddly toy
Building a palace of sand…
Then a bang, a void.

Are you feeling cold?
The sun will give you warmth.
Are you in the dark?
The moon offers will be your candle.
Are you feeling lonely?
You have a family of thousands now.
Are you bored?
The stars want to play music for you.
Do you miss your cuddly toy?
The Little Prince has a caravan waiting for you

Today you are the most beloved on earth
The most special, the most magical.
Millions of hearts beat for you
Millions of children pray for you
Millions of eyes search for you.

We will wait for you
You will go back to that unfinished dream.
Come back Maddie
Come back home.
Vertical
To Sylvia Plath

Blue tears flow over my face,
I search for her all the hours of the day.
She wasn't my mother-
Yet she gave me birth again.

Exalted I ask the rocks to show me the way,
I want to save my life!

Do I know her?
I will continue searching for her.
I touch her face,
I sense her tears,
I grasp her anger.

I reach the space around her,
I touch the stars of life,
Blue tears flow over my face.

Who is she?
She is there; faraway,
She is here; so near,
I know her.

Hand in hand we step,
Towards my river,
I know her.

She teaches me to walk on water like a seagull,
To dance on a transparent line of life,
To build a home from alphabets,
To fly with wet wings,
To cross bridges at the edge of life.
How not to drown.
How to remain vertical.

I have only the alphabet,
She is the poet,
Do we share the fragile line of life.

Tonight she is alive for me,
She gave me back my life!
I am still alive.
I will remain for her …!
Meeting with the angry king
Tonight, tonight
will it be my last night?
I saw my death screaming in his eyes
he had already killed me
yet I continued to be alive!
Suddenly a rebel grew inside me
dead eyes can't decide my end.
I would choose my own death
The king said: what last wish do you utter?
I murmured: a glass of water.
The drops of water turned into a lake
I was in a womb again
large as an ocean.
With my last sip of water
an unknown voice formed in my mind
words flowed to my lips
beautiful words like pearls
like infinite clouds opening into many shapes.
I had never heard my voice before
my words were tender
whispering stories from faraway lands:
babies born from a rainbow
wounds healed by a smile
the moon dropping rain
the sun warming midnight
humans born from water
flying mountains embracing clouds
grass growing tall to shelter lovers
hearts speaking through time and space.
Tonight I know, the king can't break my life
tonight I will leave his palace
tonight my life is mine.
Searching for a language
I longed to give a language to my feelings,
to communicate life like the flow of a river,
to fly free like birds testing their wings.
The stranger said:
all languages are mine,
keep away from them,
live your feelings in silence.
I became speechless
my paralyzed feeling hurt me.
The stranger said:
all words are my kingdom
you are my slave.
Now the page I am writing on glides away.
Even paper can rebel.
Daughter of the Thames
One day at sunset a grey
shadow arose from the river,
transparent, Its water turned into a
mirror of my life.
This river, where I wanted to end my life,
dark water, muddy water, troubled water.
The river has halted its flow,
silent for a second,
sparkling in another,
light erupts from the depths of the water,
bursting through the invisible.
Stillness offers me a final choice
the river gives me a safety net

laughing waters send me warmth
and connect me with my soul.
I become, in that moment,
the daughter of the Thames.
To Beirut
My childhood taught me the alphabet.
Beirut taught me the language of life,
for her I raise an altar in my heart.
Beirut city of the soul, my body embraces you..
How does a city come to be in pain,
like you and I?
What am I,
observer or witness?
Can I stop consciousness knocking on my heart?
What can we do to stem the flood?
In Beirut I saw the walls of the world
built with bombs, with burning iron.
In Beirut I understood the meaning of life.
I touched the human essence.
Beirut , o remain with me
protect the rhythm of my soul.
For the sake of hope,
of a just world without walls.
Wounded soul
Pain pierces through labyrinths
reaching the soul.
Cells explode into invisible atoms.
Blood evaporates in a second.
Fish reshape my cells, one by one,
transparent water restores my blood,
spring tides reset the beating of my heart.
A soul is reborn,
a transparent body starts to navigate around it.
Crossroads
The Nightingale lies at a crossroads.
At dawn life left her, her
wings collapsed, her
heart shrunk.
She was lucky to die at a crossroads.
Maybe there, a stranger passing by
will carry her to
her favourite tree.
Love
Love can travel like lightning.
No sound, no land, no motorways.
Absolute freedom from space and time,
open oceans, mirrored skies.
O love,
I carry you a foetus in my womb,
a tiny being with the wildest wings.
O love, stretch your wings,
protect me from all hurricanes.
O love,
let be your wings.
A thousand and one times
I wasn't Sheherazade,
There was no king listening to my stories,
no prince to grant me one more day of life,
I was telling my stories to my self,
I even invented poems.
I travelled to my childhood,
I wrote stories, some finished,
others yet to be imagined.
Recalling them in silence
kept me alive.
Oh, I am Sheherazade and the king.
I have to listen to the landscapes
of my self, to stay alive
time and time again
a thousand and one times.
Shattering
A child breaks a toy every day, for fun.
He is only learning the shapes of objects.
A man breaks the bones of his lover many times a day,
he enjoys looking at her crumpled soul.

It didn't occur to him
a woman's body isn't a child's toy.
Silenced
The music vanished
the echo of your voice remains.
An echo of cities near or faraway
an echo of a distant life.
Silence and echo,
silence of a life,
the echo of death piercing the silence.
My voice falls silent.
I am out of sight.
I become an echo
departing.
Timelessness
He shaved the remains of my hair, laughed,
said my bald head looked nice,
as perfectly spherical as mother earth.
He selected a honey- coloured wig
for me. My wig suits my head
to perfection. It's entitled: Timeless.
The name suits me even better:
so my whole self is timeless now.
No longer any need for a beginning or an end.
I was born in a world of time,
in my cancer I feel a sense of timelessness.
How can I measure the passing of the hours?
the burden of the future dissolves.
O I adore my fresh bald head.
Deaths
Death is always sudden, tragic,
even when it takes a hundred years.
Some deaths are graceful, like a ballet dancer
others are fearful, like a beast's face.
Some deaths we walk towards consciously
or unconsciously like a dream.
Sometimes we walk towards them with the speed of light,
at other times tortoise-like, crawling.
Some deaths we dress in rainbow colours,
others frighten and torture us.
Perhaps you may die
and no one will hear about it.
Or may be you will pass away
with tenderness surrounding you.
Once in a while we die
in the silence of the self.
Some we live before they arrive.
There is never a good time for death to come.
Continents
I learned the rhythm of the four seasons,
the geography of five continents.
Today I discover,
the world has six continents,
the biggest the one inside
landscape of the Self,
where continents touch,
I wondered how to land there.
I learned to travel through
to land there.
Come back
To Mahmoud Darwish
I collected feathers for you, from the Abbey of Sligo
enough for you to grow wings
I picked thousands of petals
from Barweh. Lit incense
in Jerusalem.
Are you a bird that never comes back,
a parrot of paradise?
Let us travel in time
to Gilgamesh
believe in his dream of immortality.
My friend, my guide
come back on the breeze
on the next ocean wave
bringing the flying alphabet with you
How long must I wait
until the first day of genesis or longer?
My patience is infinite
my hope will remain alive.
Come back.
Barweh was Darwish's village of birth.
Sligo is the city of W B Yeats, with whom Darwish shares national and universal human values.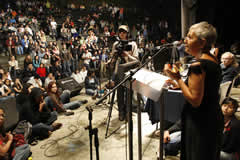 Fathieh Saudi Was born in Jordan. She completed her medical studies in France and worked as a doctor in Jordan and Lebanon. She has been involved for more than 30 years with the defense of human rights, peace and justice, in particular in the Middle East.Since moving to the UK, Fathieh has been particularly interested in writing as a tool for personal development and the healing process. She has also been interested in women's voices, interfaith and dialogue, exile and language, and literary translations.Her previous publications include l'Oubli rebelle in French(memoires about the civil war and Israeli invasion of Lebanon in 1982) and Days of Amber in Arabic. She has translated several books from English and French into Arabic including La cause des enfants by Francoise Dolto. Recently she translated three pamphlets of poetry from Arabic into English. In 2008 she published her collection of poetry in English: The Prophets - A Poetic Journey from Childhood to Prophecy. John Berger wrote an introduction to the second edition. This collection has been translated into French in 2008. Her second collection, Daughter of the Thames, will be published this year. She is recipient of several awards for her medical, humanitarian and cultural work, including Chevalier de l'Ordre du Merite from France.Currently she is the chair of Exiled Writers Ink and she is also member of the Society of Authors and English PEN. Fathieh has published her poetry in several magazines including Exiled Ink magazine, Lapidus, Poetry London. She has given several poetry readings and performances (sometimes accompanied by a musician: pianist, sitar, tamboura player and or with a singer) at different locations: The Poetry Café, Troubadour, Watermans Centre, Toriano, Amnesty International, Oxford House, Foyles Gallery, several interfaith groups, the Lotus Foundation. She has also given readings in Paris at the Institut du Monde Arabe and at the Sacred Music Festival in Fez, Morocco.
Última actualización: 27/12/2021