Carlos Vásquez (Colombia)
Por: Carlos Vásquez
Traductor: Nicolás Suescún
THE CHANCE
YOU LEFT ME alone.
I go into the thicket.
And the night rotates.
It is dividing itself.
IT LIES by my side.
Its warmth talks to me.
Broken syllables the echo cannot encompass.
I GATHER in my net the closed shells.
What can I attach?
In docile water the beach whitens.
ENDLESS noise.
How can I clasp you?
Secretly floats its spider's thread.
THE VOICE reddens.
He who comes murmurs.
Light is plea.
Its debris falling
TO DOWN TO GO to feel itself
Caustic red lip.
The skin cold scale.
THE WIND repeats its vain sorrow.
The river does not illumine.
Its bed ejects me.
SUCH A STRANGE manner.
To follow without moving.
By slow turns.
The step burns.
ALL OF A SUDDEN IT appears.
I try to touch it.
Get me out of here.
THE NIGHT scatters its dry storm.
It cannot keep it.
It releases its mist.
---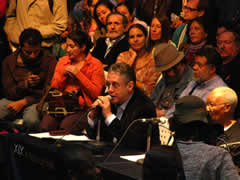 Última actualización: 14/04/2021