Celebration of the 30th Medellin International Poetry Festival for 70 days from 103 Countries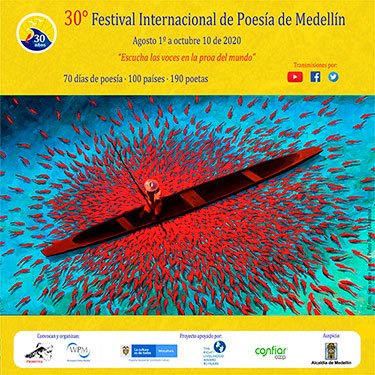 Por: Direction Committee
With the aim of exploring the initiative to broaden poetry among human beings in their gravest hour, fighting the fear, the pandemic and death, and conduct a refreshing dialogue between poets, artists, academics, scientists and the laureates of the Alternative Nobel Prize in order to elucidate new avenues on the unresolved problems of human society, we str celebrating the early thirty years since the foundation of the Medellin International Poetry Festival that will be fully implemented for 70 consecutive days, from 1 August to 10 October 2020, with the participation of more than 200 guests from 103 countries in all world regions, with over 130 activities, an unprecedented virtual conference in the history of world poetry.
Many of the greatest contemporary poets are participating in the Poetry Encounter, among which are the Europeans Paul Muldoon – the Pulitzer Prize - (Northern Ireland); Adam Zagajewski – the Princess of Asturias Award for Letters - (Poland); Joan Margarit – the Cervantes Award-- (Spain); Charles Simic – the Pulitzer Prize - (Serbia-United States); Antonio Colinas – the Queen Sofia Award for Ibero-American Poetry--, the Icelandic, Sigurbjörg Trastardóttir – the Tómas Guðmundsson Literature Award-- and the Spanish philosopher, Chantal Maillard –the National Poetry Award--; the Asian poets, Jidi Majia - 2016 European Prize Homer Medal of Poetry and Arts- (the People's Republic of China); Nguyen Quang Thieu – the National Literature Award-- (Vietnam); the legendary poet and filmmaker, Ramiz Rovshan – the Turkish World Prize for Science, Culture and Arts - (Azerbaijan); K. Satchidanandan (India); the Russian, Margarita Al --David Burluk Award--; the Turkish, Ataol Beramoglu –the Pushkin Prize for Poetry--; the Palestinian, Ghassan Zaqtan – the Neustadt International Literature Award -; and Abdukakhor Kosimov - Vladimir Nabokov Prize - (Tajikistan); the American poet, Jack Hirschman – Poet Laureate of California -; the Latin Americans, Gustavo Pereira and Juan Calzadilla (Venezuela); Nicole Cage-Florentiny - Casa de las Americas Award - (Martinique); Alpidio Alonso, Minister of Culture (Cuba); and the Colombians, Jotamario Arbeláez and Rómulo Bustos; the Africans, Tarek El Tayeb –the Elías Canetti Award-- (Sudan); Patricia Jabbeh, - the Barak Obama Award - (Liberia); the South African poet and parliamentarian Zolani Mkiva; the Nigerian, Ayo Ayolola-Amale; and the Ethiopian poet and human rights fighter, Alemu Tebeje, a refugee in London; the New Zealand laureate, David Eggleton will also speak, among many guests.
With extreme difficulty, through a confluence of pandemics, and in addition to this, owing to the circumstances of the chronic Colombian warfare, the hostility from the nation´s circles and the media and for the refusal of financial support and financial blockade by an overwhelming majority of official institutions and companies during the three decades of its existence, the Festival bursts as an alternative to withstand perverse pessimism, the noise of chaos and the sophisticated machinery of death in human society, as well as the suicidal drive of history with the aim of injecting the dream and confidence of the individual and of the peoples in shaping their own destiny, within the miracle of nature and existence, to contribute to the solution of problems everywhere in the world and produce results through the process of reflection.
Poetry is self-awareness for releasing human energy, a complete overview to all questions and answers throughout history, the lightning that enters invisible territories into the weary eye of the world, the sensitivity that repudiates and transcends all borders, the supportive love that dissolves the walls of the confinement to embrace the human species in its full potential of uprooting, in the way of the search and discovery for awakening through persistence the powers of the human will, the irreducible spiritual revolution to quench the insatiable thirst for infinity at the heart and the conscience of humanity.
The Festival include individual and collective poetry readings, interviews, meetings with guests and roundtables with the guests, concerts, panels, courses, and workshops, which are being enjoyed for the first time from anywhere in the world, and developed from the digital network with a capacity for 500,000 spectators, who are being able to engage and interact in many virtual spaces with the invited poets and artists. The events held are being broadcast live through the Festival web pages and the World Poetry Movement – Movimiento Poético Mundial- web page (www.wpm2011.org) as well as through some social networks: The Festival's Facebook page (festivalpoesiamed), Youtube (revistaprometeo) and the World Poetry Movement, through their Facebook pages (worldpoetrymovement2011) and YouTube (World Poetry Movement).
The Festival program includes courses offered by the 24th Poetry School of Medellin with free access for those who use and submit this form. The poets who offer these courses - in Spanish - are Rocío Cerón (Mexico), Luís Filipe Sarmento (Portugal), Stefano Strazzabosco (Italy) and Rómulo Bustos (Colombia). Poetry workshops will also be held for boys and girls in all of Latin America during the activities of the Gulliver Project, in the context of the Festival.
The realization of the 30th International Poetry Festival of Medellin represents a vigorous symbol of human hope and a clear proof of the creative power of poetic language which nourishes and constantly accompanies the human spirit, in such a turbulent time besieged by the pandemic, nuclear tensions and ongoing wars, the material and spiritual misery of hundreds of millions of people and the irrepressible drive of hatred and despair that is progressively gaining currency throughout the world.
Thinkers such as Boaventura de Sousa Santos (Portugal), Hugo Mujica (Argentina), Chantal Maillard (Spain), Carl Ruck (United States), Ulrika Modéer, director of Foreign Affairs Office from UNDP (Sweden), and the winners of the Right Livelihood Award (Alternative Nobel Prize) - which turns 40 years old in 2020 - will also be participating at this international confluence: Alyn Ware, anti-nuclear activist (New Zealand), Fiore Longo, representative in France of Survival International (France), Raúl Montenegro (Argentina), Magdalena Max-Neef, representative of the RLC Austral Campus of Valdivia (Chile), and the Colombian activist Francia Márquez -Goldman Environmental Prize-, who will dialogue on world peace and disarmament, on the defense of Earth and Life and on the transformation of human society through culture. The Festival is also being attended by the Russian dancer, Valentin Tzsin and the singers Pojjanat Pojjanapitak (Thailand), Alhaji Papa Suso (Gambia), Katleho Kano (South Africa), Cristóbal Jiménez (Venezuela), Sainkho Namtchylak (Tuva), Winston Farrell (Barbados) and Chinoy (Chile). The programming can be downloaded here.
The Festival is sponsored by the Mayor's Office of Medellin, the Ministry of Culture of Colombia, the Foundation of the Alternative Nobel Prize (Right Livelihood Award), and the Cooperativa Financiera Confiar.
The complete guest list is as follows: Hamid Larbi (Algeria), Mpaulu Poeta Sol (Angola), Hugo Mujica, Elena Annibali -30th International Poetry Festival of Medellín Prize-, Nicolás Antonioli, Sabrina Usach, María Chapp, Lilia Parisi, Jona Burghardt (Argentina), Lola Koundakjian (Armenia), Quito Nicolaas (Aruba), Les Wicks (Australia), Ramiz Rovshan, Aliyev Agshin Boyugaka, Nigar Hasan-Zadeh, Nigar Arif (Azerbaijan), Ali Al Jallawi (Bahrain), Quamruzzaman Swapan, Aminur Rahman (Bangladesh), Winston Farrell (Barbados), Sylvie Marie (Belgium), Valeria Sandi, Gabriel Chávez Casazola, Alex Aillón (Bolivia); T.J. Dema (Botswana), Claudio Willer (Brasil), Marcel Kemadjou Njanke (Cameroon), Oscar Saavedra, Julieta Marchant, Rosabetty Muñoz, Clemente Riedemann, singer-songwriter Chinoy (Chile), Jidi Majia, Li Shaojun, Li Yun, Mei Er, Cao Shui (Popular Republic of China), Neshe Yashin (Cyprus), Rómulo Bustos, Jotamario Arbeláez, Carlos Vásquez, Javier Naranjo, Fernando Rendón, Gabriel Jaime Franco, Álvaro Marin, Jairo Guzmán, Felipe García Quintero, John Freddy Galindo -30th International Poetry Festival of Medellín Prize-, Lucía Estrada, Ela Cuavas, Fernando Linero, Annabell Manjarres, Ángela García, Yirama Castaño, Saúl Gómez, Yenny León, Marisol Bohorquez, Hanna Escobar, Paula Andrea Pérez, León Vallejo, Ashanti Dinah Orozco, Ángela Acero, Jonatan Echeverri, Valentina Rojas, Laura Bastet Kali, Johanna Carvajal, Karla Jazmín Arango, Alejo Morales (Colombia); Julien Kilanga Musinde (Democratic Republic of the Congo), Arabella Salaverry (Costa Rica), Bronislava Volková (Czech Republic), Rogelio Martínez Furé, Nancy Morejón, Luis Lorente -Premio La Gaceta-Prometeo, Alpidio Alonso, Antonio Herrada -30th International Poetry Festival of Medellín Prize-, Victor Casaus, Martha Luisa Hernández, Karel Leyva, Giselle Lucía Navarro (Cuba), Claus Ankersen (Denmark), Chiqui Vicioso, Martha Rivera, Thaís Espaillat (Dominican Repúblic), Sandra de la Torre, Siomara España, Támara Mejía, Augusto Rodríguez (Ecuador), Ahmad Al Shahawi (Egipto), Josué Andrés Moz (El Salvador), Richard Berengarten (England), Alemu Tebeje (Ethiopia), Francis Combes (France), Alhaji Papa Susso (Gambia), Tobias Burghard (Germany), Christos Koukis (Greece), Vania Vargas, Marvin García, Julio Serrano (Guatemala); Salvador Madrid (Honduras), Sándor Halmozi (Hungary), Sigurbjörg Þrastardóttir (Iceland), K. Satchidanandan, Rati Saxena, Reshma Ramesh, Debasish Parashar (India), Abdulhadi Sadoun (Iraq), Pat Boran (Ireland), Stefano Strazzabosco (Italy), Christopher Okemwa (Kenya), Fahredin Shehu (Kosovo), Patricia Jabbeh Wesley (Liberia), Rethabile Masilo (Lesotho), Jean Portante (Luxembourg), Natasa Sardzoska (Macedonia), Antoine Cassar (Malta), Nicole Cage-Florentiny (Martinique), Khaleel Torabully (Mauritius), Rocío Cerón (Mexico), Khalid Raissouni (Morocco), Sreten Vujovic (Montenegro), Tulasi Diwala, Keshab Sigdel (Nepal), Marije Langelaar (Netherlands), David Eggleton (nation of Aotearoa New Zealand/Fiji Islands), Ayo Ayoola-Amale (Nigeria), Paul Muldoon (North Ireland), Imdad Aakash (Pakistan), Ghassan Zaqtan (Palestine), Giovanna Benedetti (Panama), Susy Delgado, Mónica Laneri (Paraguay), Tatiana Berger, Enrique Sánchez Hernani, Luis La Hoz (Peru), Simeon Dumdum Jr., Ma Milagros T. Dumdum (Philippines), Adam Zagajewski, Krystyna Dabrowska, Marta Eloy Cichocka (Poland), Luis Filipe Sarmento (Portugal), Alex Maldonado (Puerto Rico), Tudor Cretu, Gelu Vlasin (Rumania), Margarita Al, Vadim Terekhin, dancer Valentin Tzin (Russia), Lasana Sekou (Saint Martin), Milena Ercolani (San Marino), Ahmed-Al-Mulla, Ali Al Hazmi (Saudi Arabia), Charles Simic (Serbia - United States), Mina Gligoric (Serbia), Oumar Farouk Sesay (Sierra Leone), Ramya Jirasinghe (Sri Lanka), Gerry Loose (Scotland), Gcina Mhlophe, Zolani Mkiva, Katleho Kano Shoro (South Africa), Sungrye Han (South Korea), Chantal Maillard, Antonio Colinas, Raquel Lanseros, Ana Merino (Spain), Tarek Eltayeb (Sudan), Malak Mustafá (Syria), Agneta Falk (Sweden), Heike Fiedler, Markus Hediger (Switzerland), Abdukakhor Kosimov (Tajikistan), Koulsy Lamko (Tchad), Chiranan Pitpreecha, Pojjanat Pojjanapitak (Thailand), Khédija Gadhoum, Sabri Rahmouni (Tunisia), Ataol Behramoglu (Turkey), Nurduran Duman (Turkey), Sainkho Namtchylak (Tuva), Khulood Almualla (United Arab Emirates), Jack Hirschman, Bruce Weigl (United States), Liudmyla Diadchenko (Ukraine), Roberto Bianchi (Uruguay), Aazam Abidov (Uzbekistan), Juan Calzadilla, Ernesto Román, Freddy Ñañez, William Osuna, musician Cristóbal Jiménez (Venezuela), Nguyen Quang Thieu (Vietnam), Tran Hung (Vietnam), Mohammed Al-Lawzi (Yemen), Mbizo Chirasha (Zimbabwe).
Detailed information -in Spanish- about the work of each of the guests can be seen at this link.
Management Office of the 30th Medellin International Poetry Festival.
Última actualización: 05/11/2020