21st International Poetry Festival of Medellín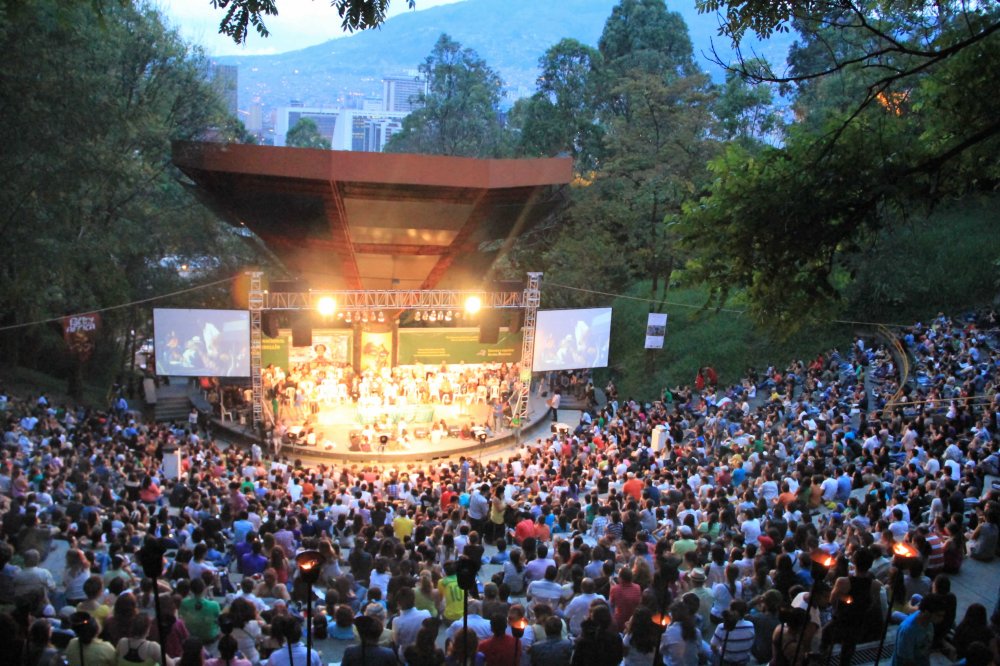 21st International Poetry Festival of Medellín
July 2nd to 9th, 2011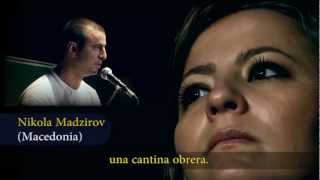 The 21st International Poetry Festival of Medellin was held as a Tribute to the spirit of the origin, expressed in poetry and singings from theAfrican continent, represented by 12 poets and musicians invited to the event. The musical and poetic language of many of the invited poets favored and encouraged that a further communication was established with a wide and fervent public.
In 21 years, Prometeo has generated an extraordinary expectation in Medellín and the world towards poetry and has performed with great aesthetic care and deep human quality.The poets who have visited Colombia have developed processes to communicate with the audience, composed not only by the concepts in poetry, but also withsensitive, emotional and human elements that fostersa communitarian communication, congregant, that transforms the city.It is these aspects that have drawn on multiple planes, the life of our city and its inhabitants.
The public of the 21st Festival showed event after event, his hope and confidence that poetry can change their lives and change, with poetic actions sustained over time and of profound social influence, the life of the city.
The public
The Festival brought together people of all ages and from all social strata, includingpoems readings for the homeless and acts held on displaced people settlements, but also for people with privileged economic conditions such as those residing in El Poblado.
The audience that Medellin has developed for poetry deserves a space for reflection.We found a large group of people who have a shaped and broad notion of contemporary poetry in the world and who are capable of responding in a multiple and harmonic way to different situations, participating in various ways with songs and choruses in the different moments that occurin different events, particularly the opening and the closing events of the Festival.
There is a large audience that has matured with the Festival and can maintain a high degree of concentration in large events such as the closing event, which lasted for seven hours.
Number of people attending the event: Estimated at more than 60000 people (sixty thousand)
Report inaugural event viewer: 4514 people (four thousand five hundred and fourteen) *
Report viewers closing event: 14,911 (fourteen thousand nine hundred eleven) *
(*) Data provided by Telemedellín.
In its projection towards the city, the Festival makes a responsible and selective reading of poetry in the world.The response and results of Young Poetry Prize is also an achievement to note, for the excellent quality of work and the maturity of the awarded ones against the poets of the world and public auditoriums.
Activities
The activities of the 21st International Poetry Festival of Medellin were conducted in 18 municipalities of Antioquia and in 10 cities of the country involving just over 100 places and a total of 158 events.Of the 85 poets from 45 countries, 32 were directors of 32 international poetry festivals in Africa, Asia, Europe and America, who participated at the World Meeting of International Poetry Festivals Directors.
Among all the activities, we highlight the 25 who formed the 15th School of Poetry that developed, through workshops, courses, conferences and panels, and which benefited about 980 people. Once again, the public showed their cognitive growth, intelligence, lucidity and creative capacity.
Media
The media coverage for the event reports a total of 257 news in different media from 32 countries: Burma, Nepal, Afghanistan, Turkey, South Africa, Ivory Coast, Sierra Leone, Angola, Germany, Holland, France, Spain, Norway, Denmark, United States, Mexico, Guatemala, Honduras, Costa Rica, Panama, Cuba, Dominican Republic, Venezuela, Ecuador, Peru, Chile, Argentina, Uruguay, Paraguay, Brazil and Colombia.The devoted work trough social networks helped to convene in a more personal way to a greater number of people.
There wherecoverage by Basque television, by the Deutsche Welle TV, by Telemedellín, and Teleantioquia and by national news.
---
The International Poetry Festival of Medellín celebrated its homage to the spirit of Africa, with the participation of poets, musicians andspecialists in the poetry and literature of the original continent, in coordination with Peter Rorvik (Poetry Africa - Centre for Creative Arts, University of KwaZulu-Natal) in Durban, South Africa.
They were participants the South African traditional singer of the xhosa tradition Madosini; poet Lebogang Mashile (South Africa); poet and singer Chiwoniso Maraire (South Africa); the poet Marcelino Dos Santos (Mozambique), poet and singer Tania Tomé (Mozambique); artist and poet Werewere Liking (Cameroon), and poets Haji Gora Haji (Zanzibar), Shailja Patel (Kenya), Antonio Gonçalves (Angola), Pitika Ntuli, Iain Ewok Robinson (South Africa) and the musician Pedro Espi-Sanchis (Southafrica/Spain).
Others participant poets were Thiago de Mello (Brazil), Jack Hirschmann (United States), Graciela Aráoz, Gabriel Impaglione (Argentina), Alex Pausides, Aitana Alberti, Waldo Leyva, Magia López (Cuba), Julio Mitjans Cabrera -Award Magazines Gaceta and Prometeo- (Cuba); Rodolfo Häsler (Cuba-Spain), Marco Antonio Campos, Aaron Rueda (Mexico), Sixto Cabrera (Mexico, Náhuatl Nation) Marvin García (Guatemala), Louis-Philippe Dalembert (Haiti), José Mármol (Dominican Republic), Kwame Dawes (Jamaica), Lucy Cristina Chau (Panama), Carmen Ollé (Peru), Otoniel Guevara (El Salvador), Rigoberto Paredes (Honduras), Faumelisa Manquepillán (Mapuche Nation, Chile), José María Memet (Chile), Rodolfo Dada (Costa Rica), Jaime García Maffla, Oscar Hernández, Triunfo Arciniegas, Giovanni Gómez, Ana Milena Puerta, Mario Ángel Quintero, Eufrasio Guzmán, Fernando Linero, Javier Naranjo, Orlando Gallo, Gloria Posada, Rubén Darío Lotero, Pedro Alejo Gómez, Viviana Villa, Viviana Restrepo, Iván Graciano Morelo (Colombia) Fredy Chicangana (Yanacona Nation, Colombia), Arrison Palacio, Carolina Correa y Luis Arturo Restrepo -Premio de Poesía Joven Ciudad de Medellín- (Colombia); Min Htin Ko Ko Gyi (Burma), Jidi Majia (People´s Republic of China), Amir Or (Israel), Ban'ya Natsuishi (Japan), Rati Saxena (India), Rira Abbasi (Iran), Hadaa Sendoo (Mongolia), Zakaria Mohammed (Palestine), Ataol Behramoglu (Turkey), Kamran Mir Hazar (Afghanistan), Julian Heun (Germany), Fernando Valverde, Elena Medel, Anna Aguilar-Amat, Tomàs Arias, J.M. Calleja, Pedro Enríquez, Kirmen Uribe, Raquel Lanseros (Spain), Agneta Falk (Sweeden), Cees Nooteboom (The Netherlands), Nikola Madzirov (Macedonia), Lello Voce, Carlo Bordini, Giovanna Mulas (Italy), Christian Ide Hintze (Austria), Sigurbjörg Thrastardóttir (Iceland), Niillas Holmberg (Finland, Sami Nation), Endre Ruset (Norway), Raphael Urweider (Switzerland), Iryna Vikyrchak (Ukraine), Philip Hammial (Australia).
Bio-bibliographical Information of Invited
*
World Meeting of International Poetry Festival Directors
As part of the festival was held the World Meeting of Directors of International Poetry Festivals, which made it possible for directors and representatives of 37 of the largest poetry festivals in the world, to observe the uniqueness in the context of the auditoriums of theworld poetry, that symbolizes our audience.The World Meeting acknowledged that the work done in Medellin with poetry, has created a new spiritual movement, cultural, social crowded and that this phenomenon can be replicated anywhere in the world.
The meeting was successful and constructive to a point in which all processes called converged in the formation of a World Poetry Movement.
This process gives a new projection for the International Poetry Festival of Medellin that was renowned by the directors of the largest poetry festivals in the world, as an example in the organizational field and its calling power and admitted that he is in a developed and mature experiencewhich demonstrates the transformative power of poetry in society.
The International Poetry Festival of Medellín is a scenario in which different geographic foci come to get feed. It's applied the character of themulticulturalisminits appearance of the collective construction of qualification of consciousness, human ecology and language.It is evident that Poetry Festivals do enable a spiritual cusp that must be amplified for the world.
The World Meeting reflected on the problems besieging humankind in the tragic current crisis, at all levels, and how poetic actions may be organized for the globalization of poetry, based on a coordination or on a Worldwide Network of Festivals, Poets and Poetry Projects.
When the current world model has run its course, generating devastating climate changes and painful and long social conflicts, poetry can and must be proactive and constructive, through its own action upon the world, availing itself of the mass and alternative media as well.
The World Meeting of International Poetry Festival Directors proactively and constructively convened around the world situation, to implement actions, poetry readings and poetic interventions that contribute to modern society in its current plight. Poetry arises from a complementary spiritual reality, necessary for individuals and peoples to better inhabit the Earth. Poetry has always desired and sought man's profound change. The meeting of organizing and managing poets enables the coordination of world actions, amplified by mass media, in scheduled activities that aim to promote an interlocution with cultural, social, economic and political world forces.
Issues:
* Peace and reconstruction of the human spirit
* Nature reconciliation and recovery
* Unity of human spirit and cultural diversity of the peoples
* Material misery and poetic justice
* Action by globalization of poetry
The participants in the World Meeting of International Poetry Festival Directors, representing 36 festivals in four continents, were:
Rati Saxena, poet and director of Krytia International Poetry Festival (India)
Rira Abbasi, director of the International Festival of Peace Poetry (Iran)
Ban'ya Natsuishi, poet and director of Tokyo Poetry Festival (Japan)
Ataol Behramoglu, poet and organizer of International Poetry Festival of Smyrna (Turkey)
Amir Or, poet and director de International Poetry Festival Sha'ar (Israel)
Peter Rorvik, director of Poetry Africa (South Africa)
Bas Kwakman, director of Poetry International Rotterdam (The Netherlands)
Nikola Madzirov, poeta and representative of Struga Poetry Evenings (Macedonia)
Céline Hémon, director of International Communications of Les Printemps des Poètes (France)
Fernando Valverde, poet and director of Festival Internacional de Poesía de Granada (Spain)
Thomas Wohlfahrt, director of Literaturwerkstatt (Germany)
Regina Dyck, director of Poetry on the Road (Bremen, Germany)
Lello Voce, poet and representative of International Poetry Festival RomaPoesía and Absolute Poetry (Italy)
Iryna Vikyrchak, poet and executive director of The International Poetry Festival Meridian Czernowitz (Ukraine)
Pedro Enriquez, director del Festival Poesía en el Laurel, (Spain).
Endre Ruset, poet and director of Norsk Litteraturfestival (Norway)
Cristian Ide Hintze, director of Vienna Poetry School (Austria) and representative of Poetry Schools Network of Europe.
Gabriel Impaglioni, poet and director of Festival Internacional de Poesía Palabra en el Mundo (Argentina/Italy)
Gaston Bellemare, President of the Federation of International Poetry Festivals and Director of Festival International de la Poèsie de Trois-Rivières (Canada)
Jack Hirschmann, poeta and director of San Francisco International Poetry Festival (United States)
José Mármol, poet and director of Festival Internacional de Poesía de República Dominicana
Alex Pausides, poet and director of Festival Internacional de Poesía de La Habana (Cuba)
Graciela Aráoz, director of the Festival Internacional de Poesía de Buenos Aires
José María Memet, director of the VI Encuentro Internacional de Poetas: ChilePoesía
Lucy Cristina Chau, poet and director of Festival Internacional de Poesía Ars Amandi (Panama)
Rafael del Castillo, poet and director of Festival Internacional de Poesía de Bogotá (Colombia)
Fernando Linero, poet and representative of Festival Internacional de Poesía de Bogotá (Colombia)
Zabier Hernández, director of the Recital Internacional de Poesía desde el Sur, (Pasto, Colombia)
Marvin García, poet and director del Festival Internacional de Poesía de Quetzaltenango (Guatemala)
Vilma Reyes, poet, and representative del Festival Internacional de Poesía de Puerto Rico
Giovanni Gómez, poet and director of Festival Internacional de Poesía Luna de Locos (Pereira, Colombia)
Rodolfo Dada, poet and representetive of Festival Internacional de Poesía de Costa Rica
Otoniel Guevara, poet and director del Encuentro Internacional de Poetas El Turno del Ofendido (El Salvador)
Fernando Rendón, Gabriel Jaime Franco, Jairo Guzmán and Gloria Chvatal, representatives of The International Poetry Festival of Medellin (Colombia)
Relevant information about the World Meeting
of International Poetry Festival Directors
August 15th, 2011
Última actualización: 26/04/2020